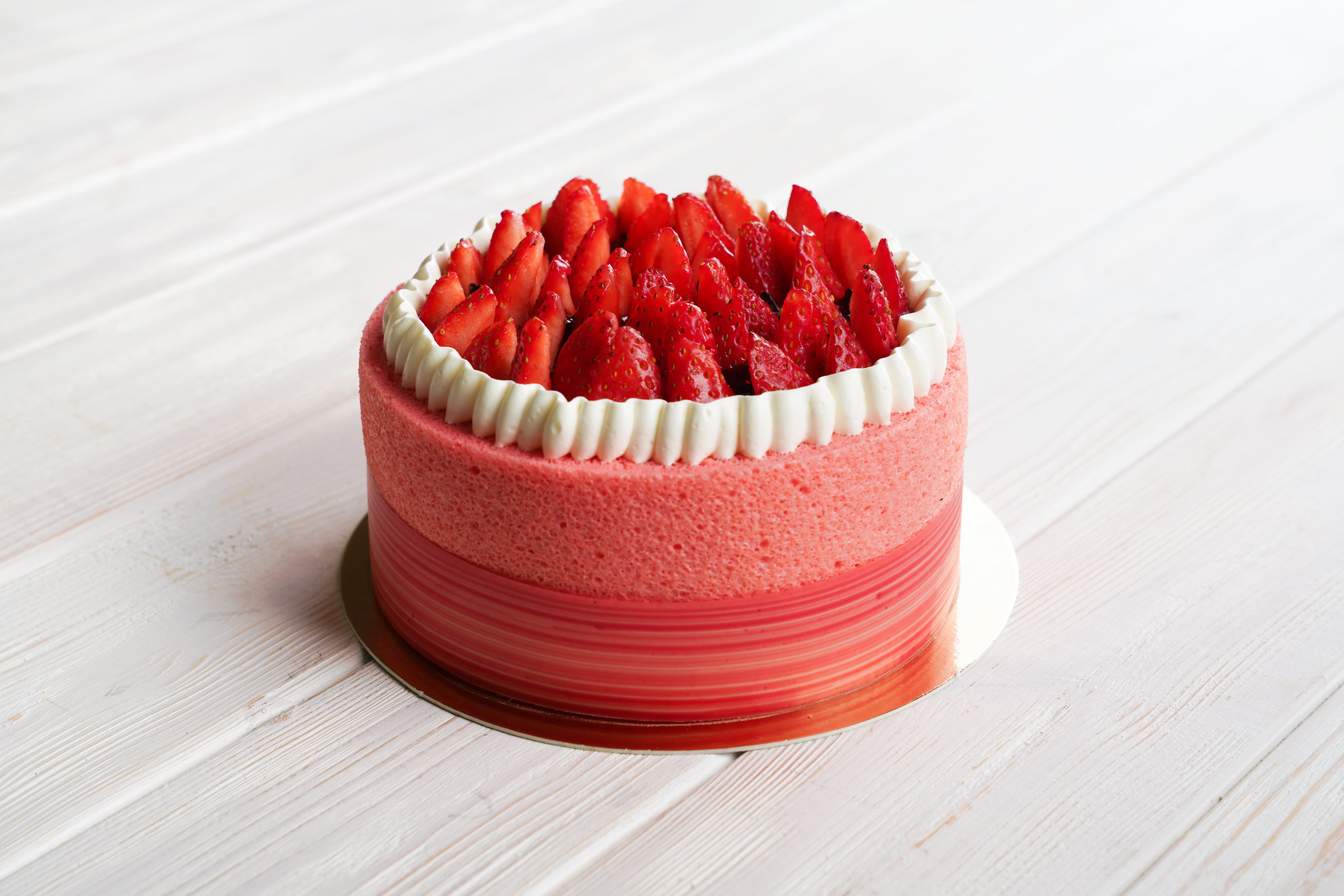 This version of the traditional Fraisier is made of a light Genoise sponge and light mascarpone cream. Wild strawberry compote will bring a rich berry flavor, and the cake will be adorned with a decorative strip of chocolate, decorative cream with mascarpone and fresh strawberries.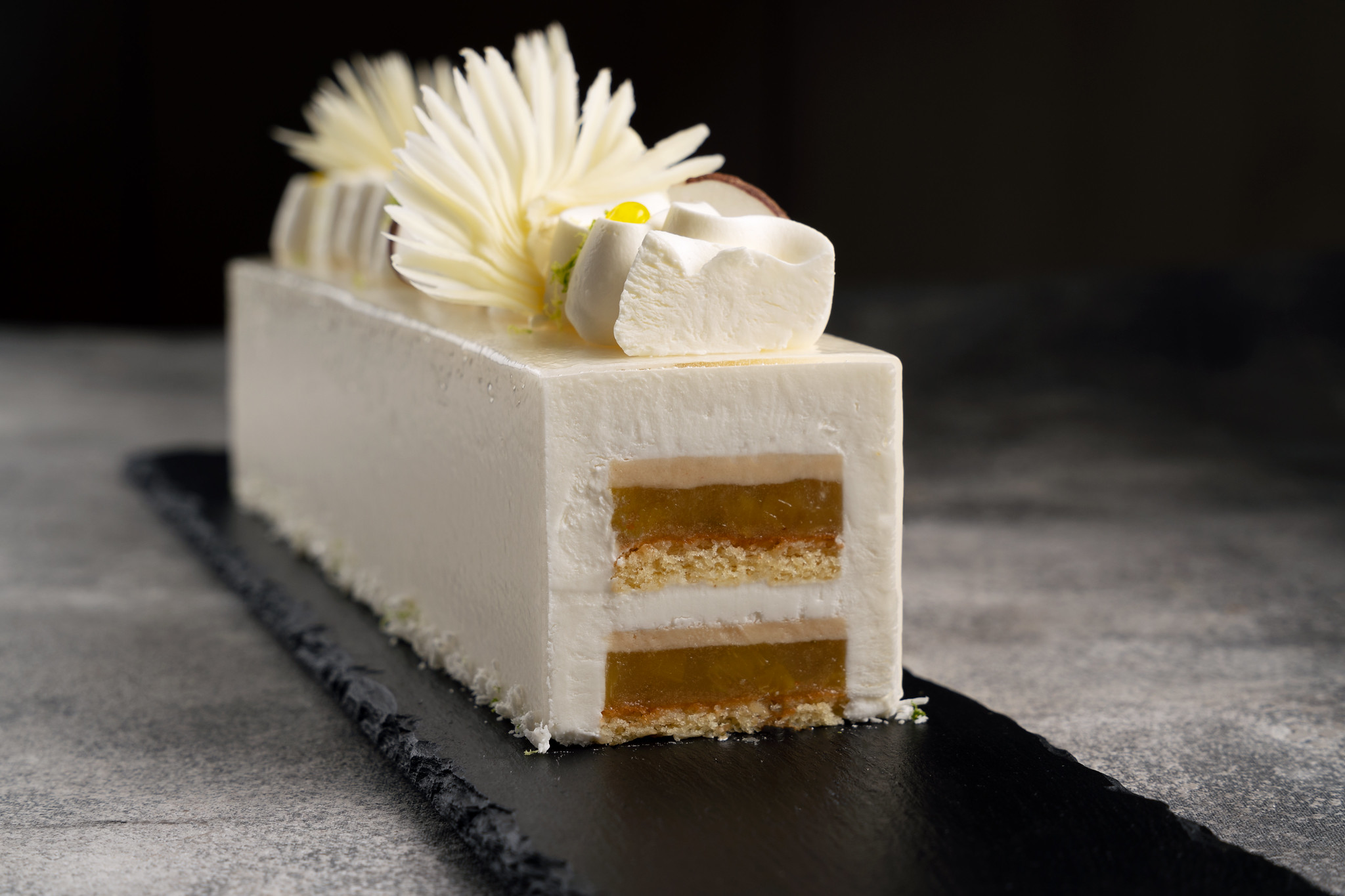 This elegant and neat bûche with a bright and balanced taste of the Piña Colada cocktail by Nicolas Boussin will become a luxurious attraction of the festive table. It consists of a juicy almond sponge, compote of pineapple, poached with ginger and lime, exotic fruit cream with an extraordinary smooth and silky texture, and light coconut mousse.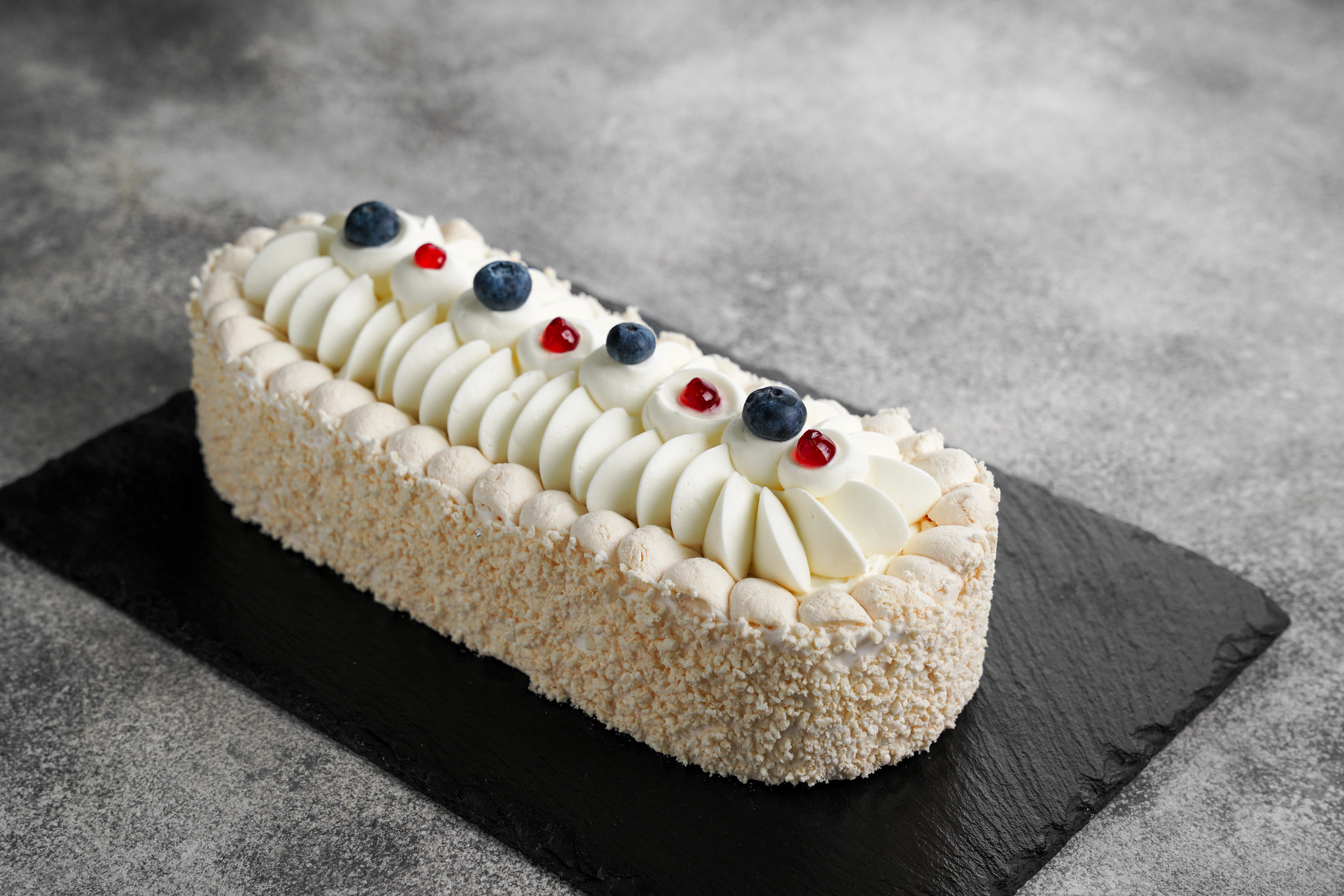 A modern and sophisticated version of the world famous dessert by Nicolas Boussin will delight you with its light taste and elegant look. In addition to Chantilly cream, the chef will prepare a lychee cream that has a very delicate and smooth texture. A raspberry and blueberry compote with an intense taste and bright color serve as a bright berry accent of the dessert.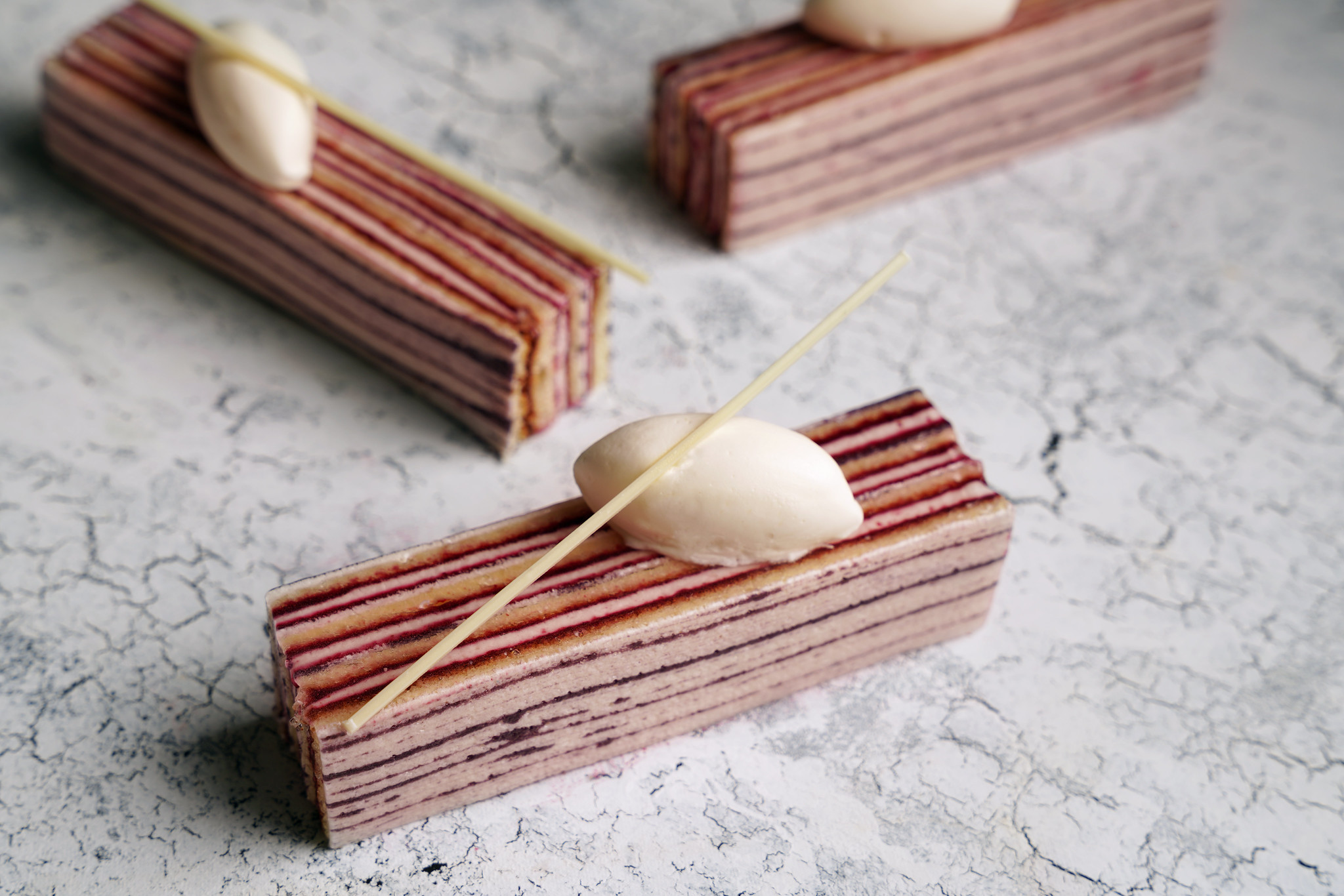 The cake consists of thin layers of various textures that complement each other and form a harmonious pastry. Rhythmic stripes on the sponge surface follow the cut pattern of the cake. Natural colors attract attention and evoke associations with the bright taste of Dijon black currant.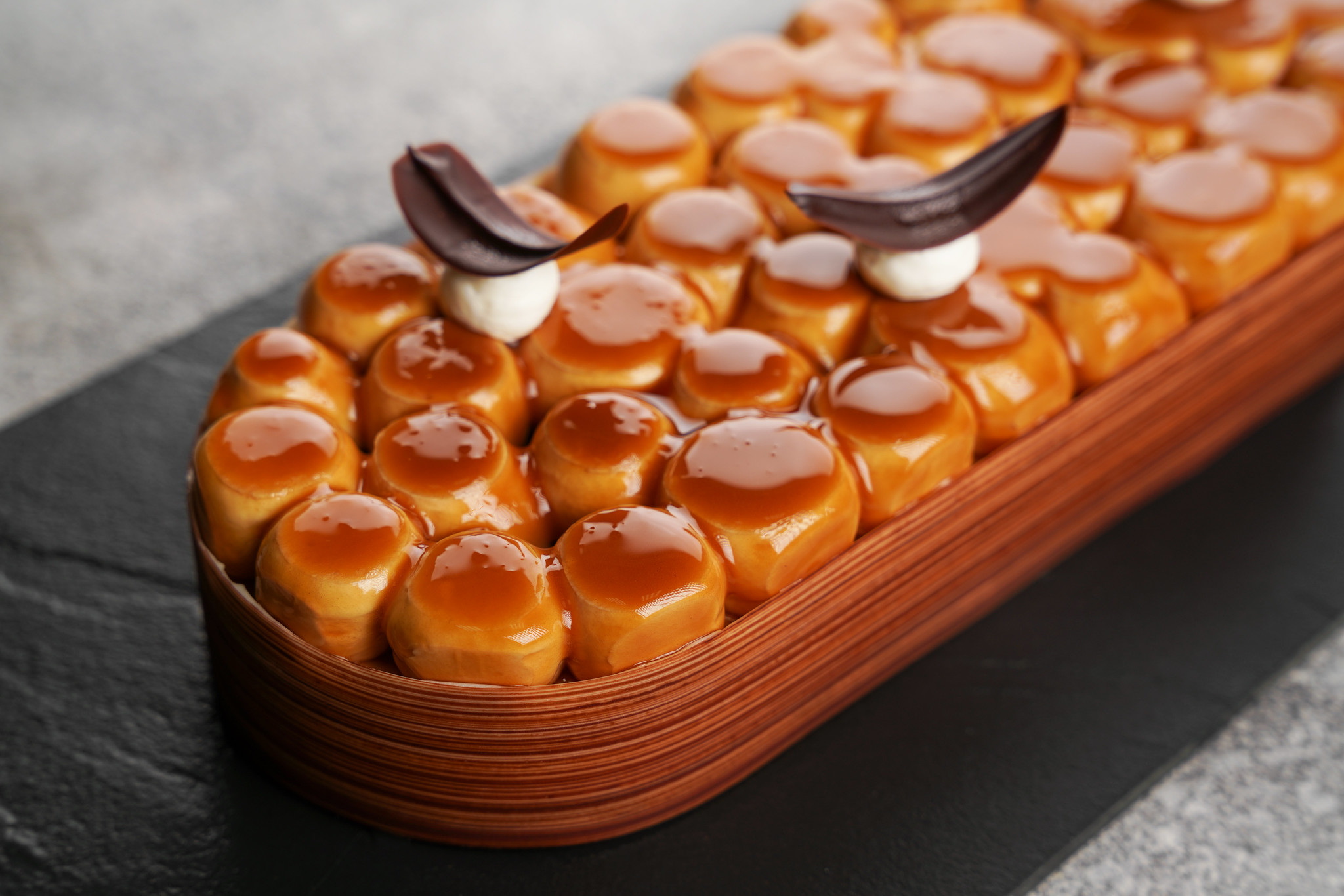 You will be impressed by the look and rich classic flavor of a modern and elegant cake-shaped version of Tiramisu by Nicolas Boussin. The silky and delicate mascarpone cream will be complemented by the bright taste of soft coffee caramel and the contrasting texture of the shortbread crust - perfectly balanced for the cake base.
Bonus Collection of Pastries Course Curriculum

Available in days

days after you enroll

Video lessons and recipes
Pastry Chef, Champion of France, MOF

In 1994, at the age of 29, Nicolas became the Champion of France in the Pastry on a plate category. In 2000, Nicolas was awarded the MOF - Meilleur Ouvrier de France. 
Since 2003, Nicolas has been working as a judge at the World Pastry Cup. Nicolas worked as a brand chef with Grand Marnier for 11 years. 
In 2014, Elle-et-Vire invited Nicolas to fulfill the ambitious goal of creating an international school for the brand. Nicolas completed the task and now 5 chefs work at the school on a permanent basis. 
Now Nicolas is 55 years old, 40 of which he devoted to pastry. He has 18 years of active work experience as a chef, managing various teams. At the age of 32, Nicolas became the leader of a large team of 20 pastry chefs at the Grand Epicerie de Paris, one of the most fashionable stores in Paris. For the Grand Epicerie, Nicolas has created an entire collection of designer pastries for sale.