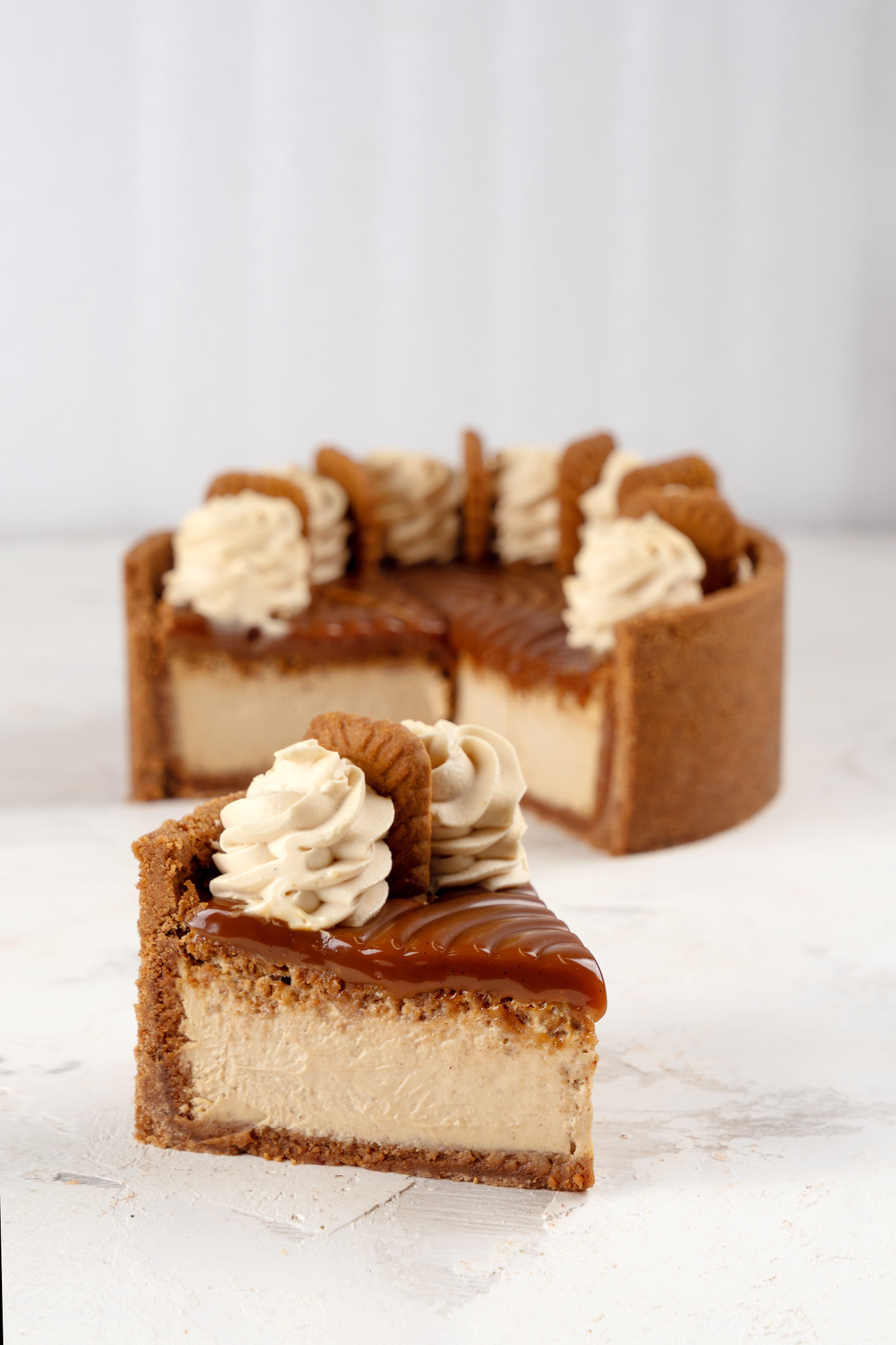 AFTER THIS COURSE YOU WILL:

Learn to make baked and non-baked cheesecakes with neat and smooth surface, 

no more cracks
Learn to make 7 perfect shortbread shells not only for neat appearance, but also for well-balanced taste of the cheesecakes
Learn to make scrumptious textures to complement the cheesecakes flavours and to decorate the cheesecakes elegantly without coloring the cheesecake mass

Master 13 delicious cheesecakes and use this ready-to-sell collection in your pastry business
WHO IS THIS COURSE FOR

Pastry learners who want to take their mastery to a new level. You need foolproof recipes and techniques, guidance and support from a professional instructor. 
Coffee shops, pastry shops or home bakeries ownersYou need delicious and luxuriously dressed cheesecakes to enrich your pastry assortment with new flavours
You are a confident cheesecake maker but want to get new recipes and skillsYou want to experiment with new flavors and textures techniques to create elegant, modern cheesecakes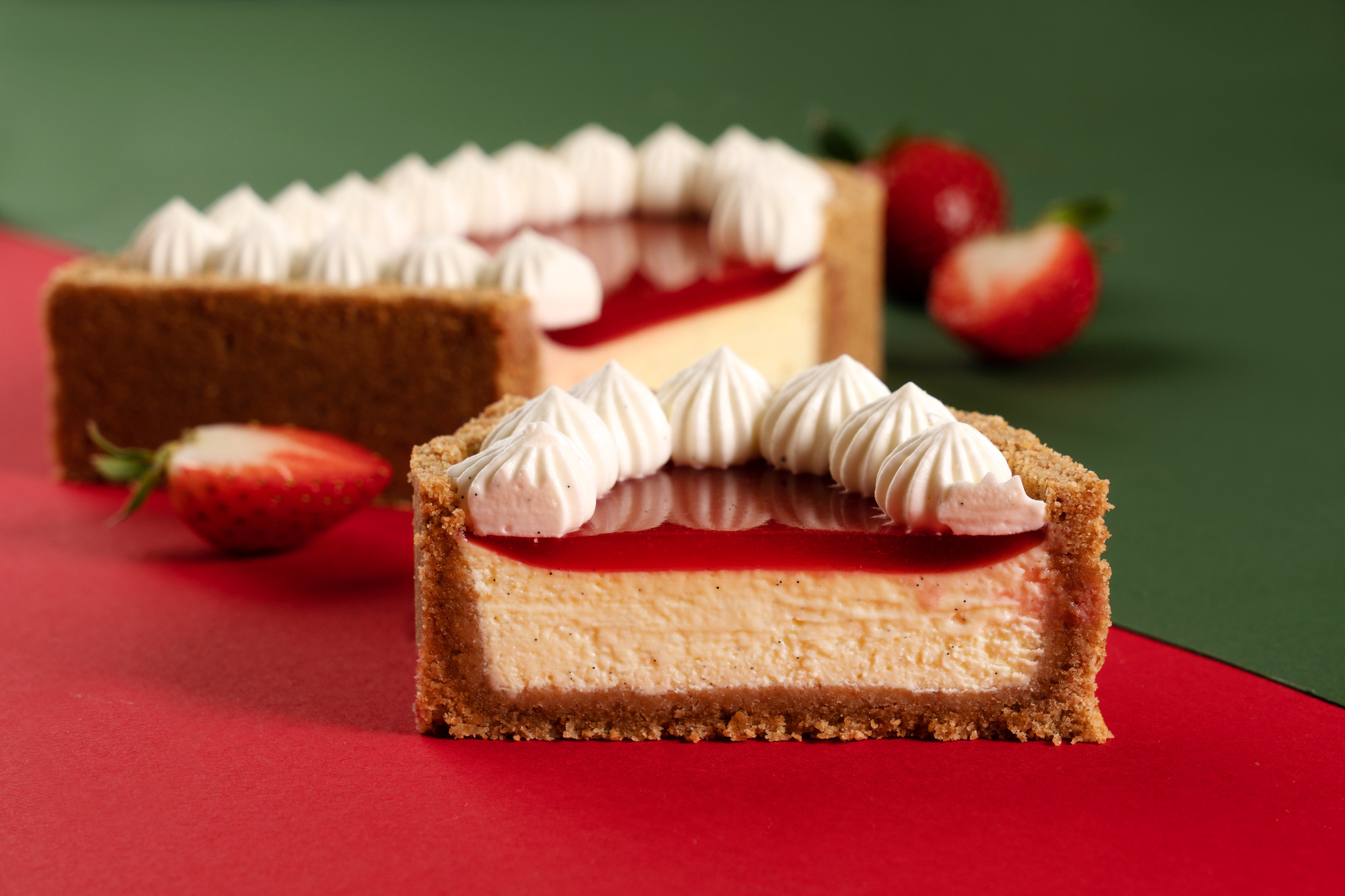 Strawberry Heart baked cheesecake
The Strawberry Heart is a classic version of baked cheesecake with vanilla. To make it charming, let's bake it in the heart shape.
Chef Alexandr Trofimenkov covered the surface of the cheesecake with bright strawberry jelly and creamy necklace. The cheesecake will have well-baked classic shortbread shell with rich tasty color.
Capuccino baked cheesecake
This cheesecake is special because it consists of two layers: milk chocolate ganache and cheesecake mass with coffee.
The combination of the cheesecake flavours reflected in the artistic two-colored shortbread base. The Cappuccino cheesecake is decorated with a rhythmic coffee cream waves and cocoa nibs.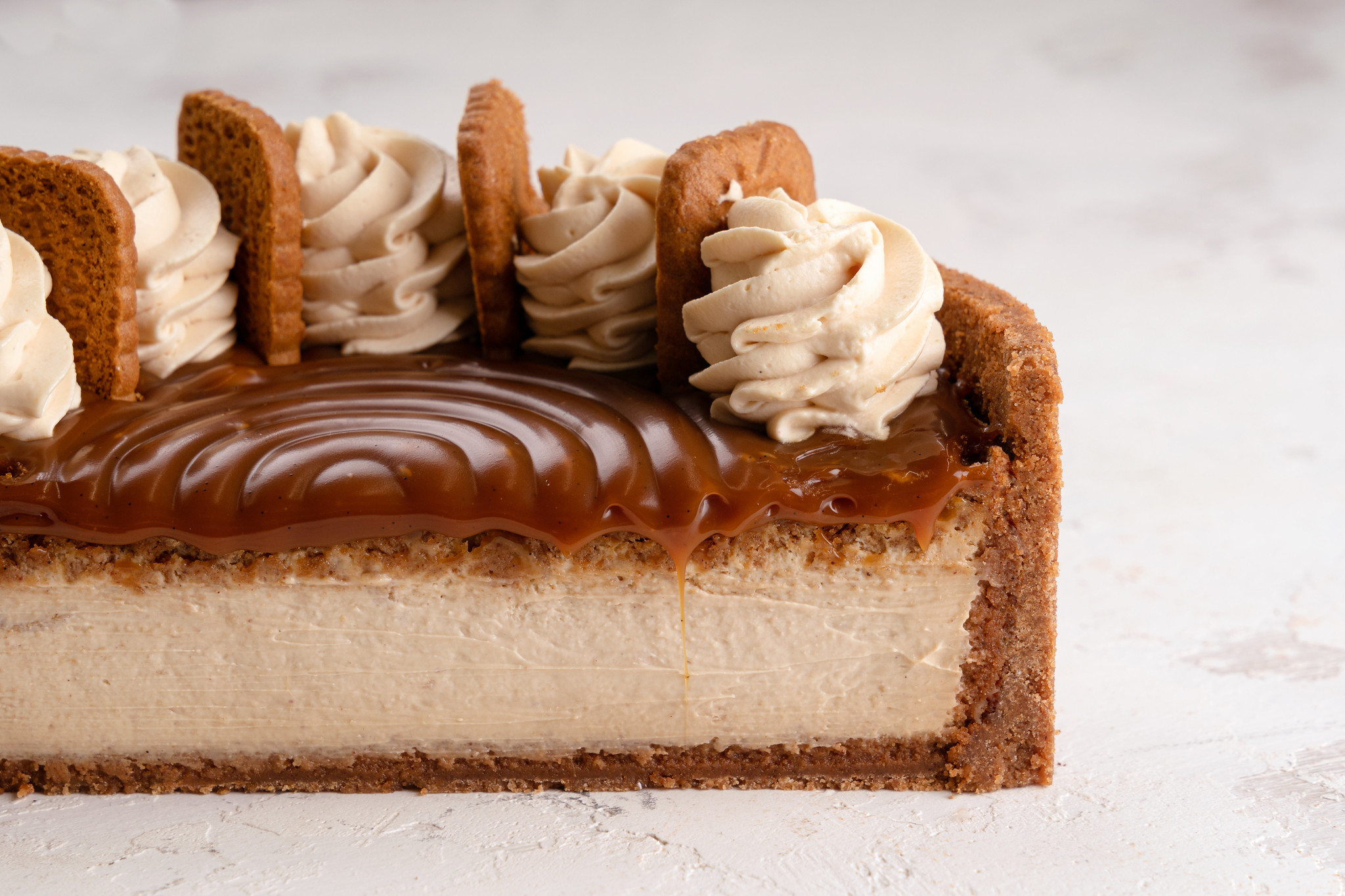 Speculoos baked cheesecake
Every texture of Speculoos cheesecake seduces with its scrumptious look: glossy caramel, creamy roses, well baked Speculoos and magnificent colour of the cheesecake base.
To enrich cake's flavour and look, Chef Alexandr Trofimenkov added the pieces of Speculoos into the Cheesecake mass and dress the cake into the shell made out of Speculoos.
Luxuriously dressed, it will be a tasty highlight at your special event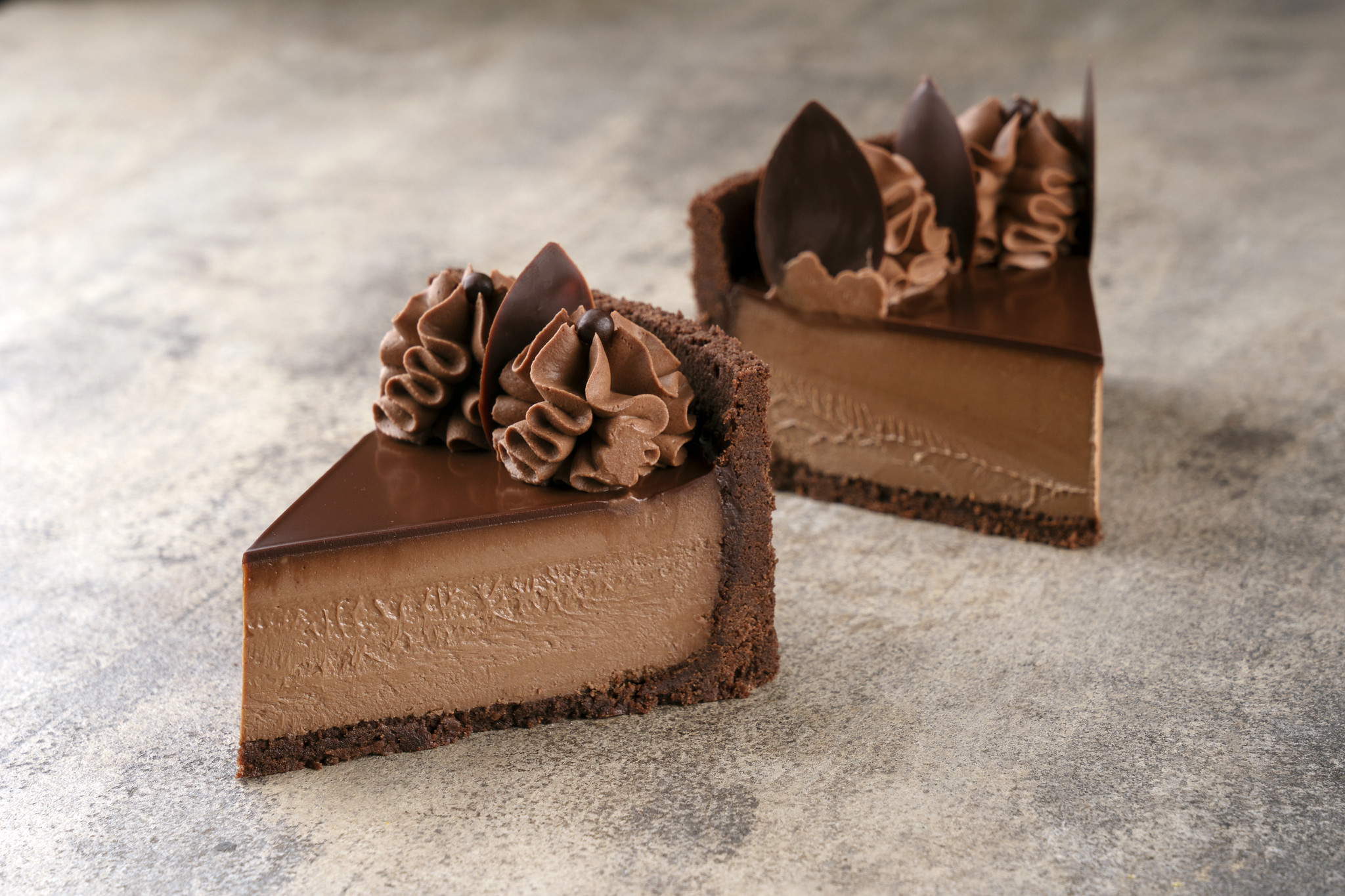 Chocolate baked cheesecake
The charismatic Chocolate cheesecake covered with tasty chocolate glaze and decorated with wavy ribbons of whipped ganache.
In this cheesecake combined the noble power of chocolate with the mildness of cheese. As a result, you will obtain beautiful smooth texture, it will be silky and creamy. A real pleasure to taste.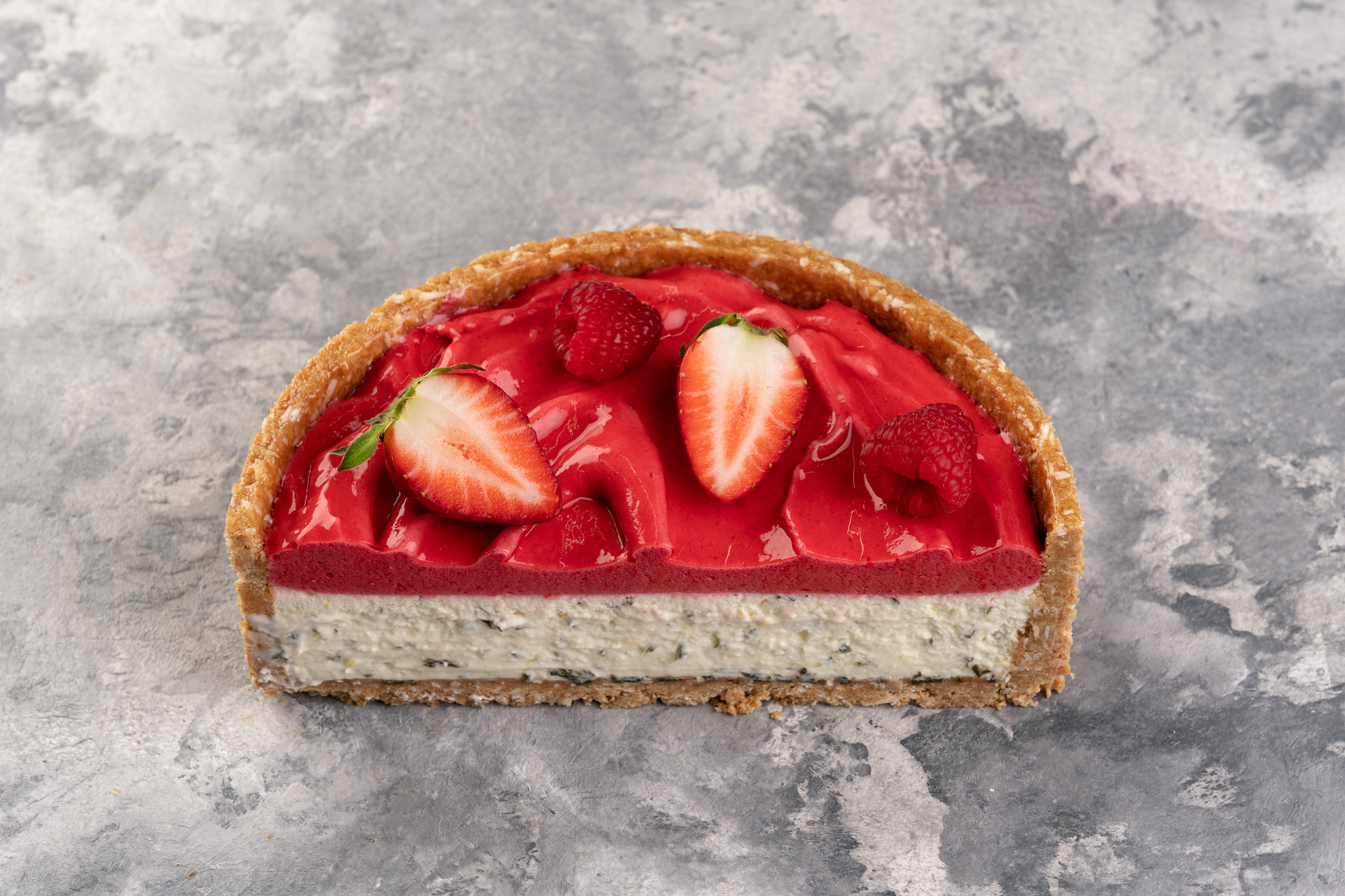 Raspberry-Mohito non-baked cheesecake
This Cheesecake is non-baked. It will please you by it's moist texture along with mint and lemon freshness. We have opted for a non bake cheesecake on purpose. This method allows you to create and keep expressive flavors of mint and lemon.
The texture of the cheesecake mass is moist and tender, with nice particles of mint creating the appealing look. It's extremely light, fluffy and delicious!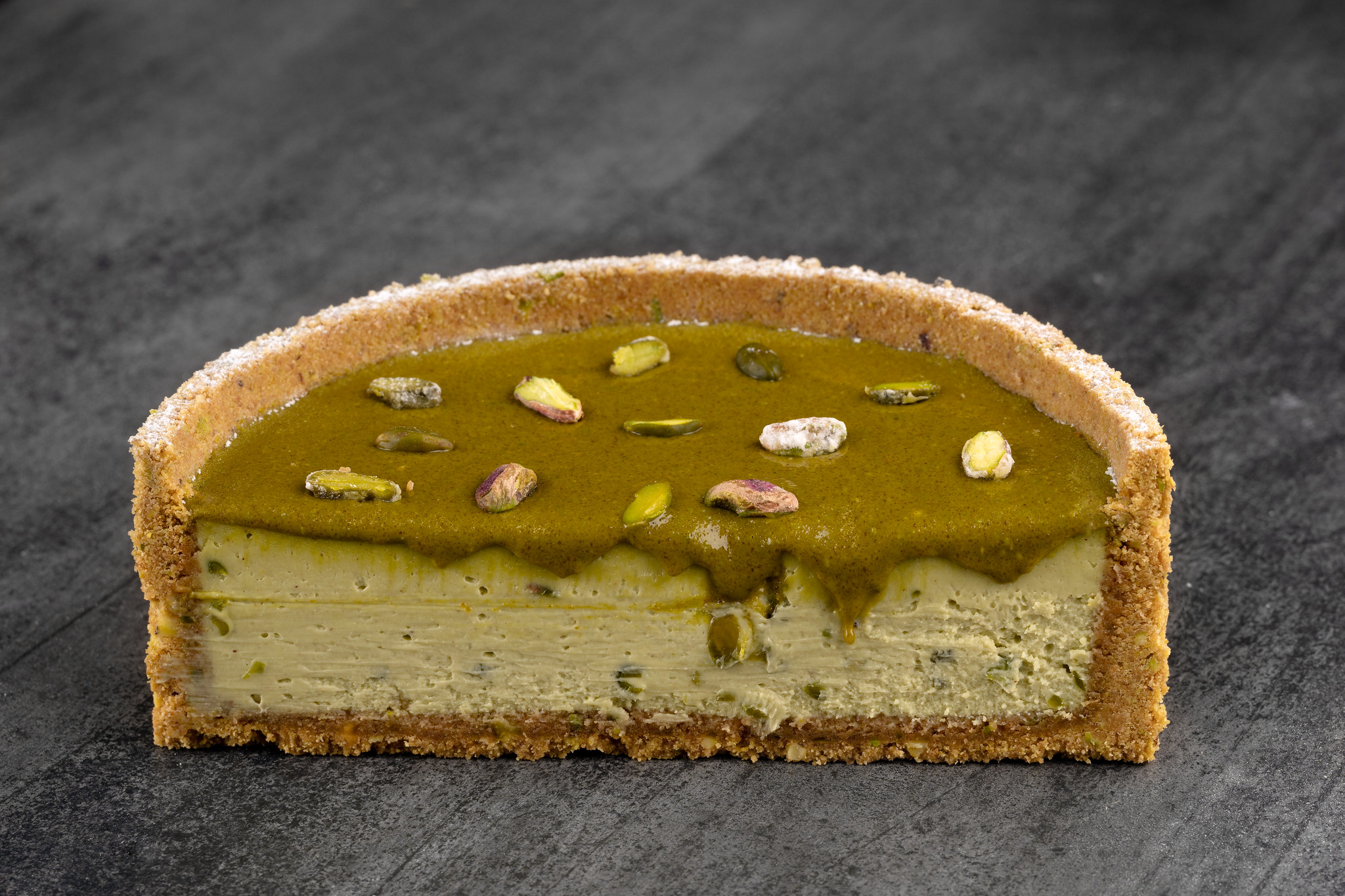 Pistachio baked cheesecake
This is all about pistahio cheesecake. Each texture of this Cheesecake will contain pistachios: the praline, the cheese mass, and the shortbread base.
The textures create an amazing balance of baked shortbread with chopped pistachios, rich soft praline and moist cheesecake mass.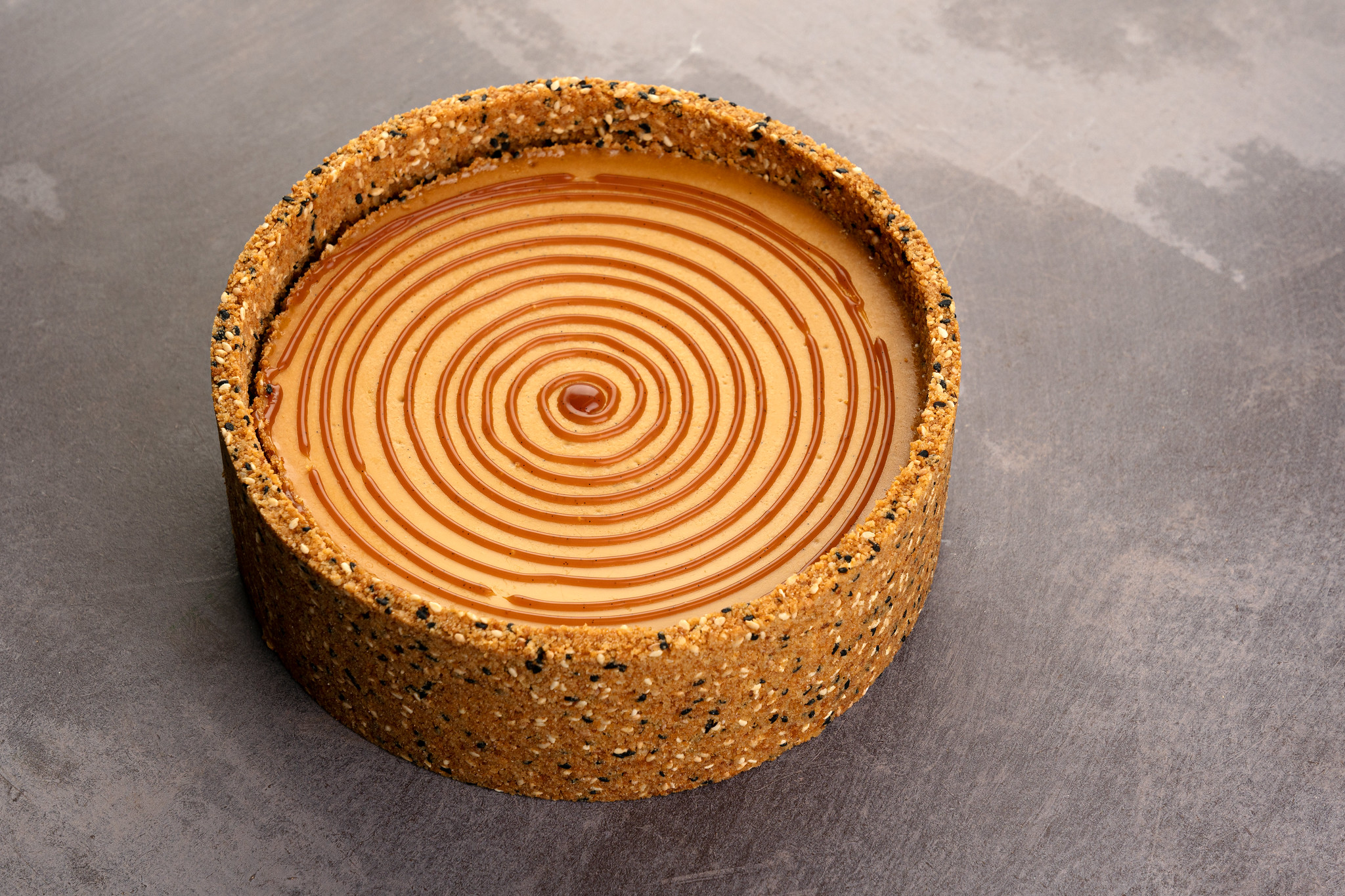 The first thing that makes Caramel cheesecake special is the delicious color of the baked shell with white and black sesame seeds.
Second, you see the stylish Nougatine disc that complements the caramel with crunchy and prominent sesame flavor. Behind the fine caramel swirl, we see the appetizing texture of the cheesecake.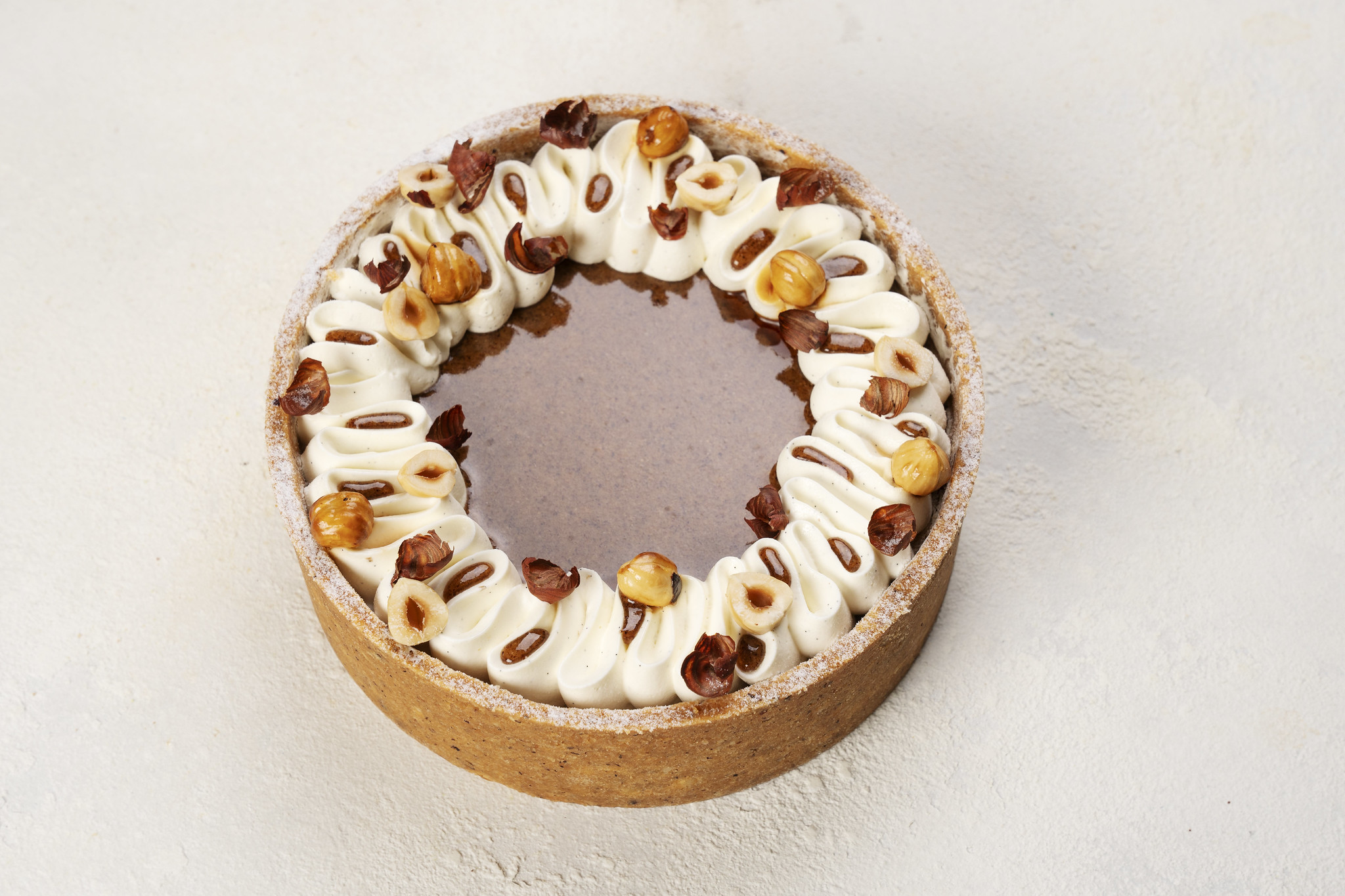 Hazelnut baked cheesecake
In this lesson, under strict guidance of our chef Aleksandr, you will make a cheesecake for true lovers of nutty and spicy flavours. Each texture of this cheesecake, crunchy, shortcrust, cream cheese, praliné and chantilly cream, has an intense hazelnut taste which completes one another. A set of these textures is a perfect combination for an impeccable cheesecake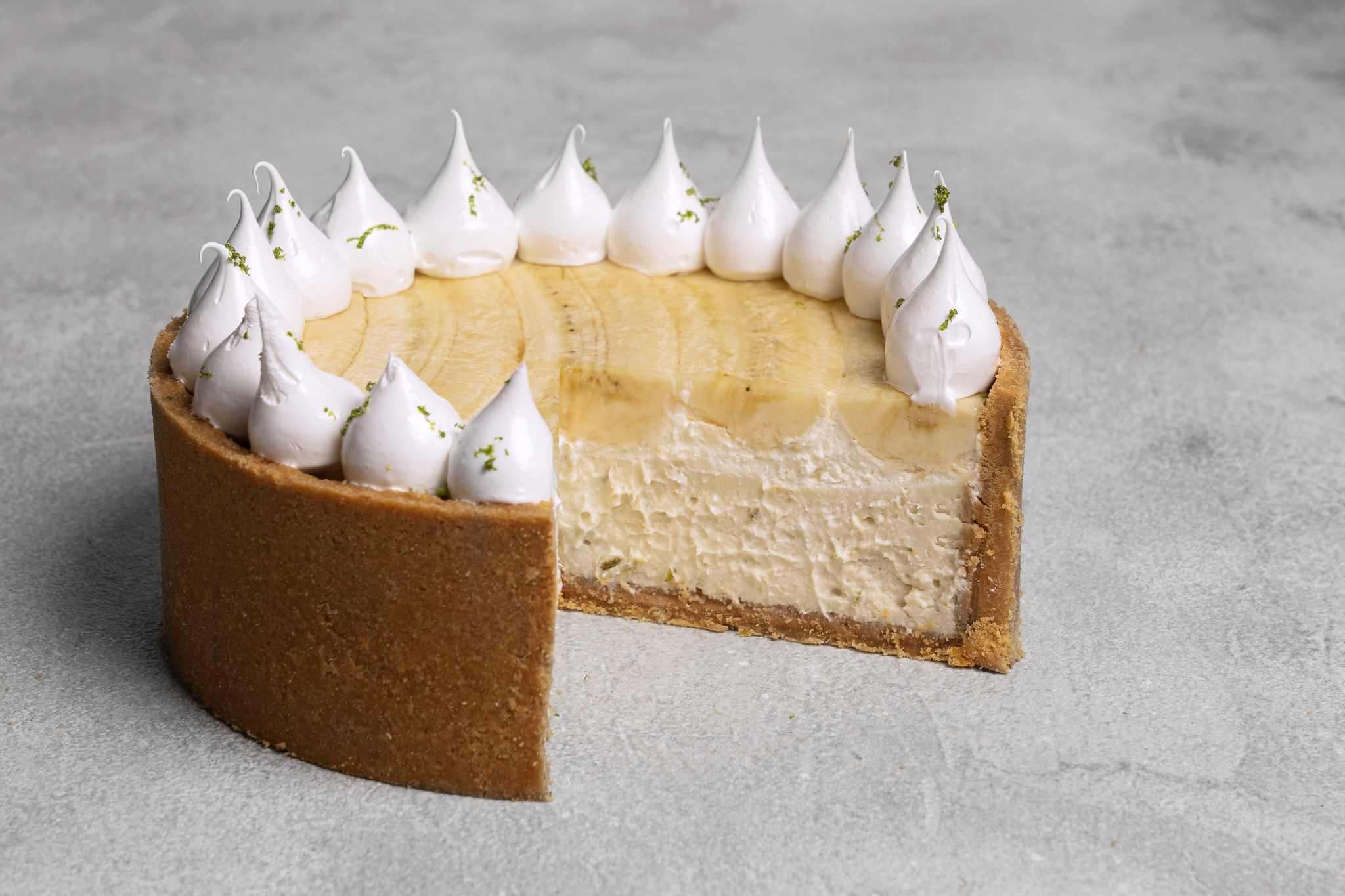 Learn how to make a handmade shortbread, a fragrant cheesecake mass with banana puree, a tender Chantilly cream, a tasty meringue and a simple yet artistic fresh banana top layer.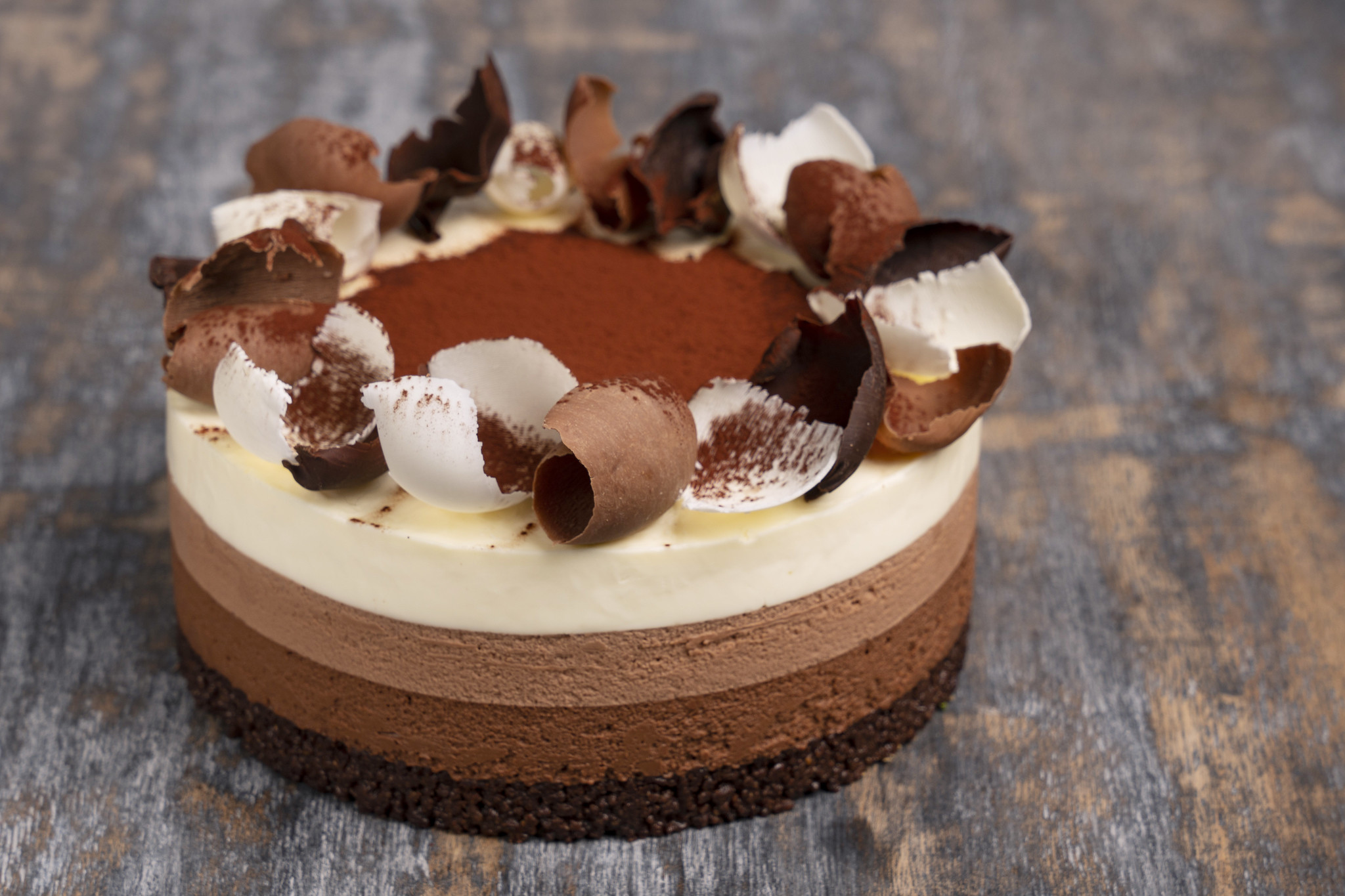 Three chocolates no-bake cheesecake
Delicious chocolate layers are what draw the eye to this magnificent cheesecake. The tender and creamy texture of the no-bake cheesecake and crunchy base will seduce everyone. Triple Chocolate Cheesecake by Aleksandr Trofimenkov is a guaranteed favorite for all those who try it – it will certainly be the main spectacle on your dessert table.
Oreo cheesecake is a simple but perfect cheesecake for incorrigible lovers of Oreo cookies. The contrast between black and white, crispy and tender textures is what makes it so special. In this dessert you will find a crispy shortcrust base and soft cream cheese mass exactly like in Oreo cookies. Simple to create and elegant to contemplate, this cheesecake is a festive decoration both for your special occasion or for the pastry showcase
Carrot and spices baked cheesecake
This cheesecake by Aleksandr Trofimenkov has a rich texture and flavor. All textures look tasty and combines perfectly. Cheesecake consists of a carrot sponge with walnuts, raisins, orange, and cinnamon, a cheesecake mass with orange and a shortbread base with cinnamon and orange zest. Its surface looks delicious thanks to the walnut texture, shiny carrots and well-baked shortbread. Make this carrot cheesecake and enjoy its fragrance and taste.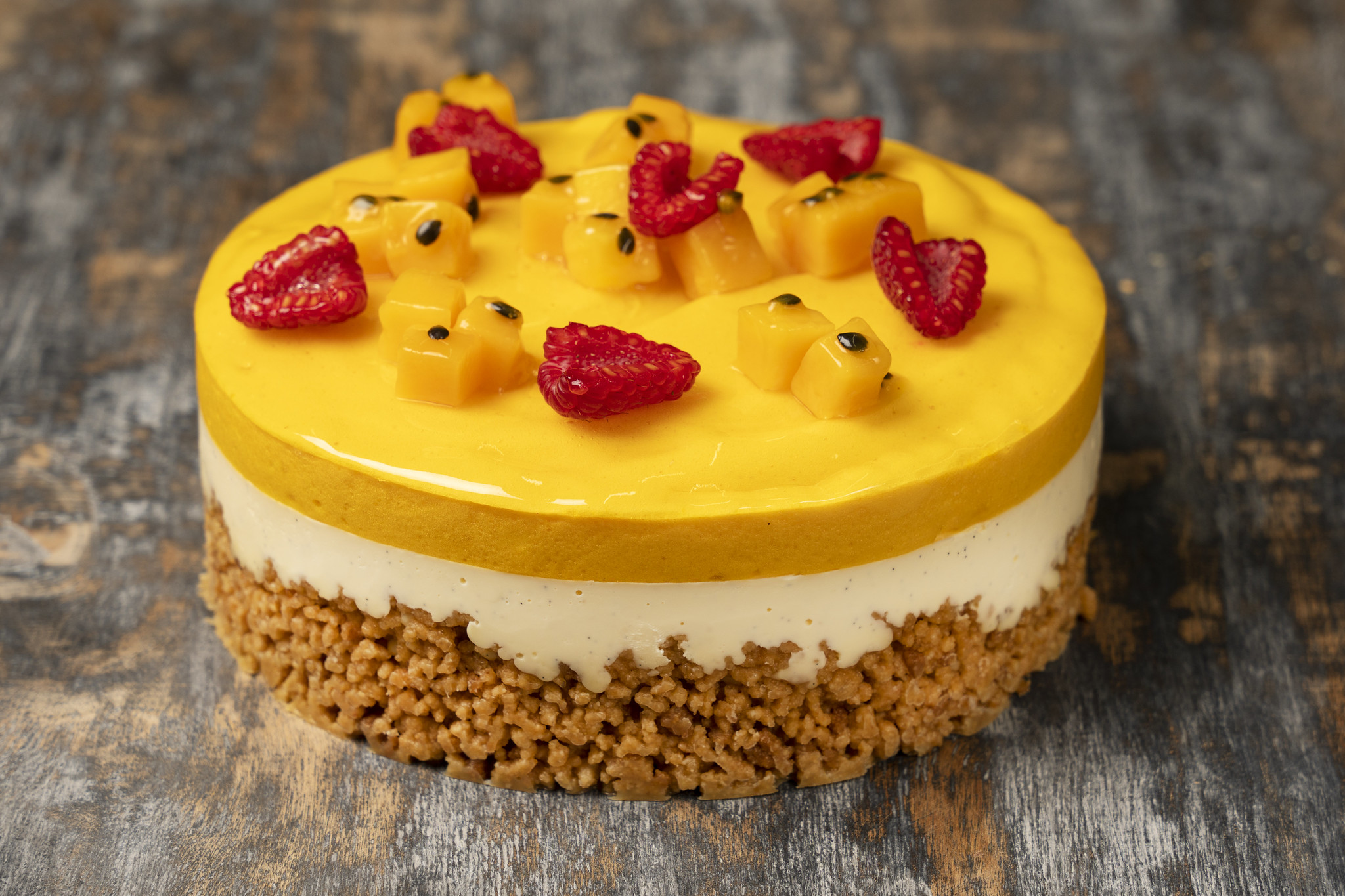 This is a no-bake cheesecake. It will please you with it's moist texture along with mango and passion fruit exotic taste. Such a method of preparation allows you to keep the flavors of exotic fruits very expressive and pronounced. The Mango and Passion fruit cheesecake is decorated with an incredible texture without colorants - a whipped mango and passion fruit jelly. The cheesecake is served in a beautiful reconstructed shortbread base. The texture of the cheesecake mass is moist and delicate, with a nice vanilla flavor. It's extremely light, fluffy and delicious
Big Cheesecakes Course Curriculum

Available in days

days after you enroll

Big Cheesecakes Course Introduction lesson
Available in days

days after you enroll

Video lessons and recipes
Available in days

days after you enroll

Additional videos
Pastry chef, French pastry tutor
From the very beginning, the chef sets the standards of work which help the students to get great pastries that can fill up the vitrines of demanding pastry boutiques.
The chef has few years of experience as a pastry chef in the production line at the best pastry shop in Kiev - Honey, few years of teaching at the Hector Bravo Pastry School.
He also designed and opened the production of luxury pastries in Dubai.
Many years of experience in teaching and working in the industry allow Alexander Trofimenkov to share with the audience theory and practice at the level of world-famous pastry chefs.