AFTER THIS COURSE YOU WILL BE ABLE TO: 

how to make the batter correctly and bake perfectly filled, smooth and even macaron shells
how to make the modern pastries based on the basic recipes and techniques of French pastery
work out the process of cooking of batter and stable fillings with interesting flavors combinations under the supervision of an experienced chef

obtain a ready collection of elegant macarons for your business development
WHO IS THIS COURSE FOR

You want to learn how to cook the macaron professionally 
You cook the desserts at home and you want to start baking the macaron to order or for a cafe
You already bake macaron to order and you want to expand the showcase with modern pastries
You have been baking to order for a long time and you want to earn a lot more
You want to increase your professional level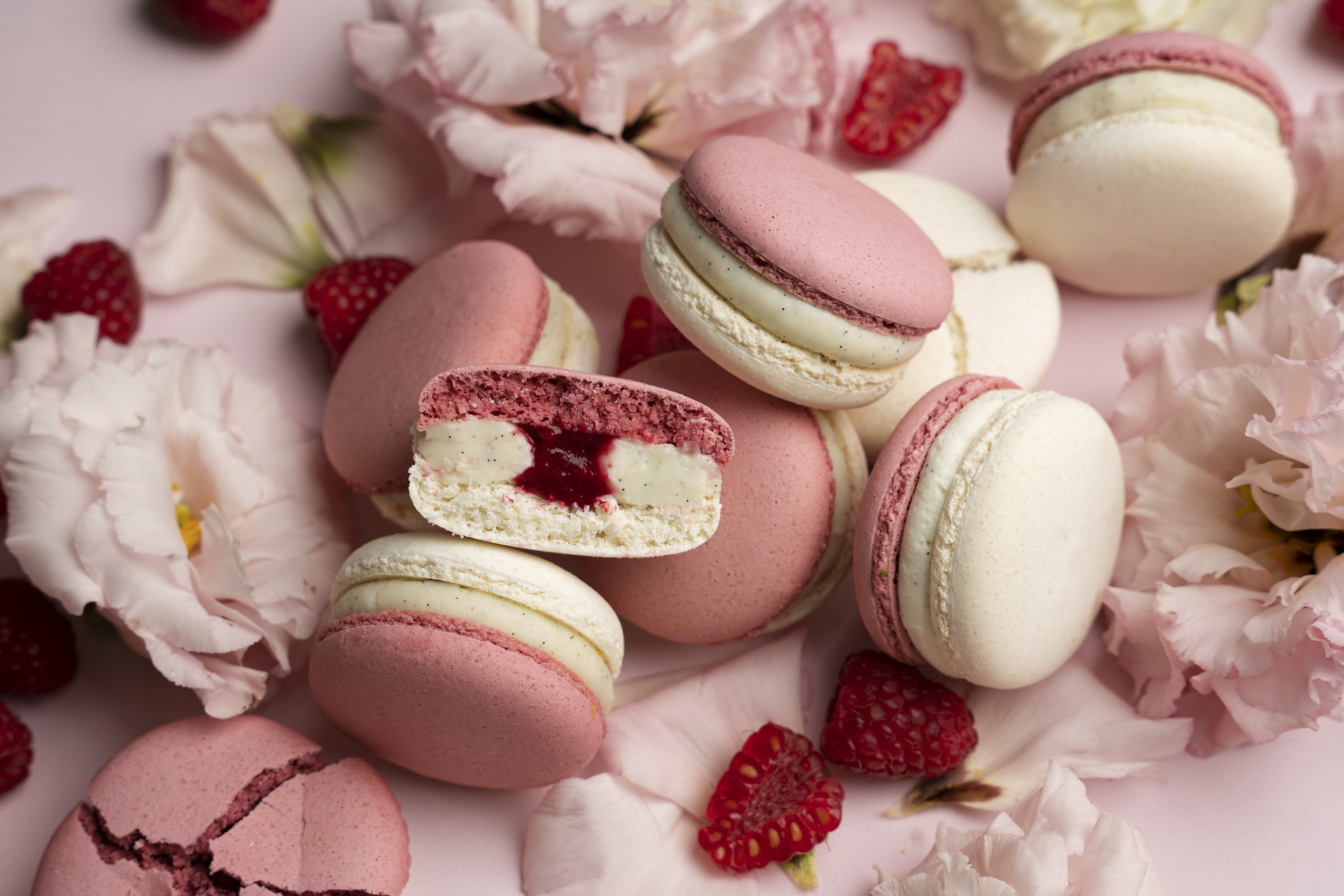 Raspberry and Yougurt Macaron
These macarons are full of spring spirits.
The idea of our brand chef Aleksandr Trofimenkov is to make macarons with light, tender and not too sweet filling. In this recipe you will combine perfectly baked macarons, based on French meringue, soft yogurt ganache and fresh berry confit.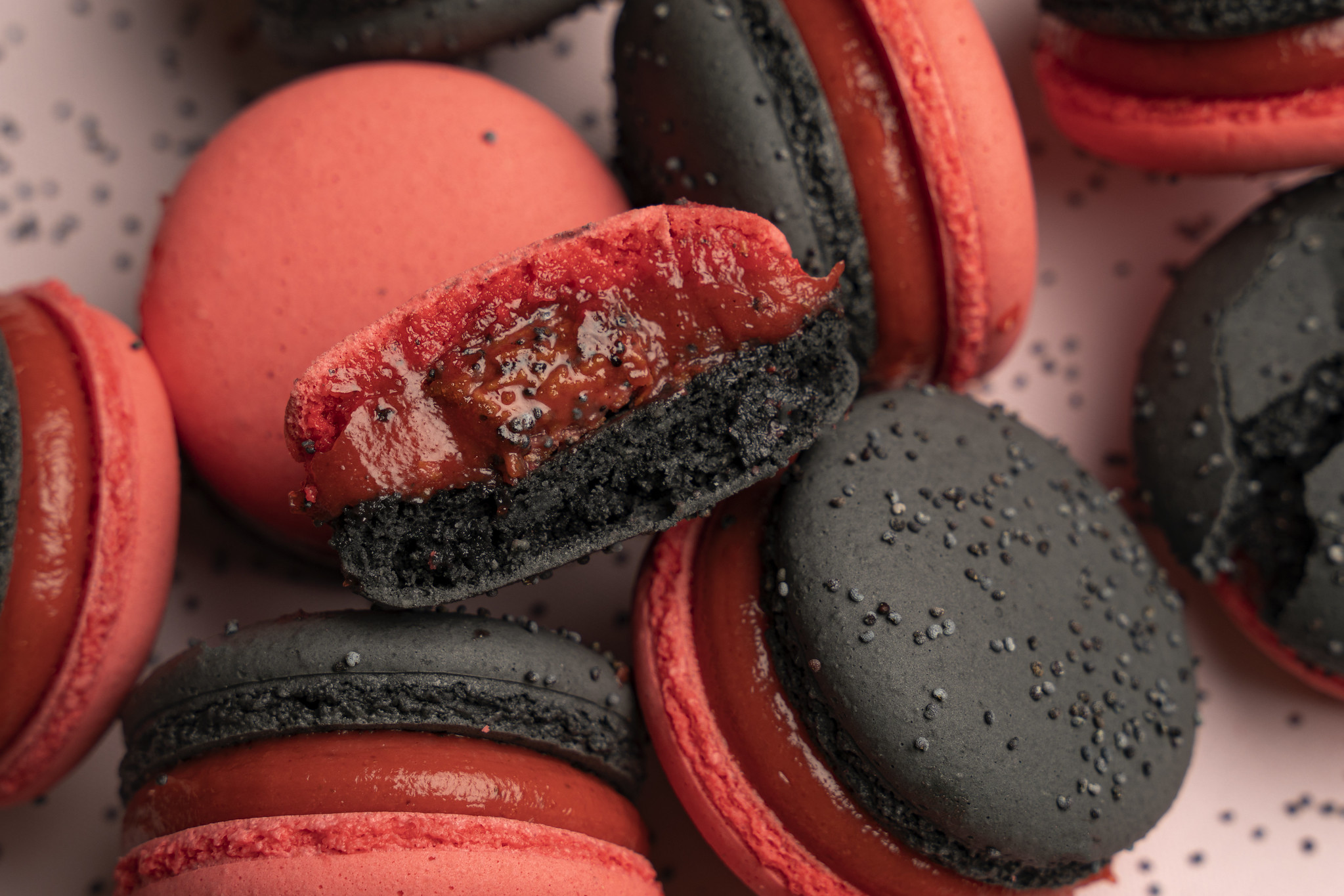 Strawberry and Poppy Seeds Macaron
Strawberry and poppy seeds macarons are a combination of extraordinary flavors and textures.
In these macarons, Aleksandr Trofimenkov combines French meringue based macaron shells, decorated with poppy seeds, fresh strawberry ganache and a crunchy layer with Valrhona Strawberry inspiration chocolate and poppy seeds in the center. Prepare these macarons together with the chef and impress your friends and clients.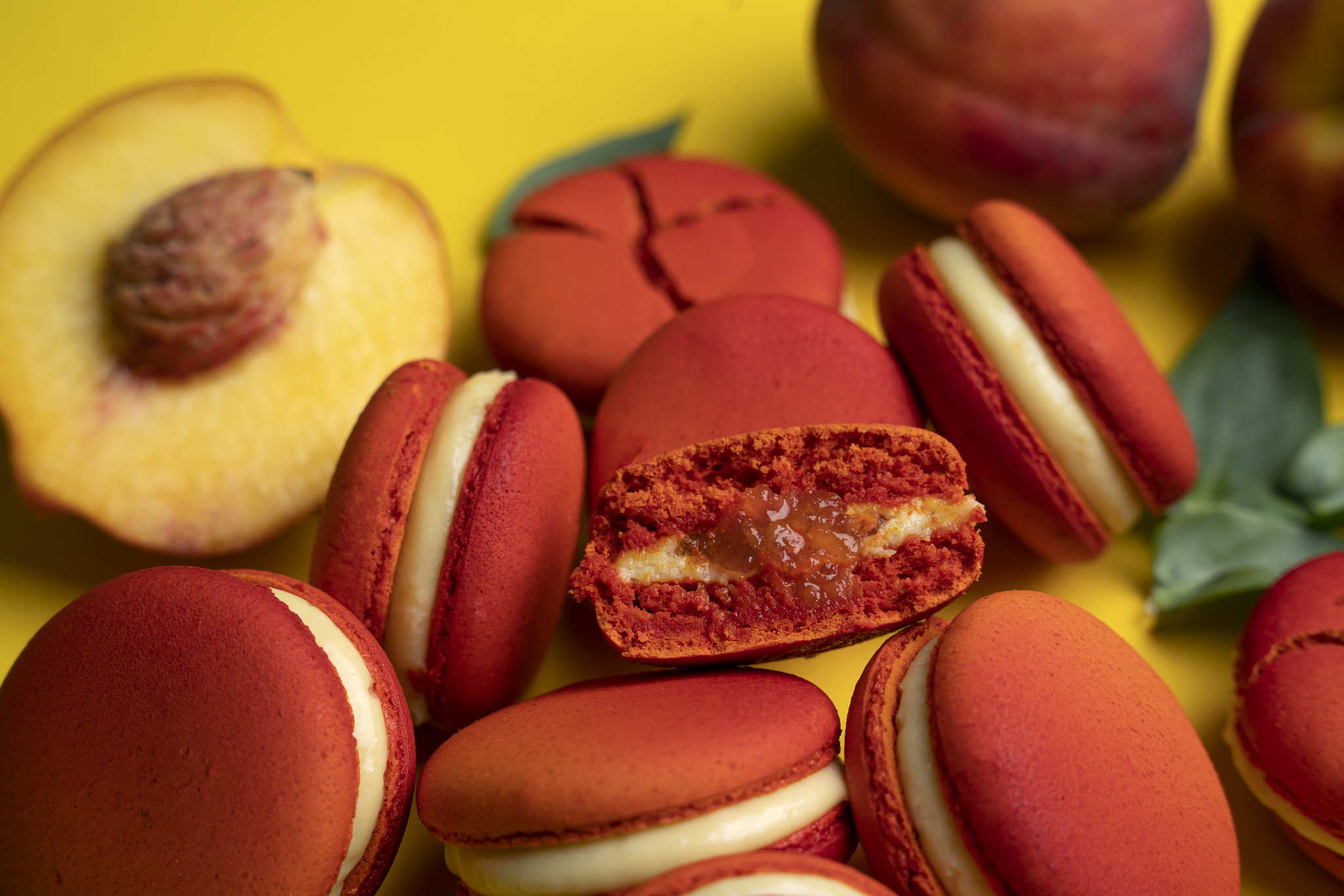 Peach macarons by Aleksandr Trofimеnkov will catch your eye.
The chef covered the macarons shell with colorant, using an aerograf, so that the macarons look like a ripe peach. Macarons will impress you not only with their looks but also with their taste of elderberry white chocolate ganache and peach compote.
Together with the chef, you will prepare bright and unique macarons with rich and tasteful filling.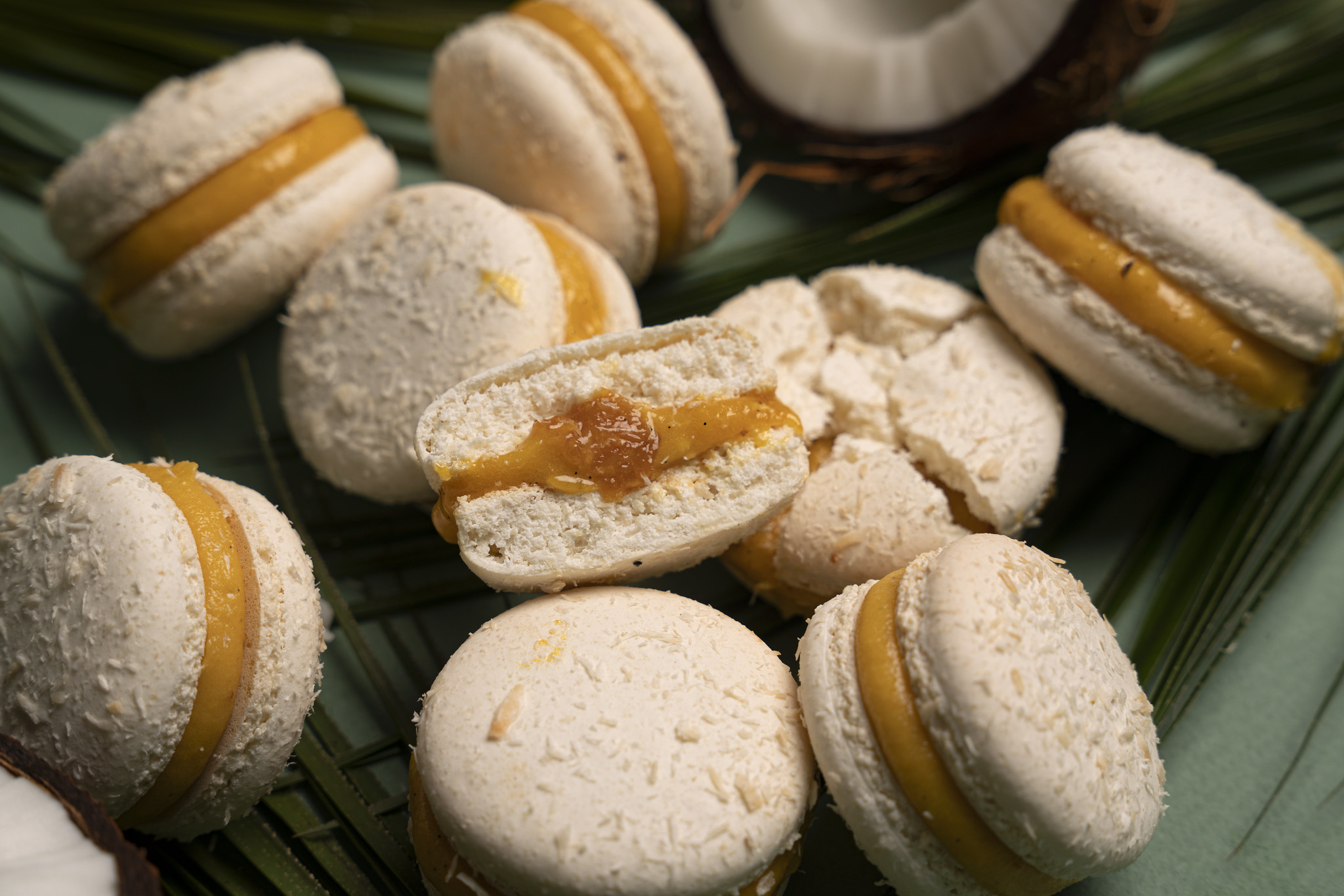 Coconut and Passion Fruit Macaron

These exotic macarons are for real lovers of tropic flavor. Our brand chef Aleksand Trofimenkov will show you how to make the perfect Italian meringue-based macaron, decorated with coconut flakes and filled with mango ganache. The exotic taste is also emphasized by the caramelized pineapple in the center of the macarons.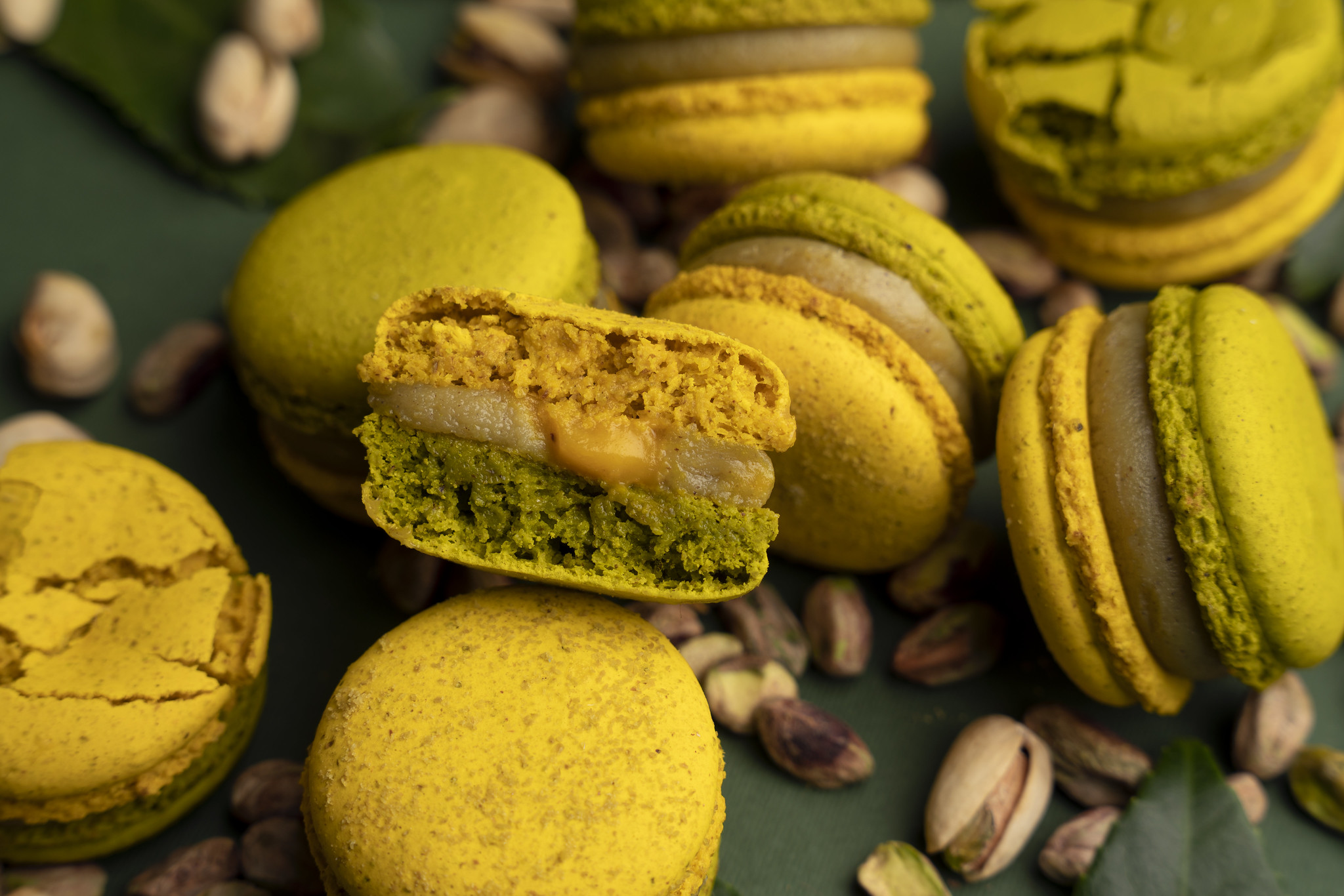 Pistachio macarons will impress you with their bright looks and rich pistachio taste. Together with chef Aleksandr Trofimenkov you will make French meringue-based macaron with pistachio powder. These macarons are filled with pistachio ganache and orange jam, which perfectly complement each other.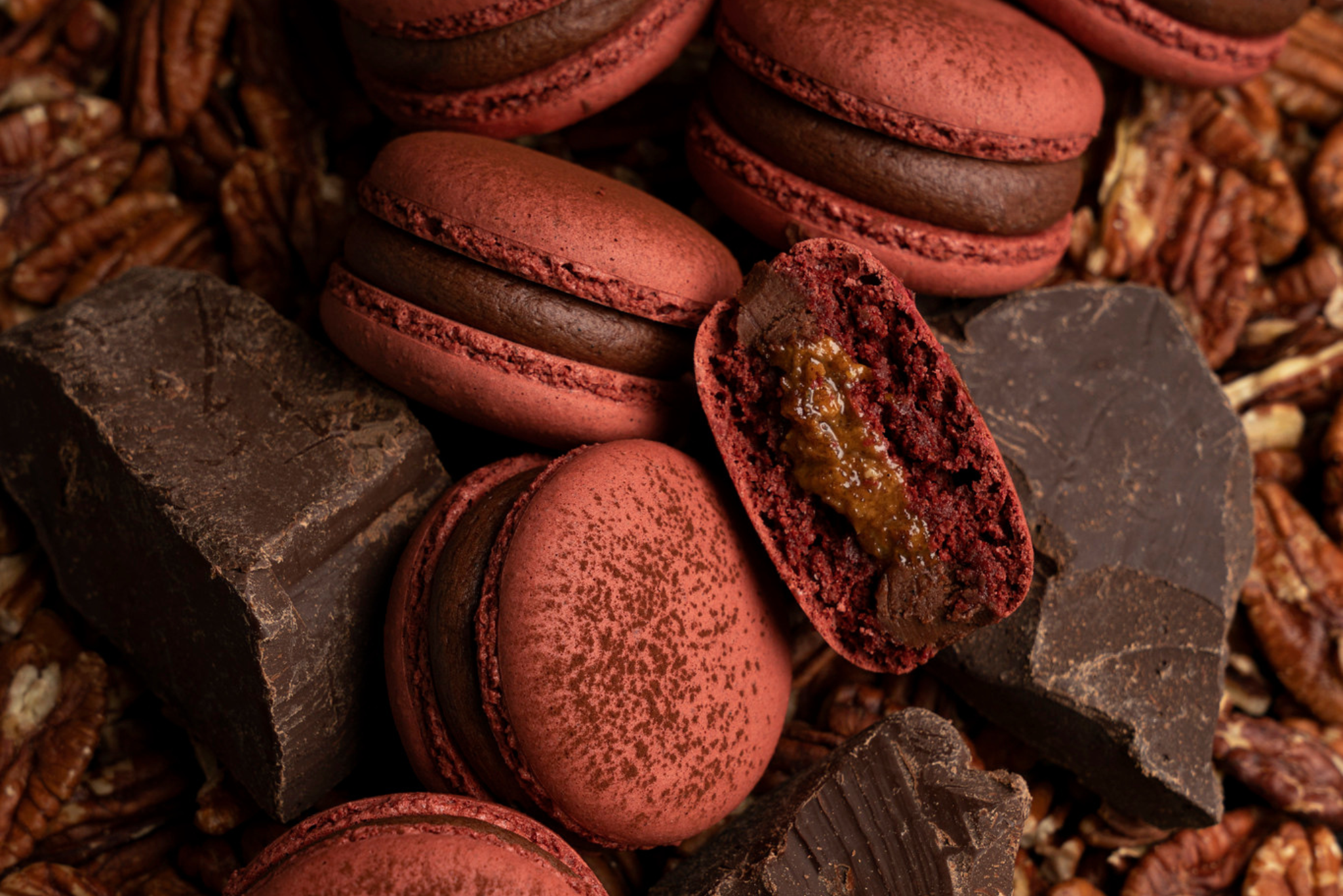 Chocolate and Pecan Praline Macaron
Rich and intense chocolate flavor is a highlight of this Chocolate and pecan praline macarons. Together with our brand chef Aleksandr Trofimenkov you will prepare a perfect chocolate macaron, based on French meringue, decorated with cocoa powder and filled with tender chocolate ganache, complemented with pecan praline.Best choice for the real fan of chocolate.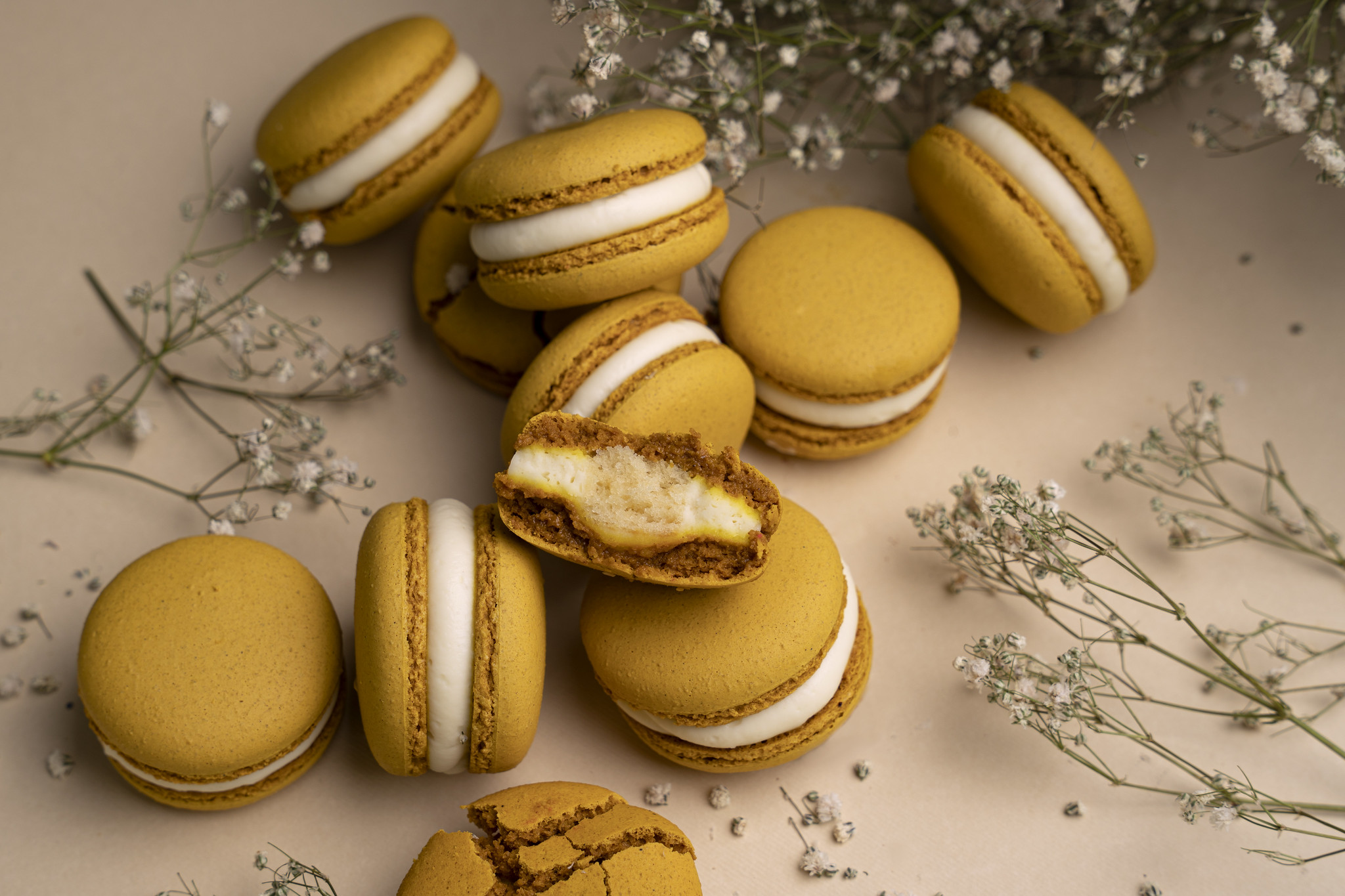 Honey macaron by chef Aleksandr Trofimenkov is inspired by classic Russian Honey cake.These macarons are composed of perfectly baked French meringue based shell, sour cream filling and honey sponge on the center.Make these macarons and enjoy the familiar taste of Honey cake.

Tempting Macarons Course Curriculum

COURSE AUTHOR
ALEXANDER TROFIMENKOV
Pastry chef, French pastry tutor
From the very beginning, the chef sets the standards of work which help the students to get great pastries that can fill up the vitrines of demanding pastry boutiques.
The chef has few years of experience as a pastry chef in the production line at the best pastry shop in Kiev - Honey, few years of teaching at the Hector Bravo Pastry School.
He also designed and opened the production of luxury pastries in Dubai.
Many years of experience in teaching and working in the industry allow Alexander Trofimenkov to share with the audience theory and practice at the level of world-famous pastry chefs.