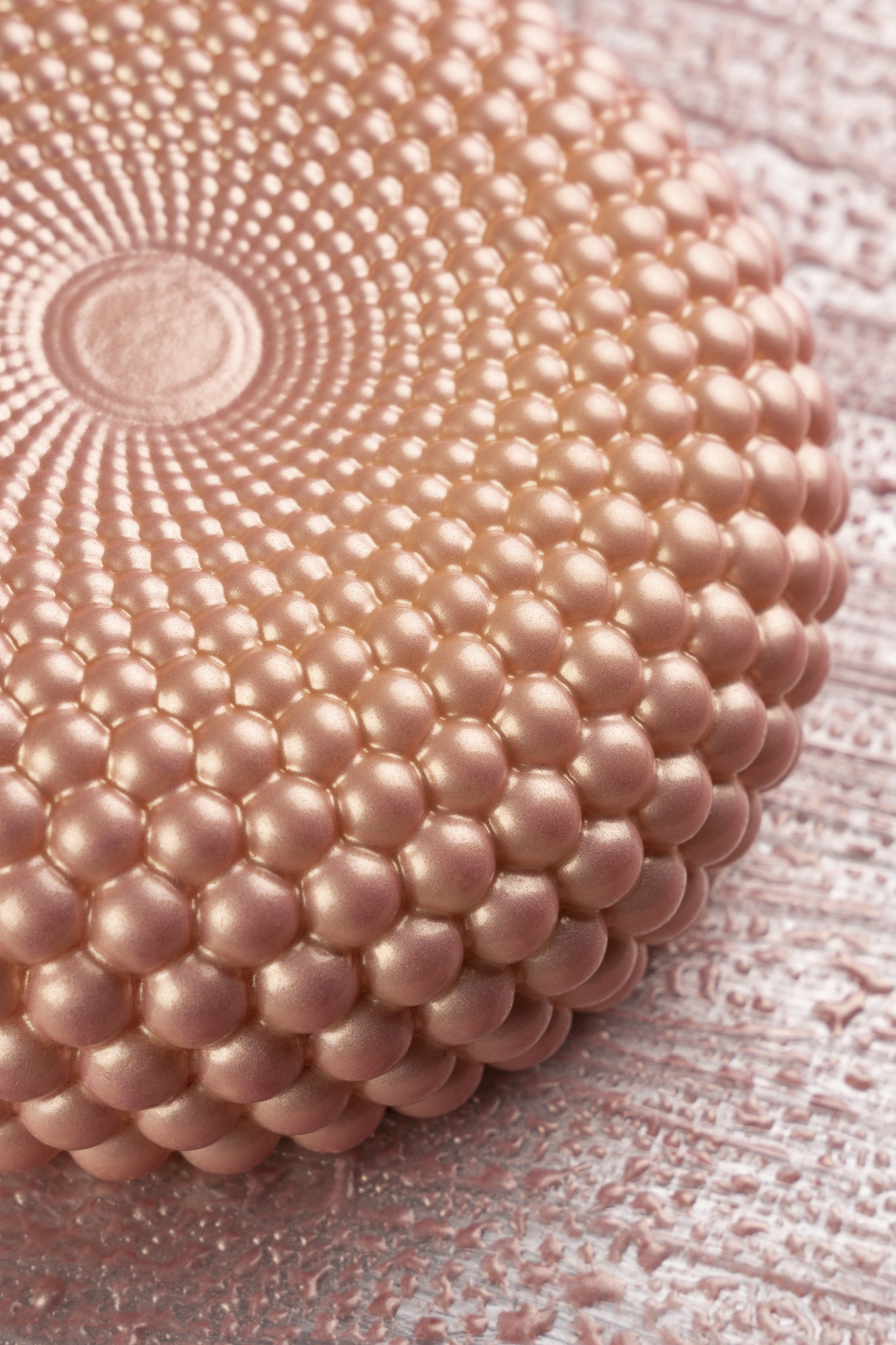 WHO IS THIS COURSE FOR :

You are a beginner in mousse cakes and you want to learn the solid fundamentals. You need foolproof recipes and techniques, guidance and support from a professional instructor
You are a confident in mousse cakes but want to learn new recipes and techniques. You want to learn new flavor fusions and techniques to improve your skills and widen your pastry assortment
You are interested in the concept and personality of a pastry artist – DINARA KASKO. You want to learn how Dinara creates her cakes, to try the original pastries and to obtain the course certificate
AFTER THIS COURSE:

You will be able to prepare 7 creative mousse cakes and use this ready-to-sell collection in your pastry business
You will master 6 different mousses; 4 types of sponges, puff and choux pastry; shortcrust shells for the tarts; different textures like strawberry caramel, confit, compote and crémeux
You will learn how to work with different mold designs to obtain a neat and smooth texture of your mousse cakes
You will learn to make a perfect velour and neutral glaze coating for mousse cakes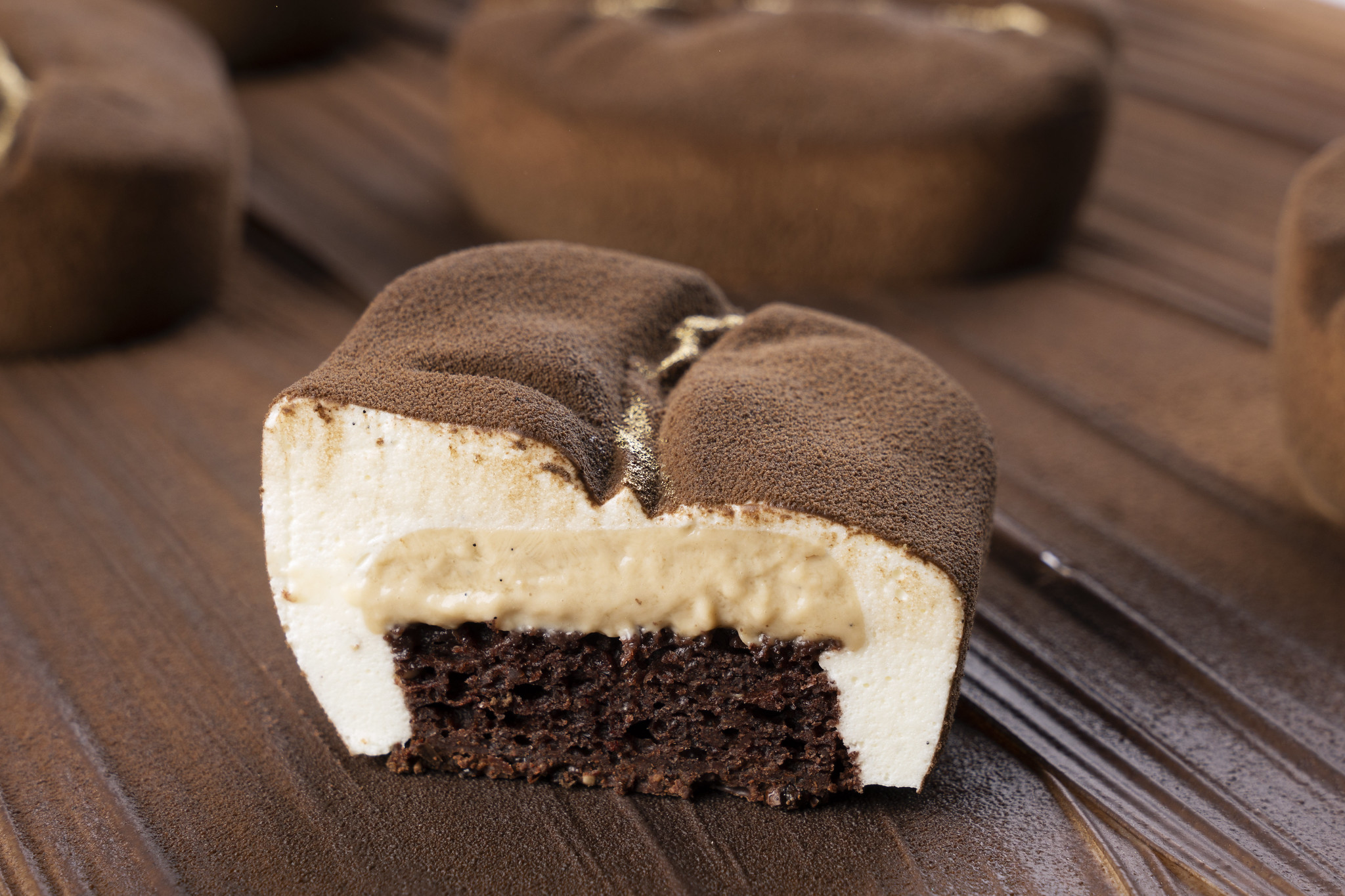 Coffee individual mousse cake
Inspired by the appearance of coffee beans, these cakes have been designed to resemble the shape, rich color and velvety texture of the beans themselves. The coffee flavor is shown off through a variety of textures: a vanilla and coffee mousse, a coffee crème brûlée and a crunchy layer made with caramelized coffee beans. The chocolate sponge in this cake makes the taste of coffee even more expressive.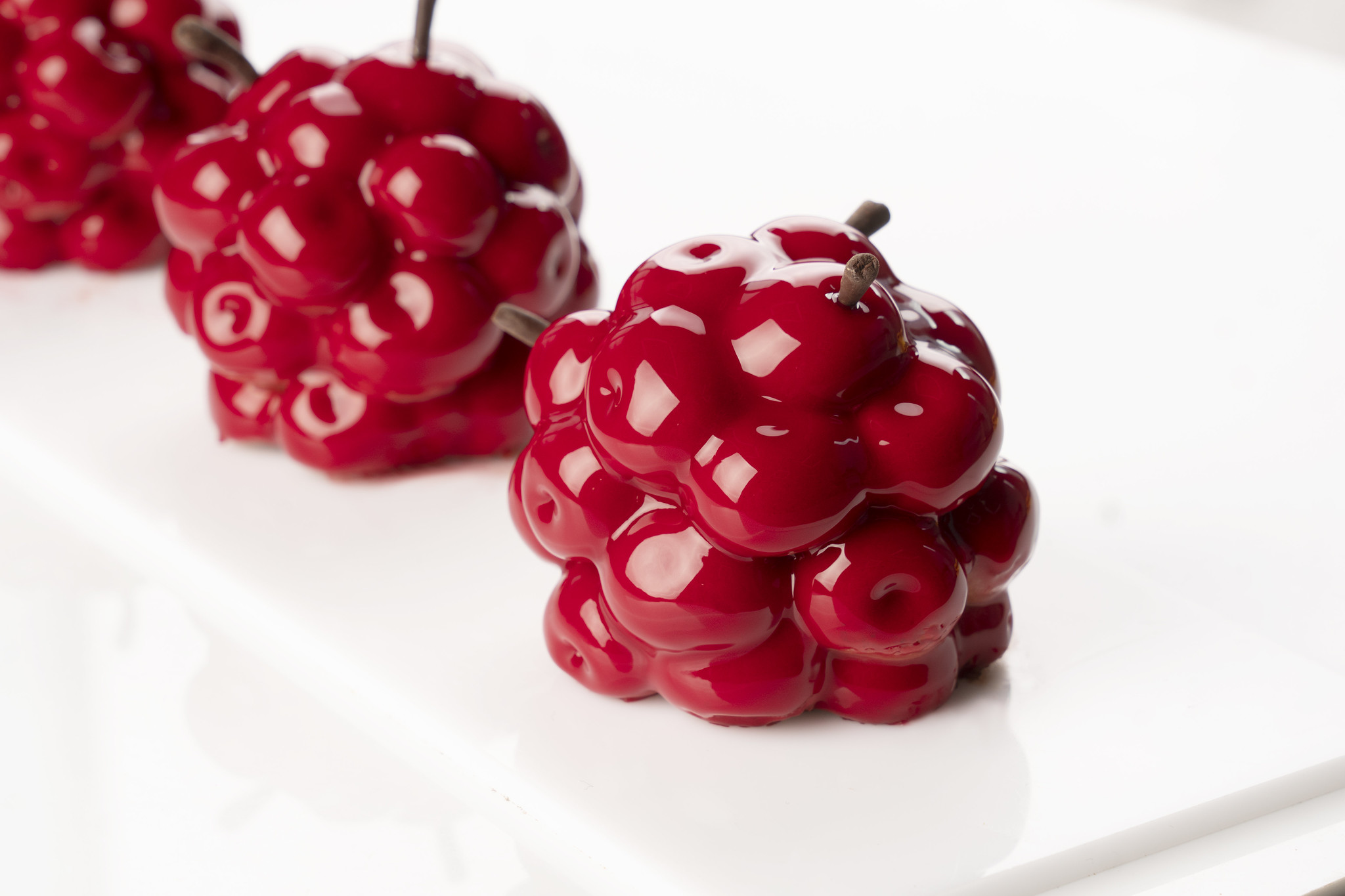 Cherry individual mousse cake
The first thing that will please you about this cake is its beautiful shape, which resembles a handful of ripe cherries. In order to give the cake a pronounced flavor, Dinara Kasko combined together two flavors, sour cherry and dark chocolate, and presented them in of five textures: a chocolate sponge, a crunchy chocolate layer, a cherry confit, a cherry and chocolate crémeux, and a chocolate mousse.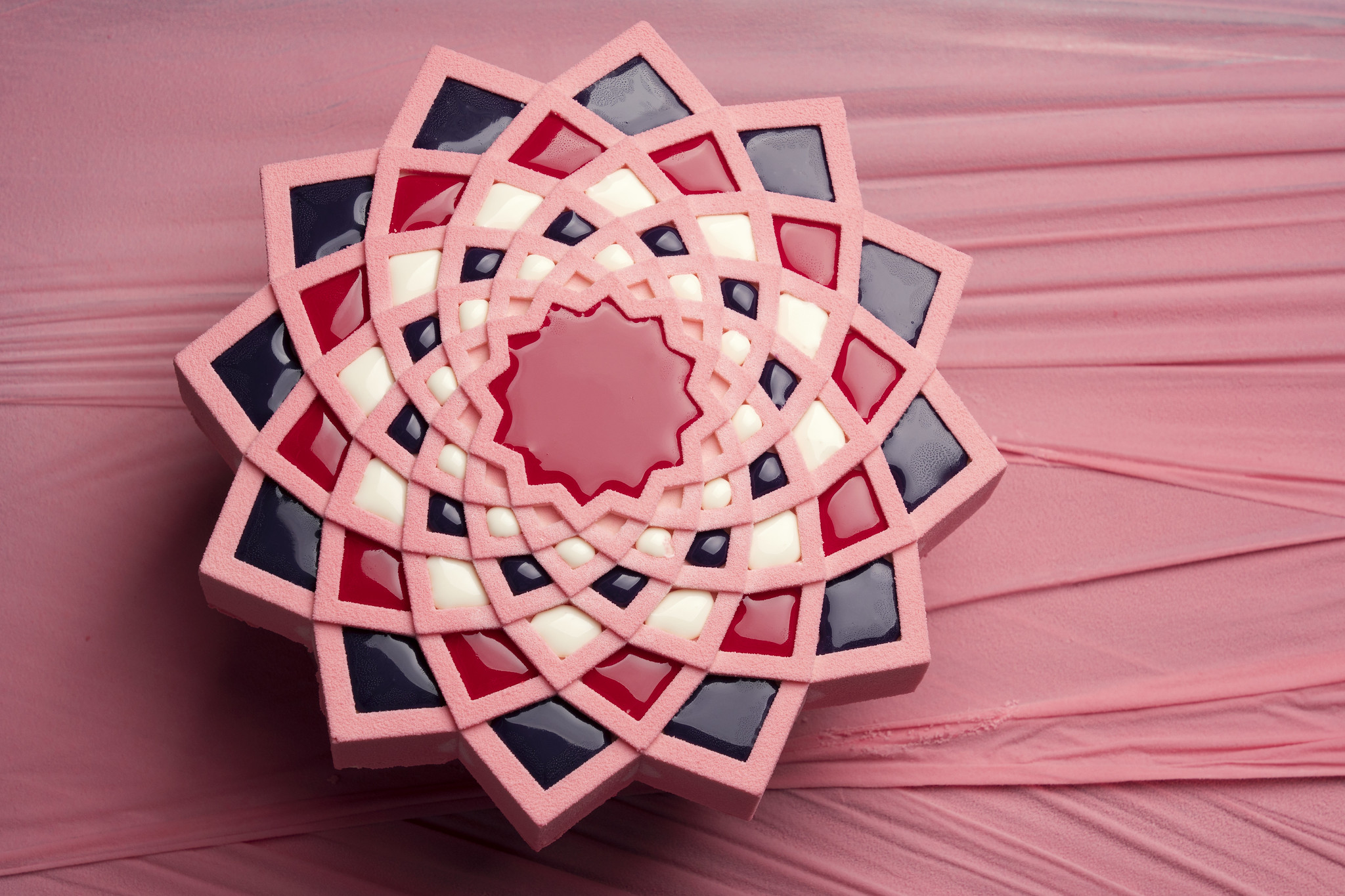 The surface of this cake looks like a multi-colored mosaic that has been elegantly arranged into a stone flower. The contrast between the matte base and the tricolored glossy décor gives the cake a special character. Inside the cake, the chef combined a tall lemon sponge cake with a refreshing mint crémeux, a rich strawberry confit and a lemon mousse.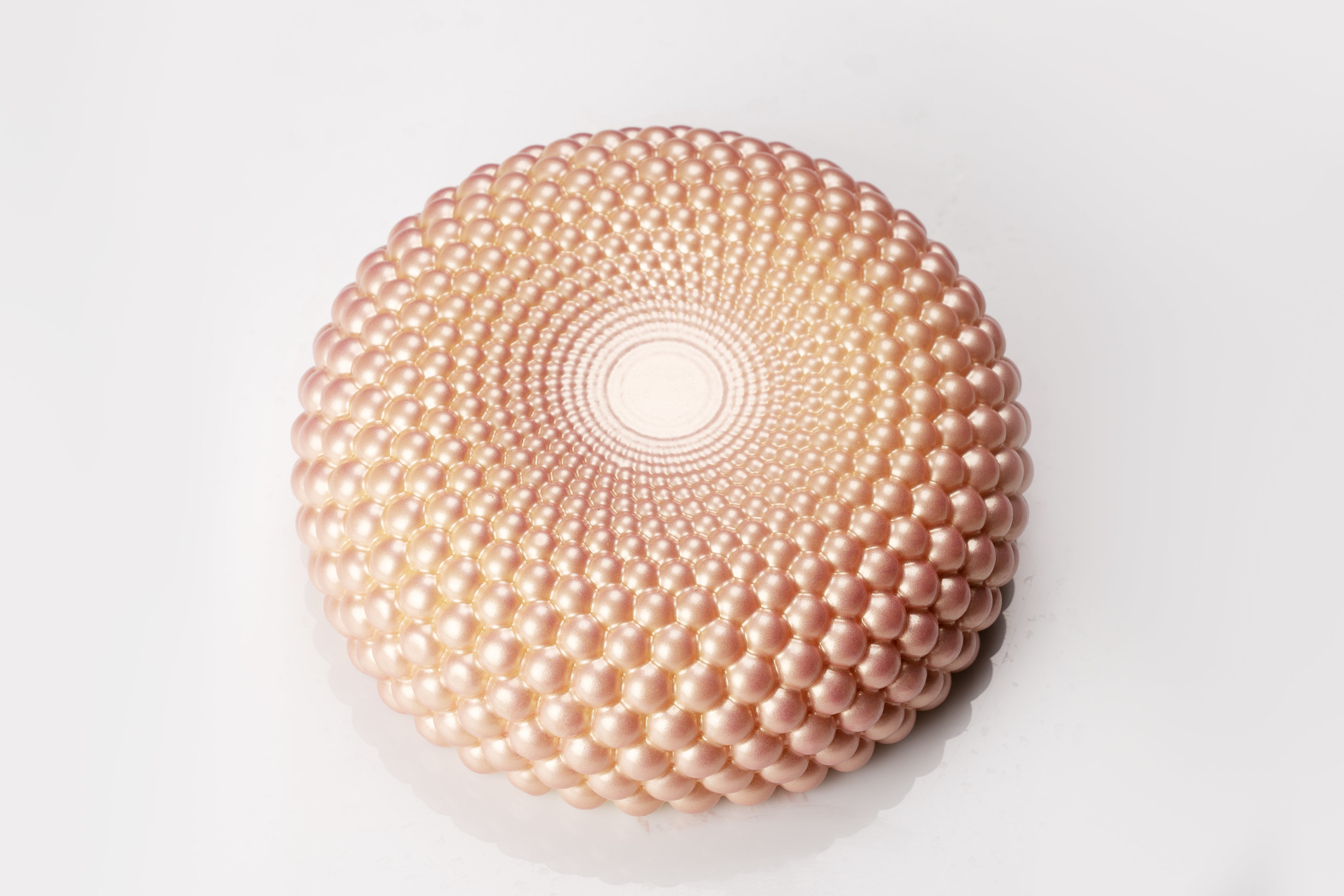 The shape of this cake is very dynamic - it is beautiful to look at. The pearls come in different sizes, creating a pleasant rhythm and attracting the eye. The Pearls cake mold is very popular all over the world. The main flavor in this cake is peach. The chef will show you how to prepare a peach mousse and peach compote, and complement them with a vanilla crémeux, a tall sponge and a crunchy layer.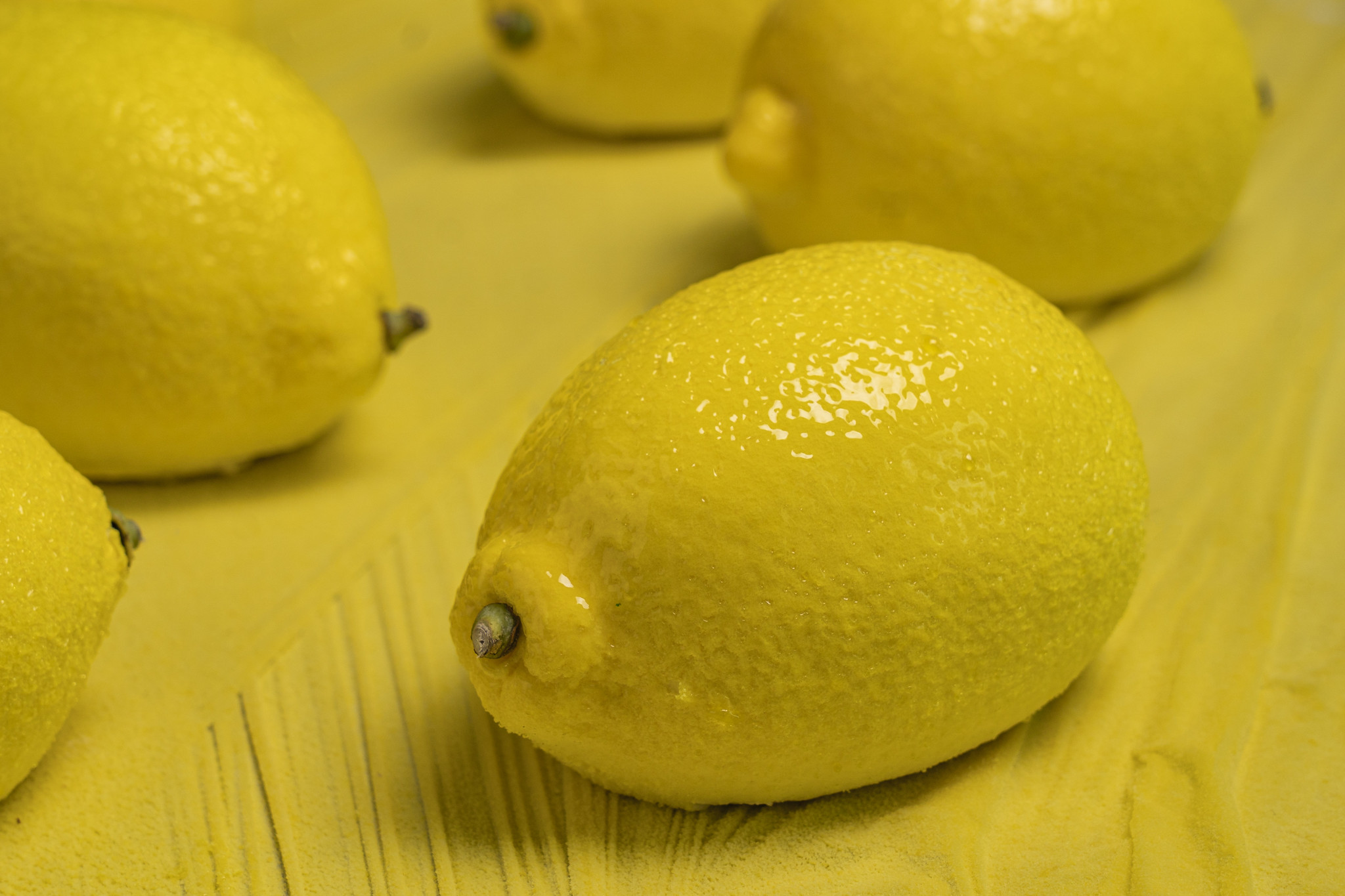 For these cakes, the chef combined lemon mousse with mint ganache, lemon crémeux, lemon zest sponge cake and shortbread. Using this cake as an example, Dinara Kasko will show you how to make a handmade mold yourself. The chef will teach you how to make a lemon-shaped mold from silicone, agar-agar or gelatin. By doing this, or using a ready-made factory mold, you will learn how to create cakes in any shape you want.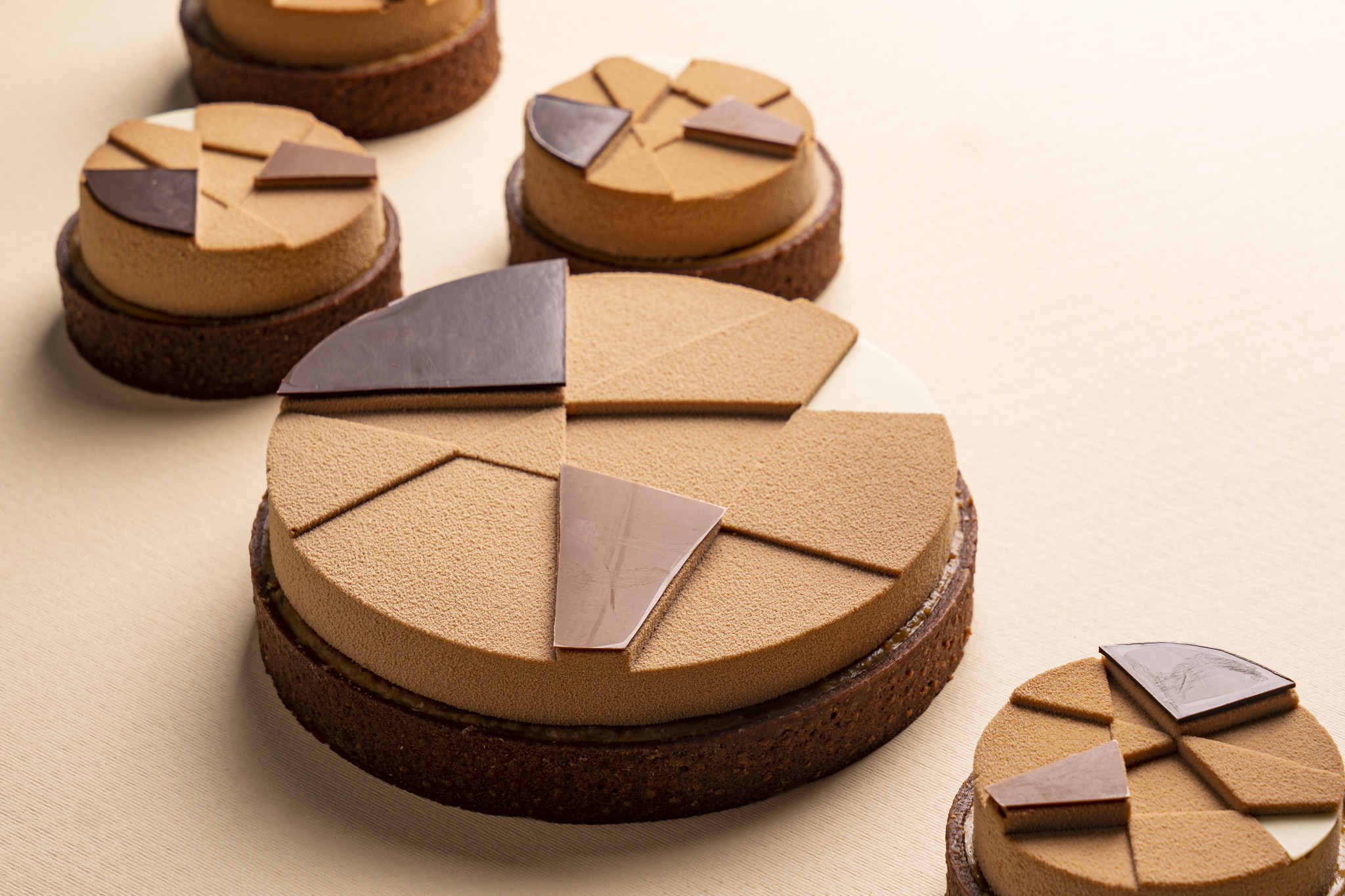 This tart is classic in its components, but its design is unusual and evokes Dinara Kasko's architectural style. The chocolate shortbread shell is filled with a chocolate caramel, peanut butter and flour-free sponge. In order to fill the tart with creamy flavors and make it look spectacular, Dinara applies a peanut butter mousse to the surface of the shortcrust case.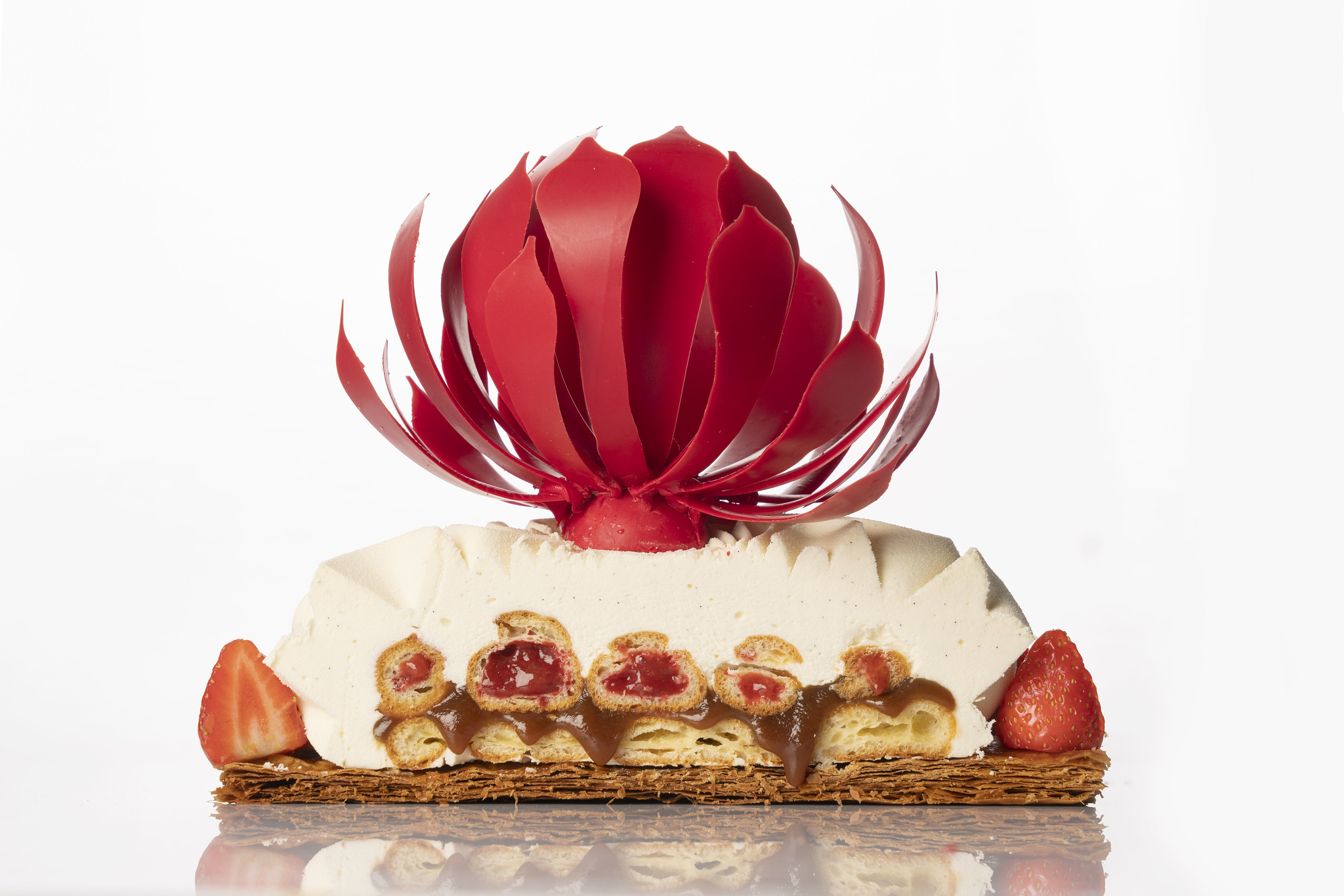 The Saint Honore cake looks grand and delicious at the same time. The combination of red strawberry and white cream looks very expressive and stylish. The soft waves of cream, rhythmic strawberry pattern and beautifully curved, red flower petals create a sense of movement, making the cake a pleasure for the eye. The cake cut is really beautiful. Instead of being made up of smooth, even layers, this cake contains a gorgeous layer of choux filled with strawberry coulis, which is set against a background of snow-white vanilla mousse.
WHAT IF I DON'T HAVE DINARA'S CREATIVE MOLDS?

In case you don't have Dinara's molds, you have no opportunity to buy them or your molds delivery takes up a lot of time, you can make this course pastries in basic silicon molds and inox rings.
A task completed in the basic silicon mold or inox ring will be equal to a task completed in Dinara's creative mold.
We will provide each recipe with the calculation of ingredients for basic molds.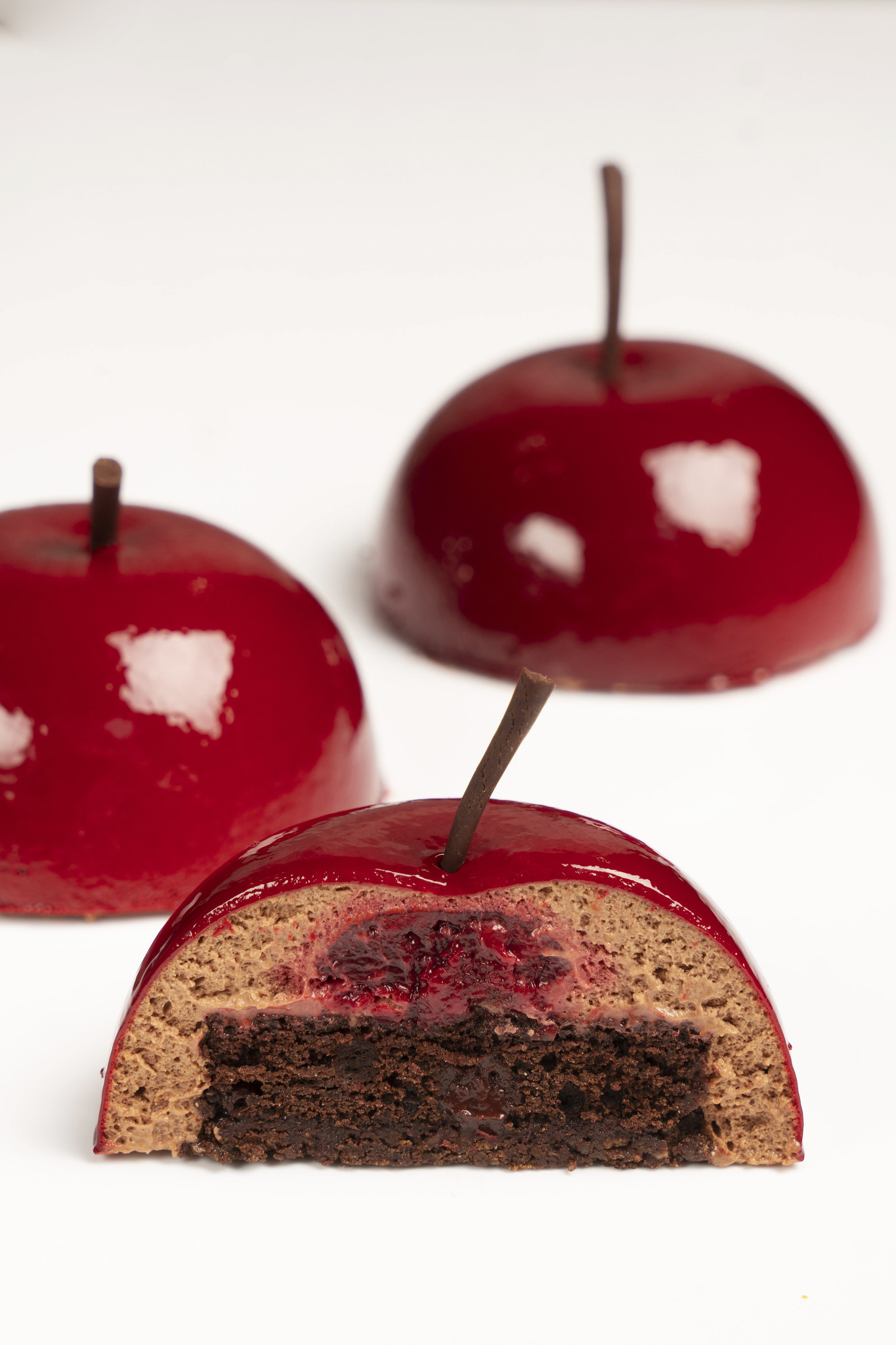 Creative Cakes Course Curriculum

Modern pastry architect and mold designer

Welcome to my course on Creative Cakes! 
When I was 15, I decided to become an architect and I did it. I have got my architecture degree and worked as a professional designer creating interior and exterior designs for 8 years. 
At the same time, I discovered a new passion in myself and it was baking. I started to attend master classes of French pastry chefs and their artistic pastries inspired me a lot. 
With time I started to generate my own pastries ideas that were different from those I have ever seen. I imagined my pastries as inedible catchy and expressive design objects. In my imagination, my cakes had unexpected colors and shapes, looked very modern, stylish and minimalistic. 
I started to implement my ideas trying to create my first mousse cake molds. It was a long way from my first wooden mold to 3D printing and big industrial production in fancy boxes as you may buy them now. 
The concept of my molds is to provide a ready high quality design solution, which is easy to implement for anyone from amateur to professional pastry chef. Mold shape itself is already a finished laconic decoration of the cake full of elegance and dynamic. 
I position myself as a pastry mold designer and I feel in this my uniqueness and devotion. And this is what people expect from me: new shapes ideas, new molds and new inspirations