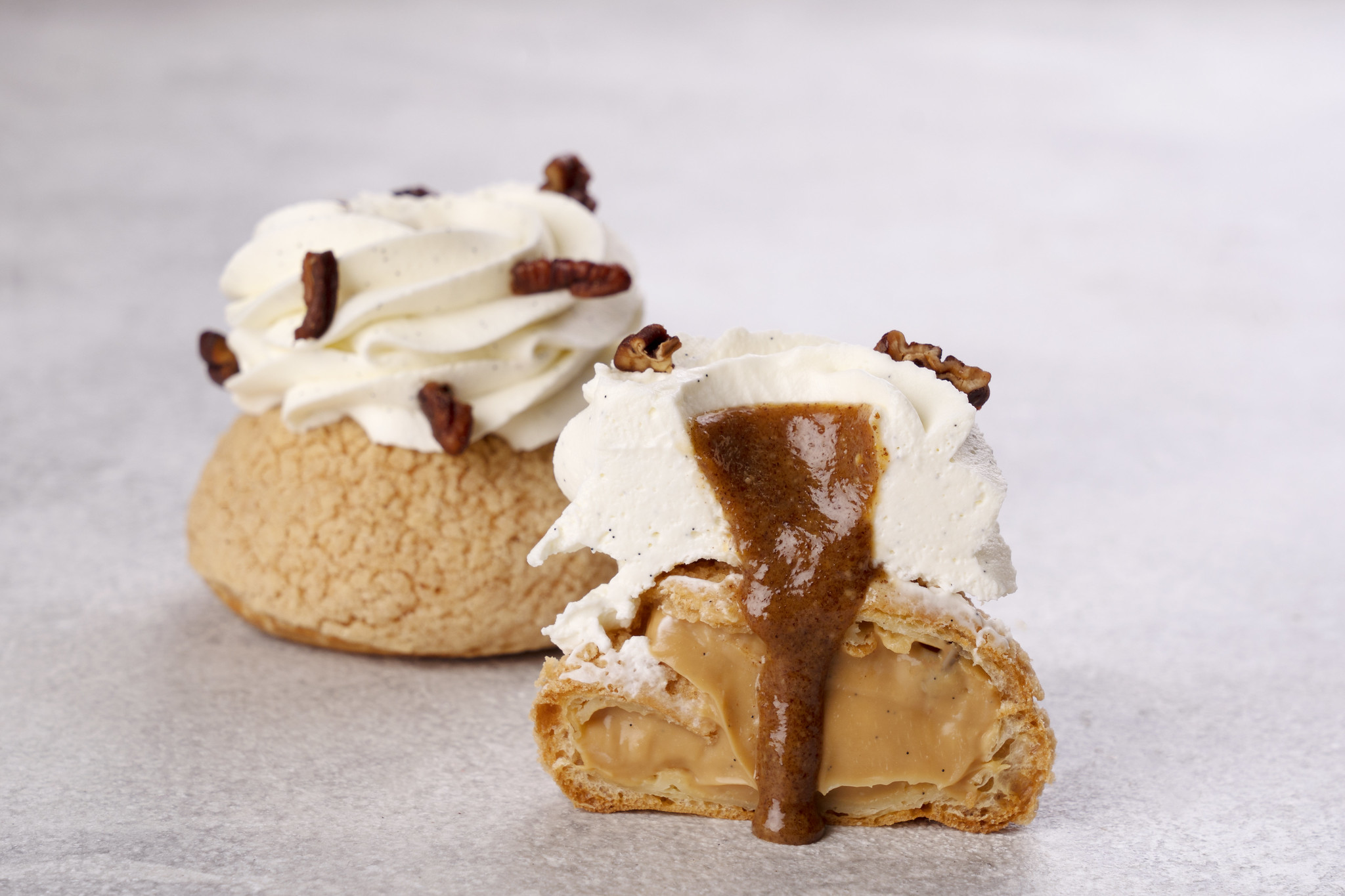 Vanila and Caramel Choux Pastry
This is a classic puff pastry presented in a modern and elegant manner. Chef Nicolas Lambert will show you how to make a classic puff pastry covered in krakelen.
The pastries have a delicious caramel cream filling and are decorated with a curl of vanilla cream, which is filled with praline. Delicious, attractive and seductive, these textures will please even the most esteemed pastry enthusiasts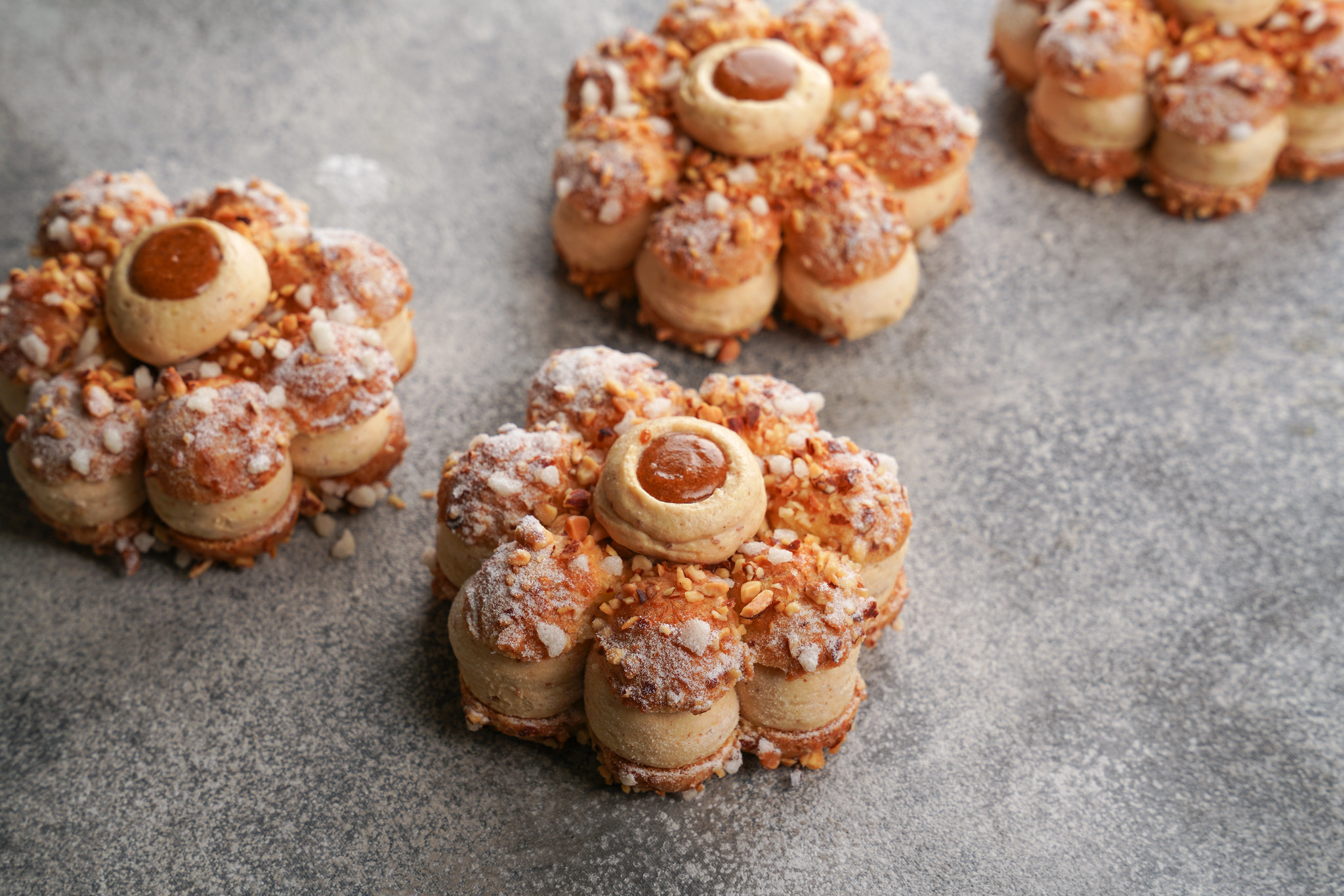 Floraison has a beautiful rounded flower shape with clearly defined petals. All textures are visible: choux pastry dough with a crispy coating of nuts and pearl sugar, cream and praline. The classic choux pastry dough in this recipe is piped in a special way using a shortcrust pastry base. This will make the pastry more stable and easier to work with.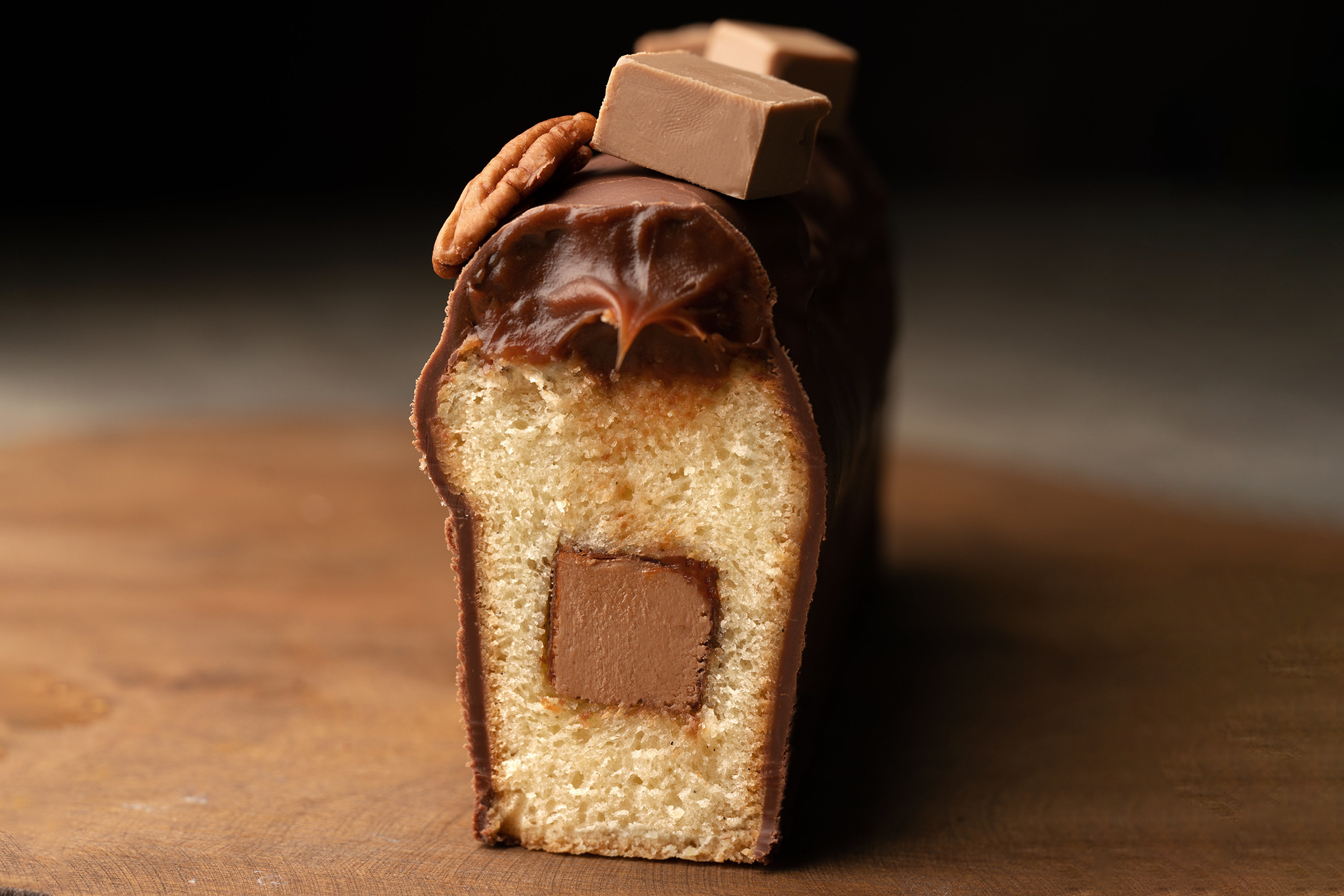 To make this travel cake Karim combined four textures: almond financier sponge, caramel Bahibe creamy ganache, milk chocolate glaze and framed praline with chocolate. You will love this cake for cute shape, appetizing decoration, long-lasting shelf life and interesting cut. The pecan nut on the top delivers a clear idea of this cake flavor.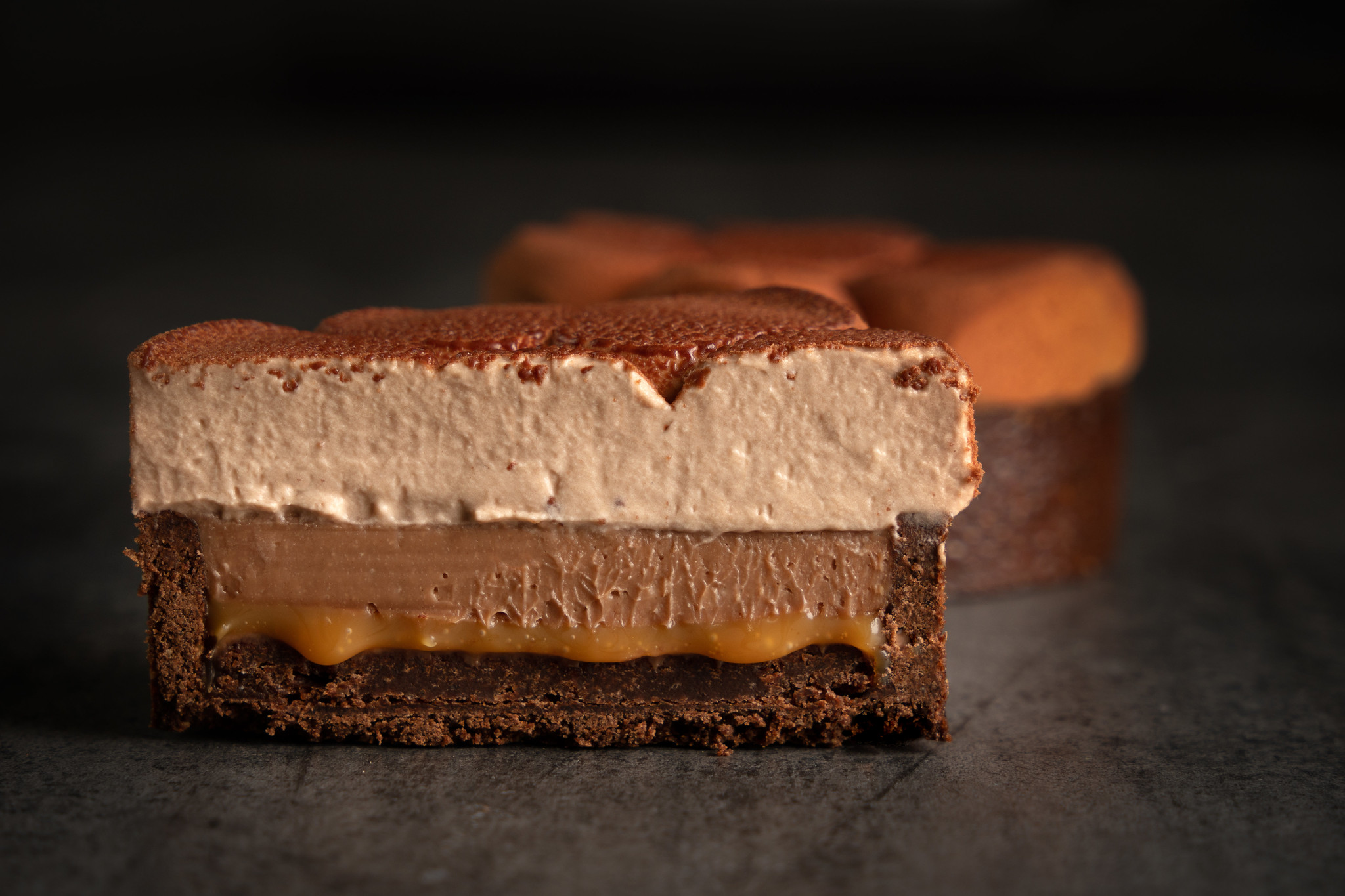 Caramel and Chocolate Tart
This tart is for true connoisseurs of chocolate. A combination of rich chocolate financier, chocolate shortcrust, caramel, chocolate cremeux and whipped ganache that make up a delicious treat will please even the most demanding tasters. Apart from the textures, the chef shared with you a technique to dress up the tart elegantly without using a silicone mold.
Date and Chocolate Gluten, Lactose and Sugar Free Cake
This cake has been designed for true chocolate lovers. It is a delicate pastry with tender notes of pistachio and a pronounced date aftertaste. The chocolate sponge cake, silky custard cream and a layer of syrupy dates come together to create a heavenly combination of flavors. Delicious, attractive and seductive, these succulent textures will charm everyone who tries them.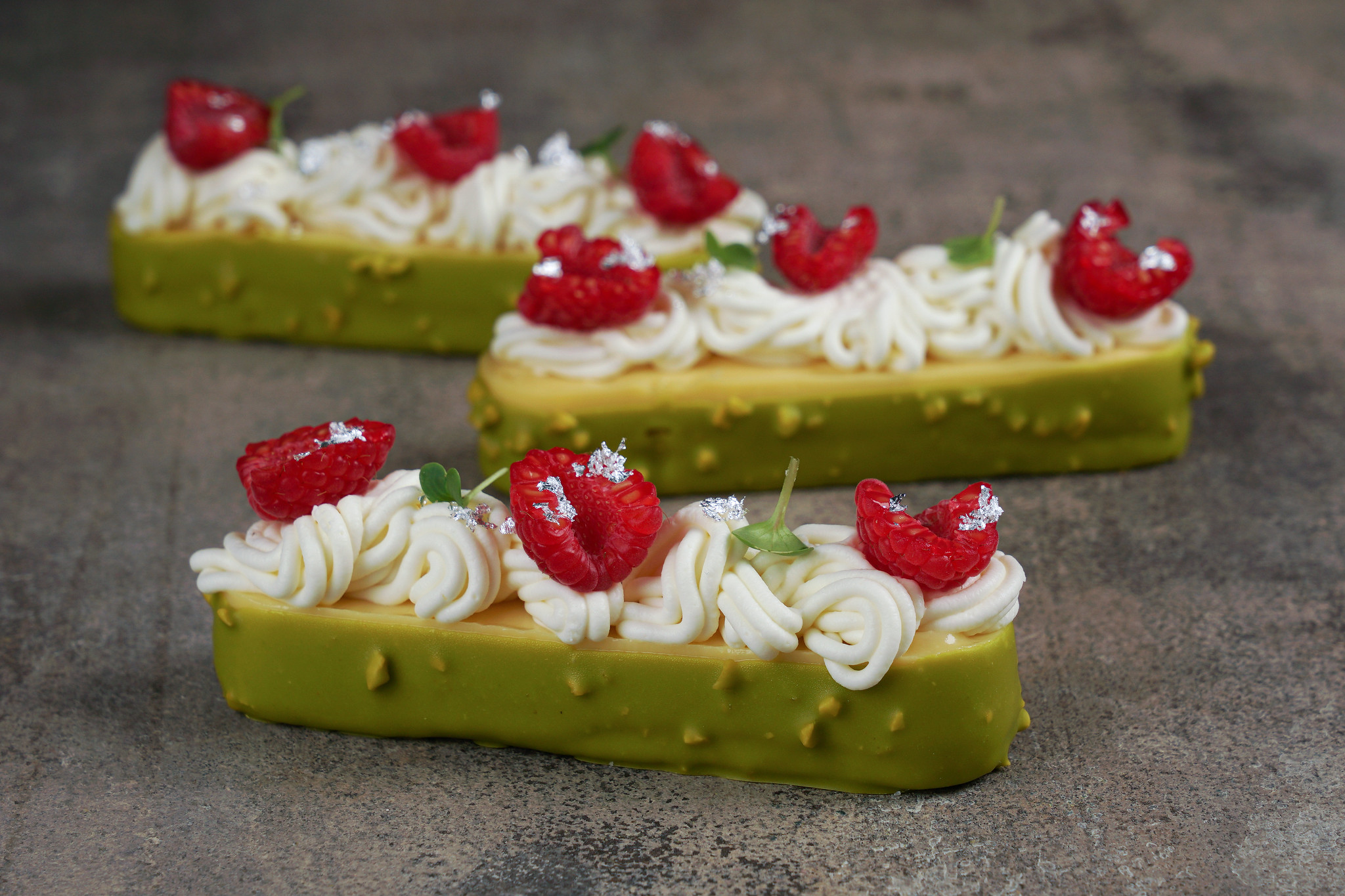 This bar has a summer spirit, bright appearance, long elegant shape and will definitely look outstanding in your pastry shop showcase. To make it, the chef combined a lime sponge cake, pineapple-coconut cremeux, coconut whipped ganache and passion fruit gel. The recipe of passion fruit gel includes iota carrageenan – a vegan gelling agent which enables obtaining a unique gel texture.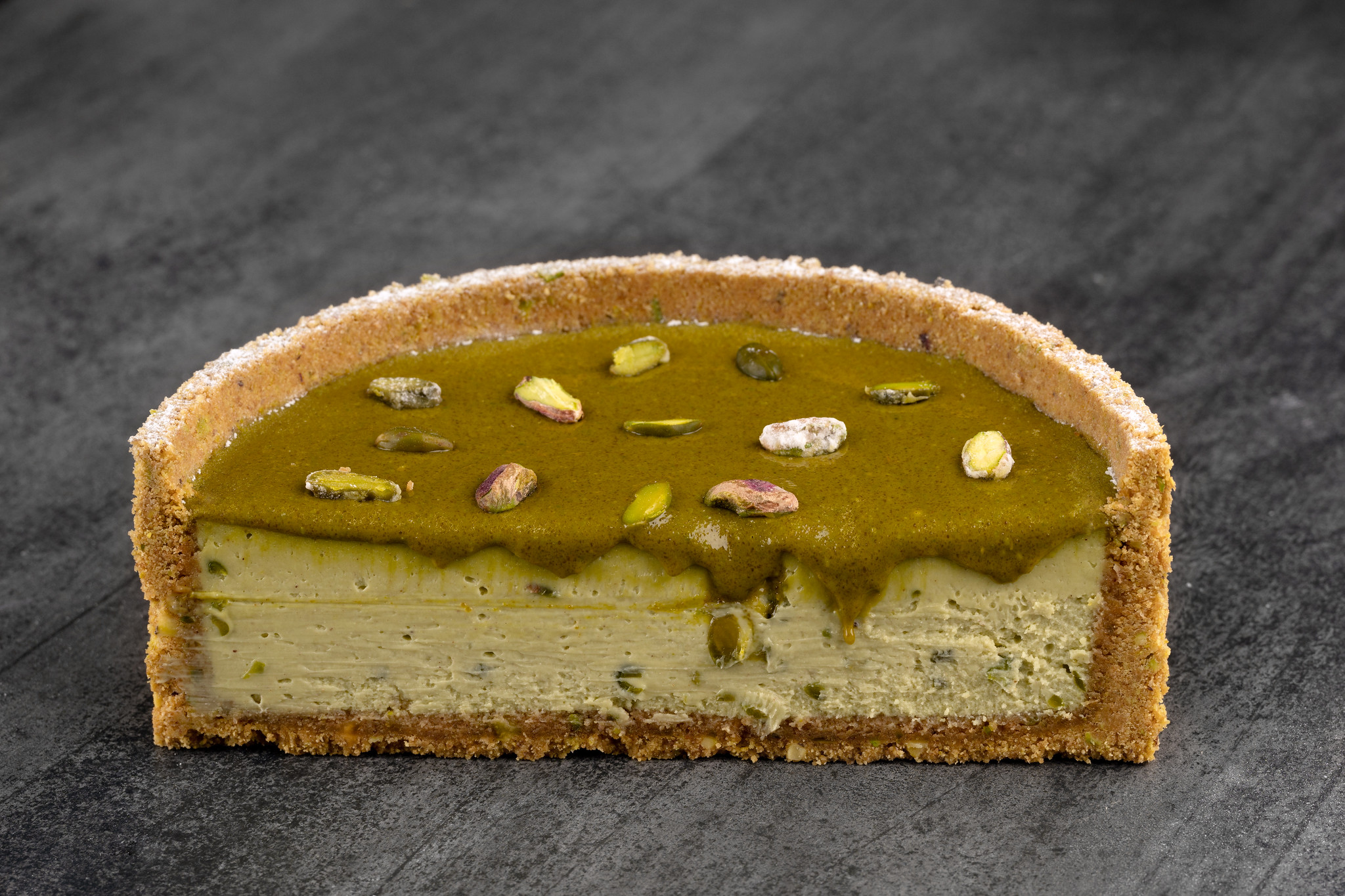 Pistacchio Baked Cheesecake
It's all about pistachios. Each texture of this cheesecake contains pistachios: the praline, the cheese mass and the shortbread base. The textures create an amazing balance of baked shortbread with chopped pistachios, rich soft praline and moist cheesecake mass. The deep color of praline looks very powerful and delightful. If you are a fan of pistachios, make this cheesecake and enjoy!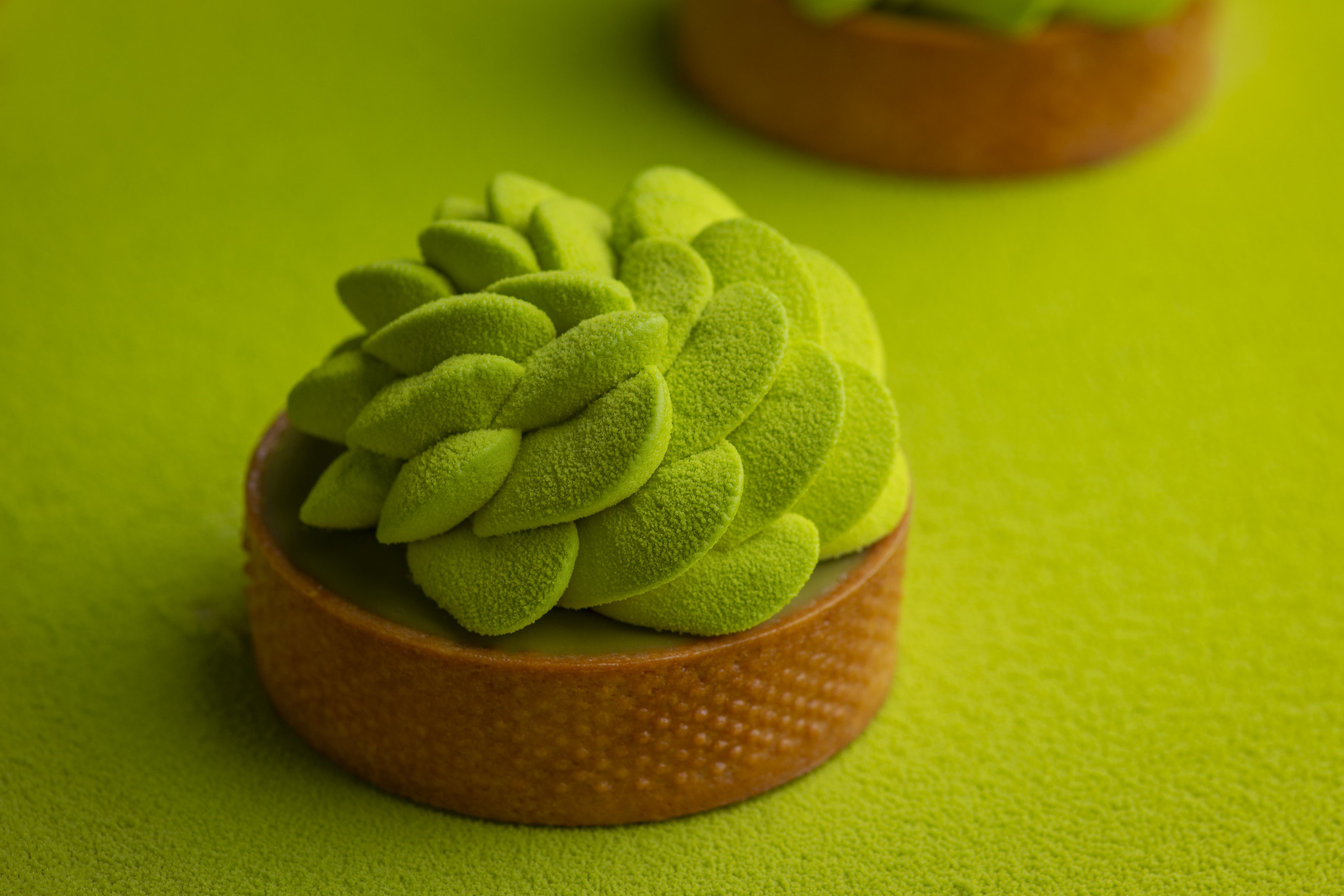 Matcha and Cherry Tartlet
One of the most impressive parts of this recipe is the cherry gel. It has a clean taste, smooth semi-liquid texture and is made with no sugar. Chef Alexander Trofimenkov will share a universal recipe for whipped ganache, which is rhythmically piped on the surface of a tartlet and attracts the eye with its expressiveness.
Ganache with matcha tea inside gives the tartlet the rich flavor of matcha tea and perfectly combines with the bright cherry flavor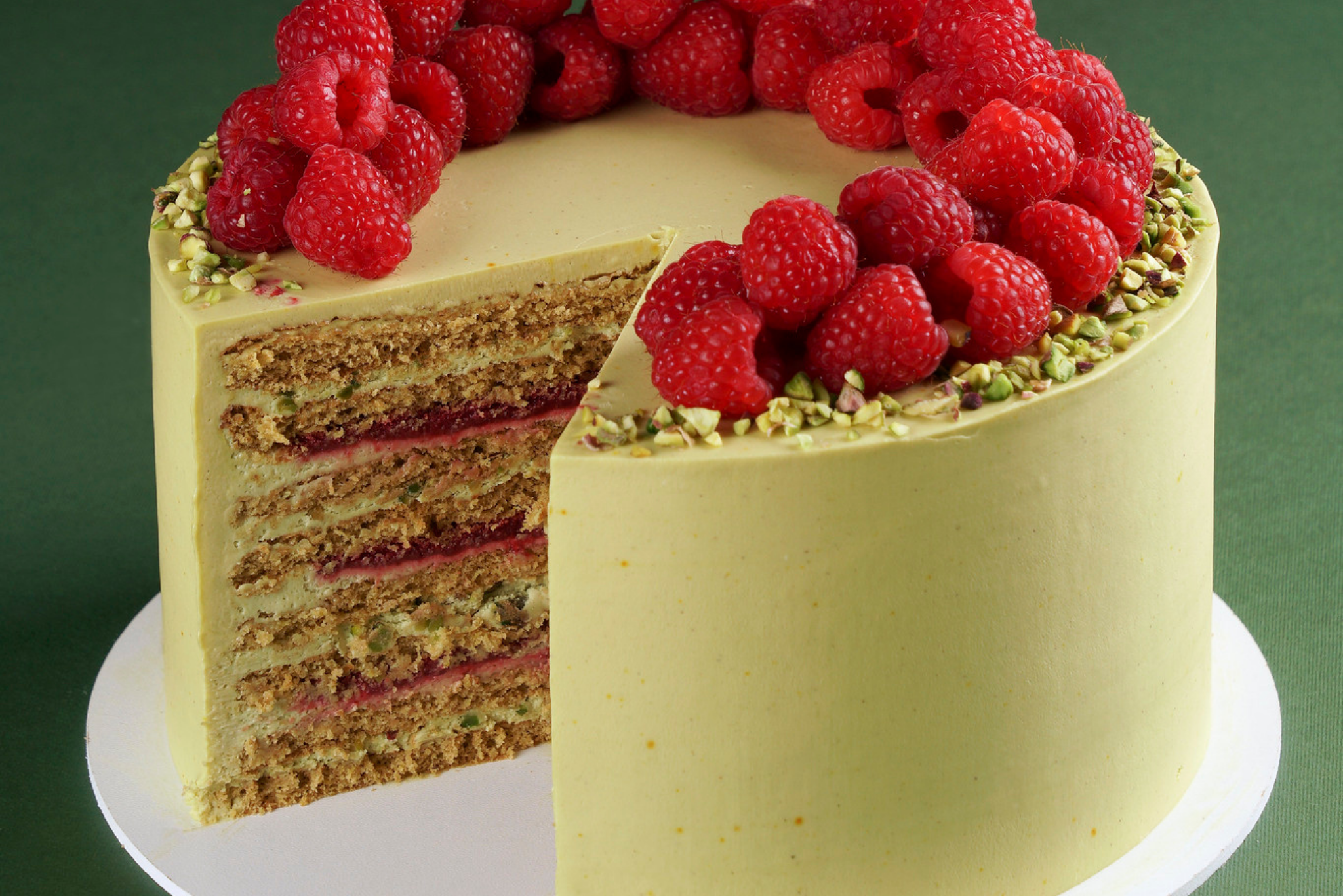 Pistachio and Raspberry Honey Cake
This cake has been designed for true pistachio lovers. It is delicate with a bright, fresh note of raspberry and a pronounced honey accent. Chef Marusya Manko will show you how to bake pistachio and honey sponge layers, make a raspberry sauce, a pistachio filling, a pistachio and mascarpone frosting, and pistachio buttercream. To create this amazing natural buttercream color, the chef uses pure pistachio paste and a pinch of real saffron.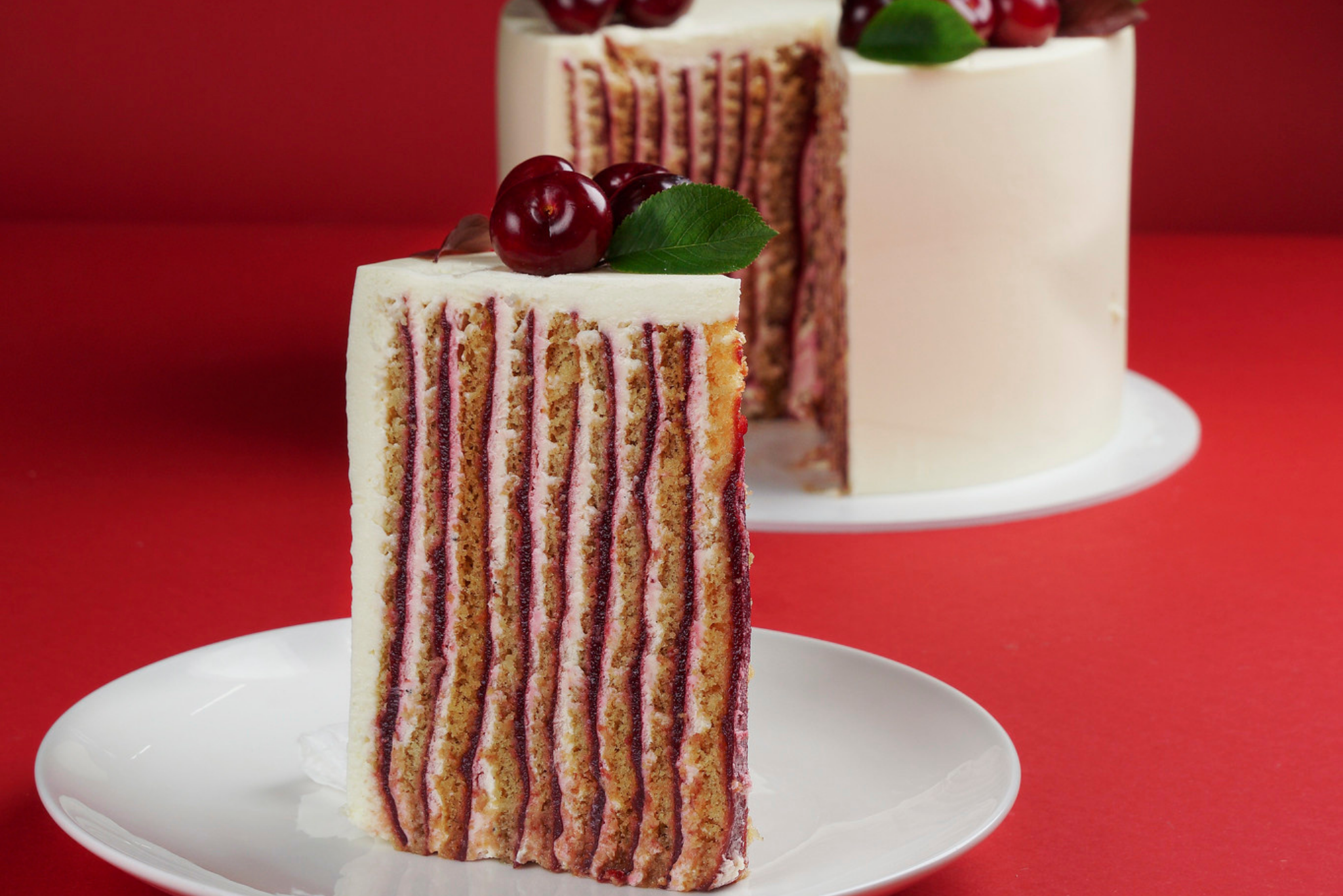 Cherry Velvet Vertical Layered Honey Cake
In this cake, chef Marusya Manko has combined her favourite flavours: cherry, honey and sour cream. Along with the delicate flavour, the cake will mesmerise you with its delicious rhythm of colourful layers. The dessert is decorated with a cherry necklace that brings volume and color to the cake, highlighting its uniqueness. This vertical layer honey cake will delight everyone, both adults and kids.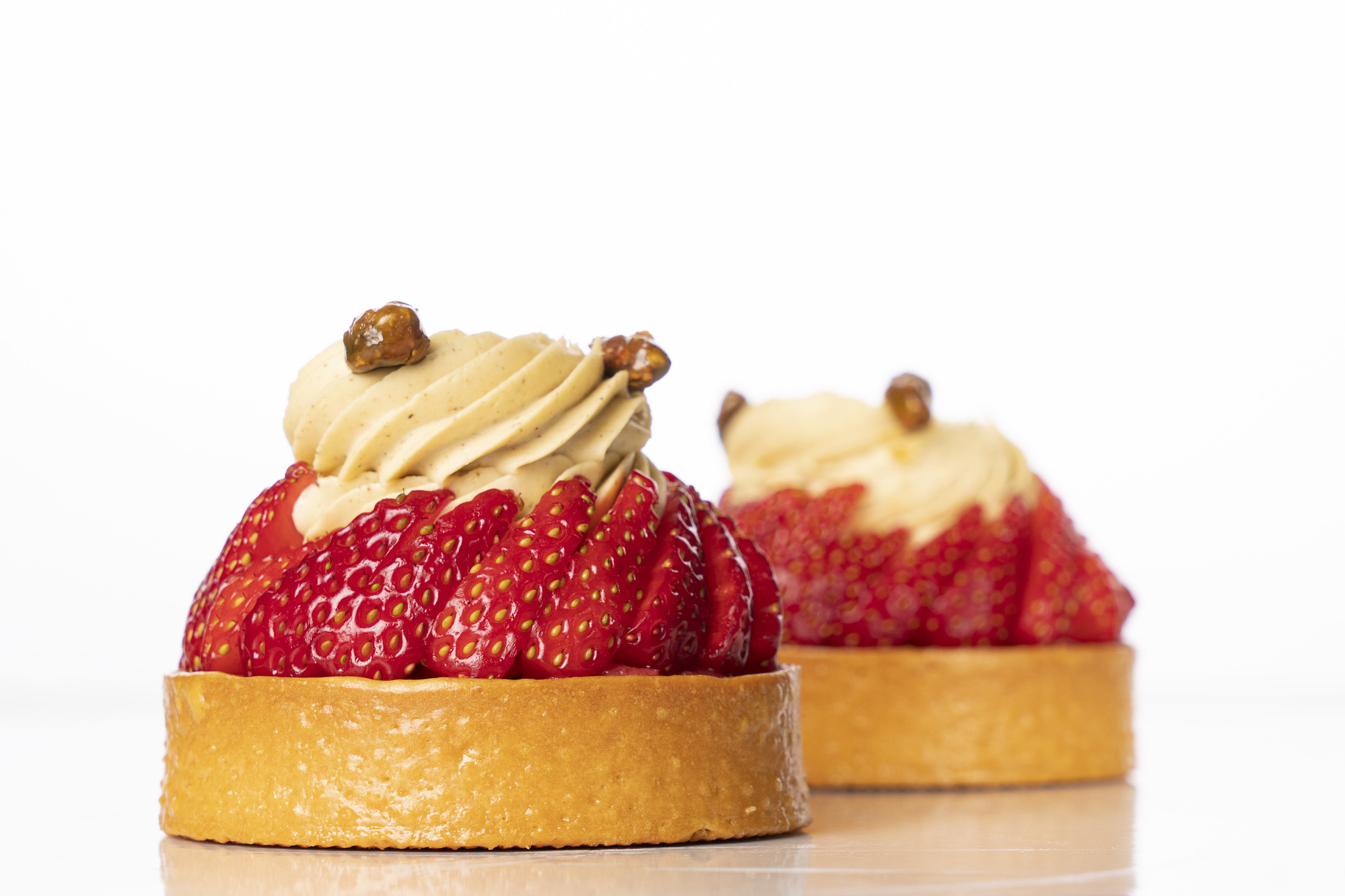 Strawberry and Pistachio Pie Tartlet
This tartlet shows off the classic combination of strawberry and pistachio with a modern and elegant presentation. The beautiful, fluid coulis texture seduces everyone to try it. Made from fresh strawberries, the décor is very beautifully laid out. The combination of three contrasting textures - rich berry, silky creamy, and well-baked - makes this pastry truly a masterpiece.
All the flavors have a distinct character, creating an amazing medley of tastes. The pastry is filled with summer and freshness.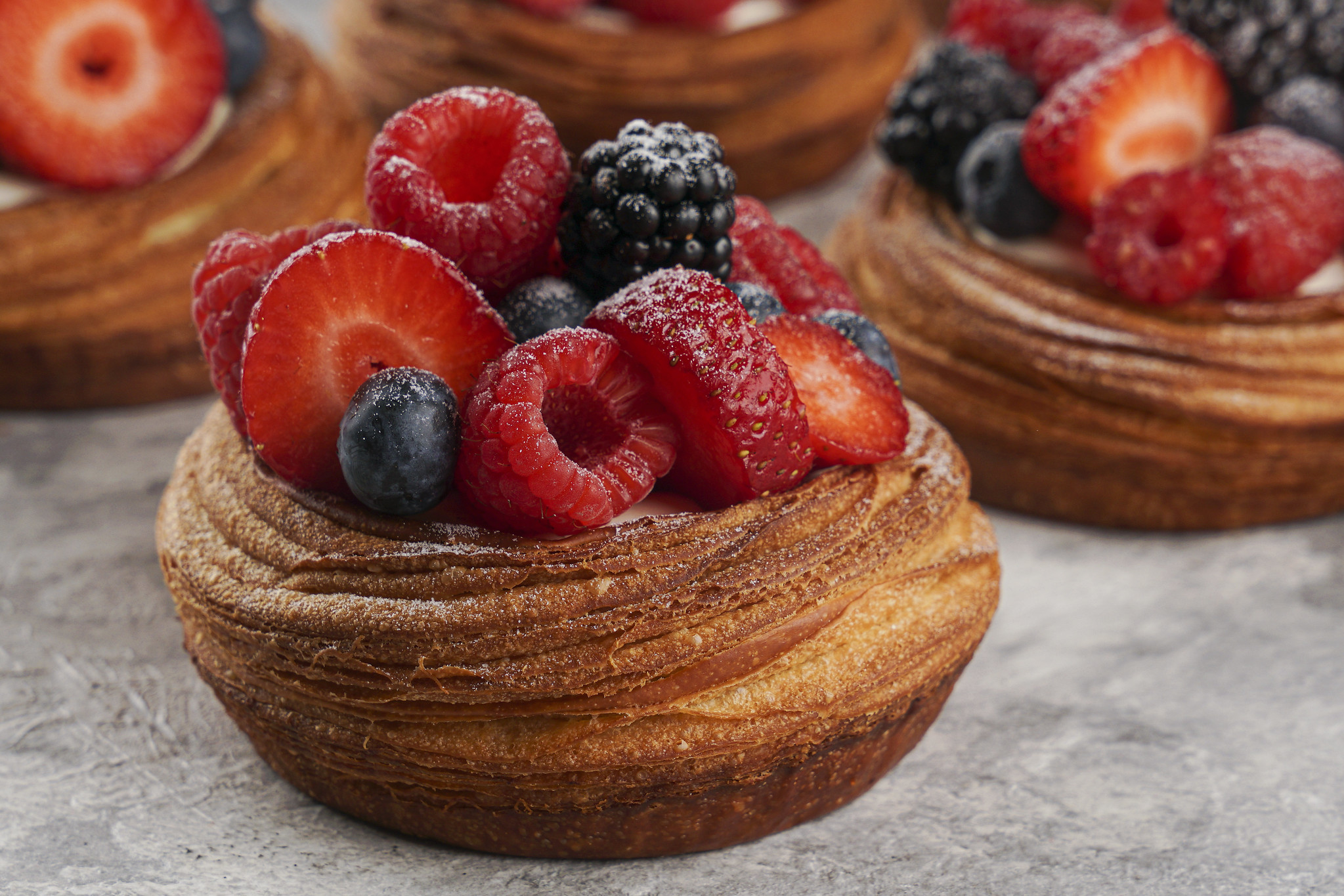 The Croissant tart is one of the bestsellers in Antonio Bachour's pastry shop. The rich color of the croissant shell and generous amount of fresh berries leave no room for doubts: it's extra delicious! In this class the chef shared with you an essential technique on how to prepare the basic croissant dough and make a shell out of it, fill in the shell with the mascarpone cream, strawberry-lime compote and strawberry custard as well as generously decorate it with fresh fruits and berries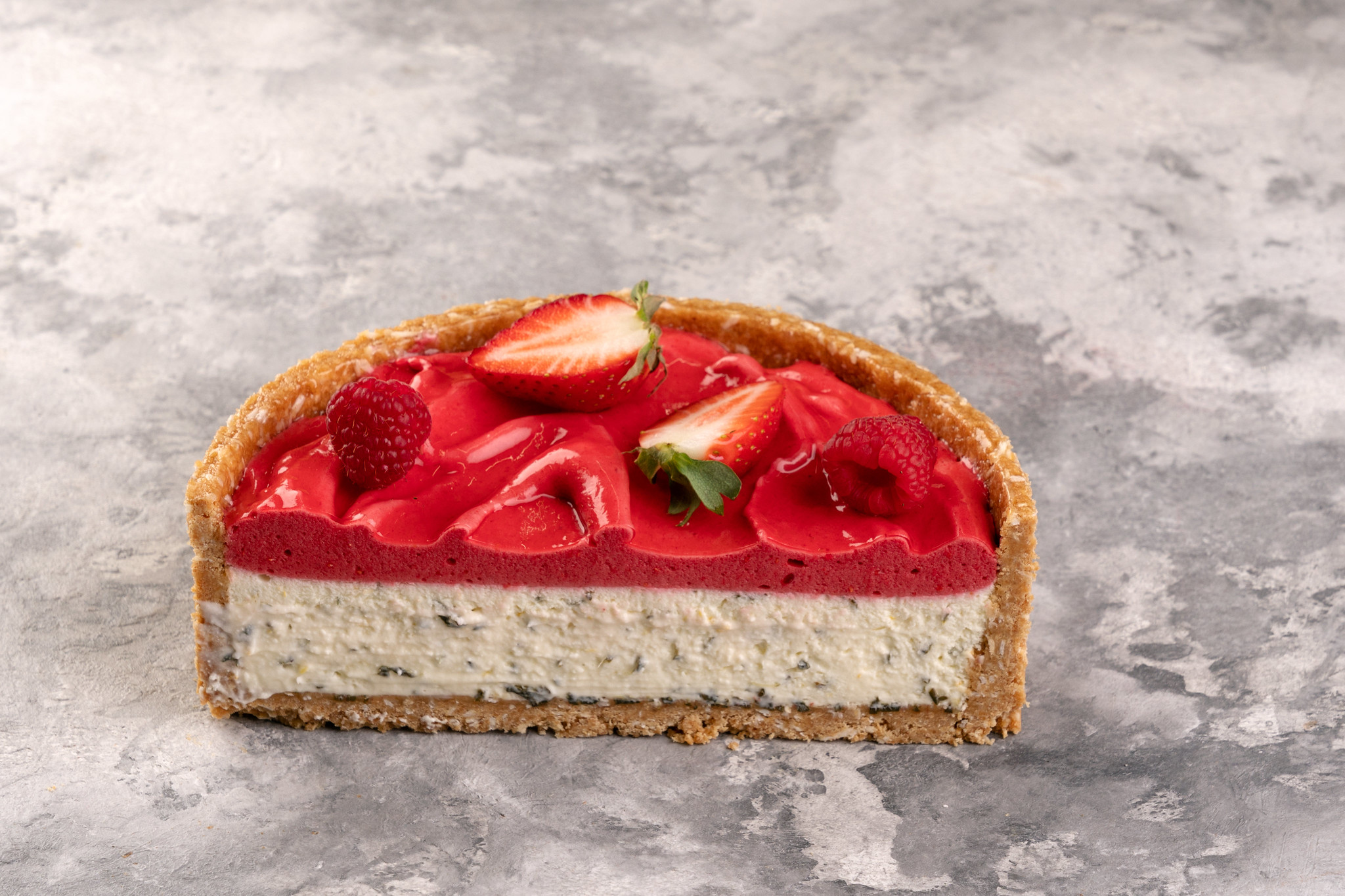 Raspberry-Mojito no-bake Cheesecake
This cheesecake is not baked. It will please you by it's moist texture along with mint and lemon freshness. We have opted for a no-bake cheesecake on purpose. This method allows you to create and keep expressive flavors of mint and lemon. The Raspberry-Mojito cheesecake is decorated with an incredible raspberry texture without colorants - whipped raspberry jelly. The cheesecake is served in a beautiful well-baked base with coconut flakes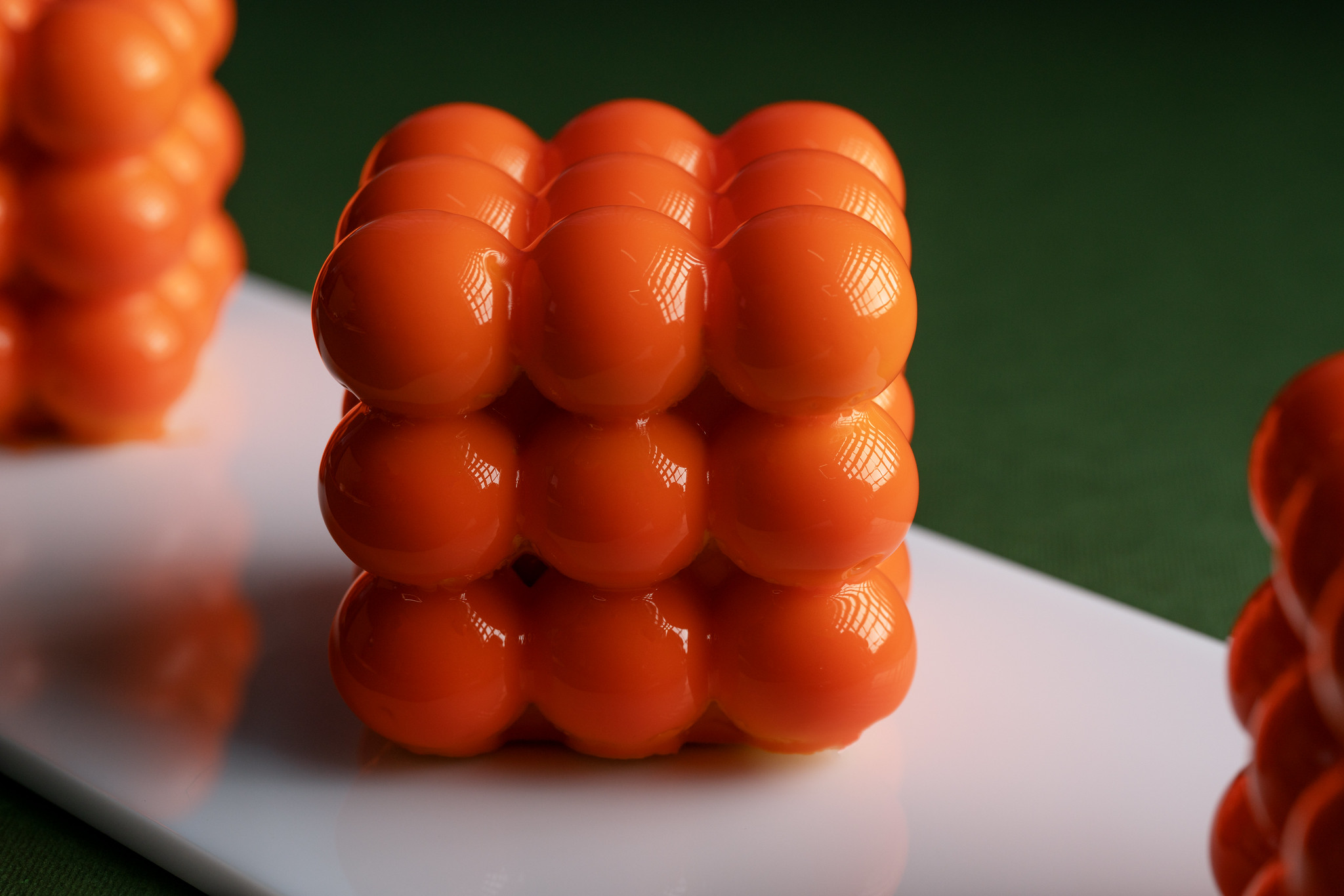 Spheres Cakes consist of several interesting textures with exotic taste. Dinara Kasko wrapped them into bright neutral glaze cover. The cake contains airy mango-passion fruit mousse, mango-passion fruit cremeux, mango-passion fruit compote, gluten-free sponge and gluten free crunchy layer. The Spheres mold is the absolute bestseller for individual cakes. The unique shape, bright color and exotic mango-passion fruit flavour motivate people to choose to make exactly this Spheres cake.
Set of 14 Best Recipes Course Curriculum