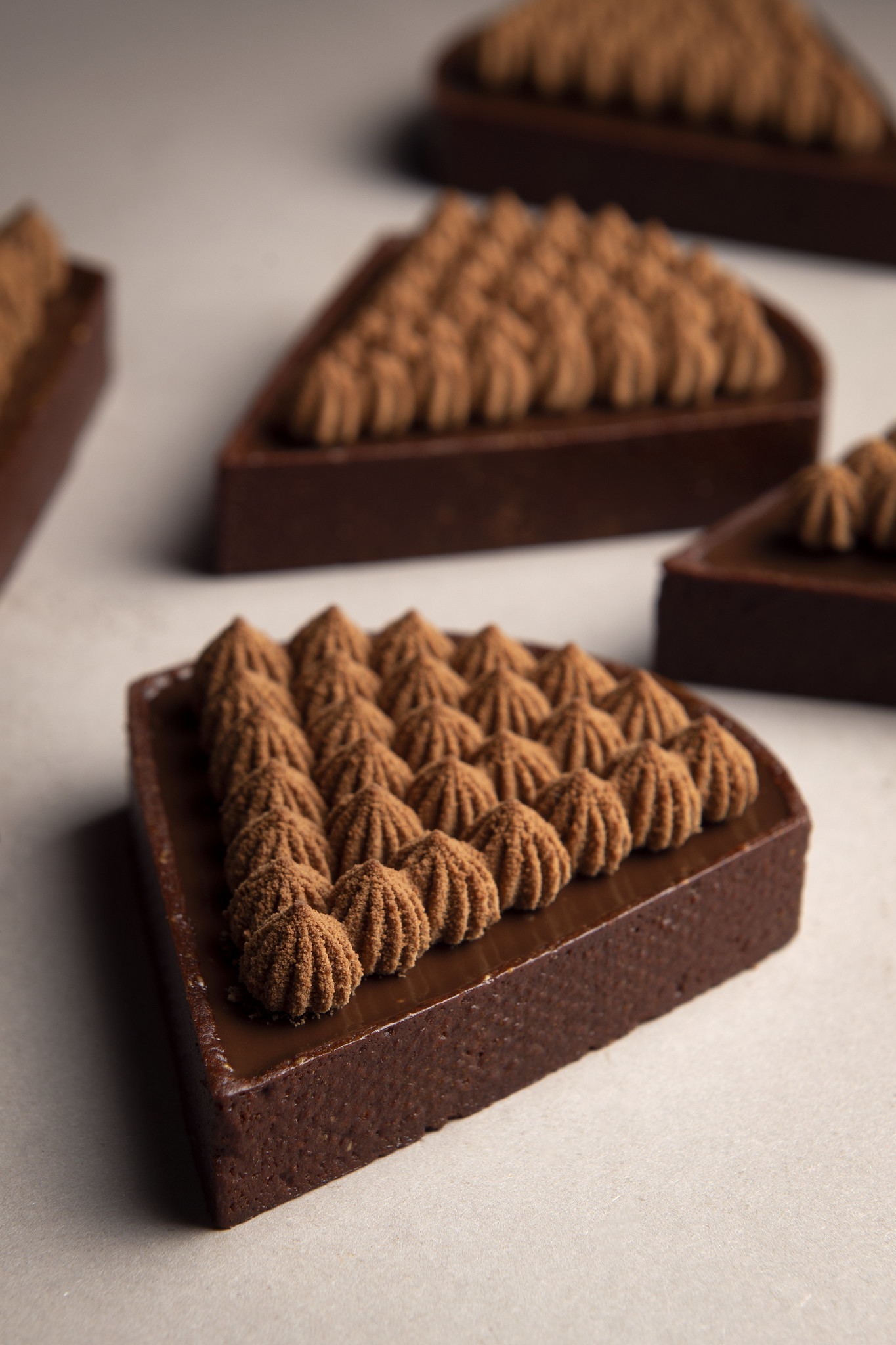 -1-
THEORY MODULE
19 basic topics on ingredients and pastry technics
-2-
SEVEN PRACTICAL MODULES
42 pastries + 7 bonus recipes one bonus recorded masterclass on croissants
-3-
TWO WEBINARS
On pastry theory and trends
by ECOLE DUCASSE chef MOF Luc Debove
-4-
FOUR WEBINARS
On pastry theory by KICA brand chef
Alexandr Trofimenkov
BENEFITS OF PROFESSIONAL TRAINING
Improve your professional competitive advantage, increase your confidence and employability 
Learn to make and create best quality pastry products highly demanded by your customers
Keep up with the latest trends and stay ahead in the pastry field 
Network with other pastry learners 
Prove your mastery with a Certificate from world reputed institutions in pastry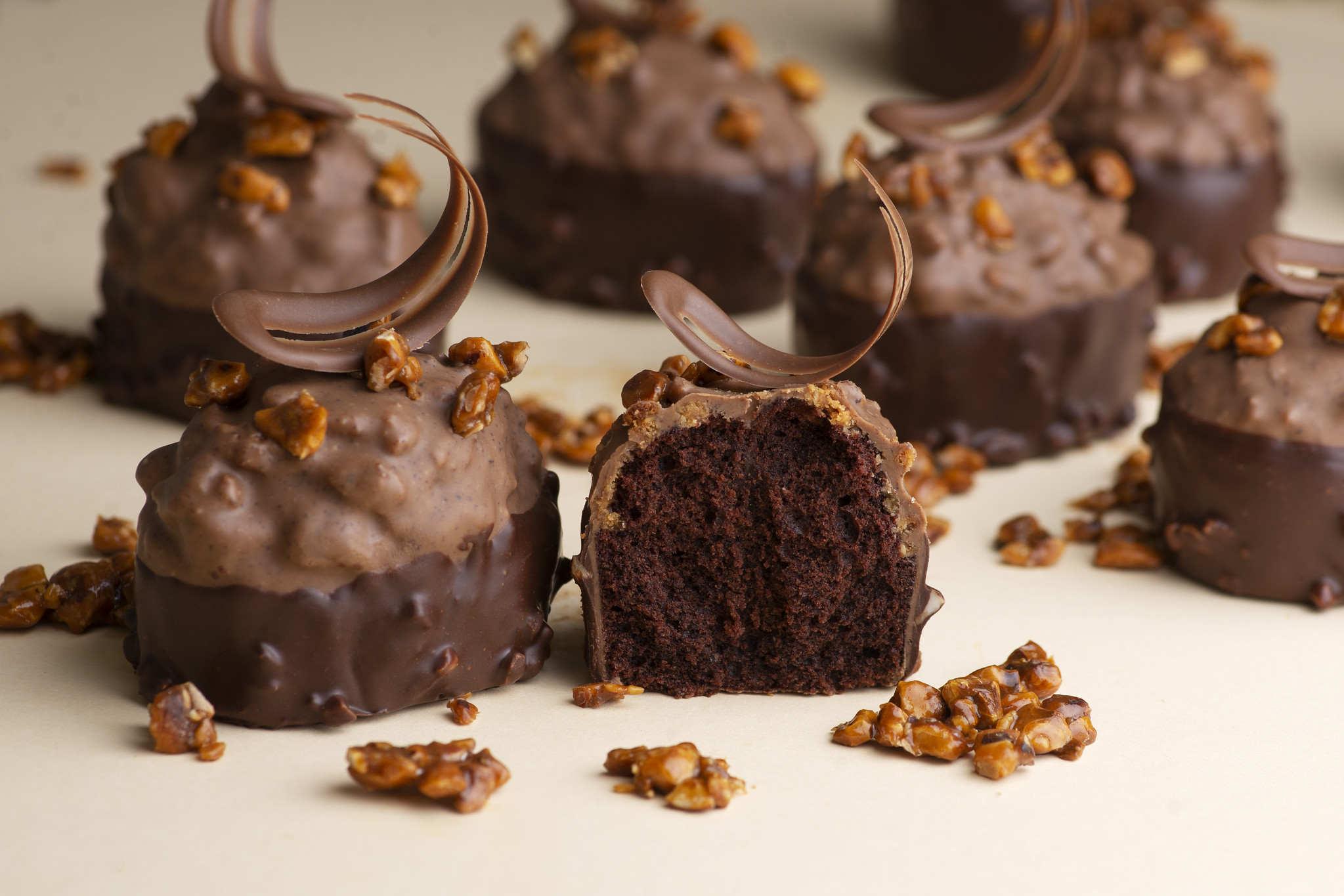 Module 1: Cakes
1. Chocolate Cake
2. Carrot cake
3. Pistacchio Financier
4. Lemon Cake
5. Marble cake
BONUS: Grand Marnier Cake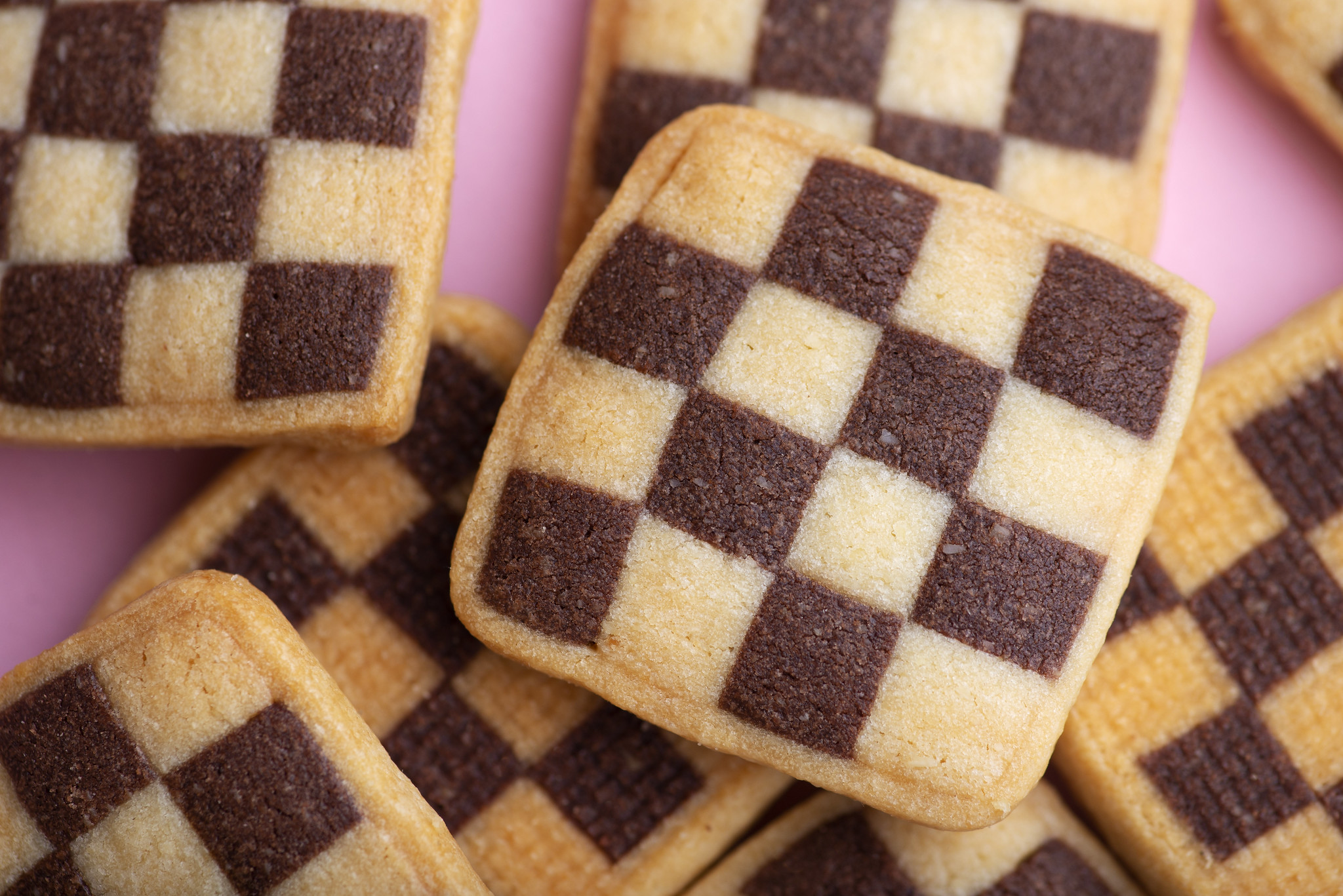 Module 2: Cookies
1. Madeleine
2. Chess Cookies
3. Diamond Cookies with Vanilla and Orange
4. Vienna Sable
5. Cookies with Mango and Passion fruit filling
BONUS: Kipferl Cookies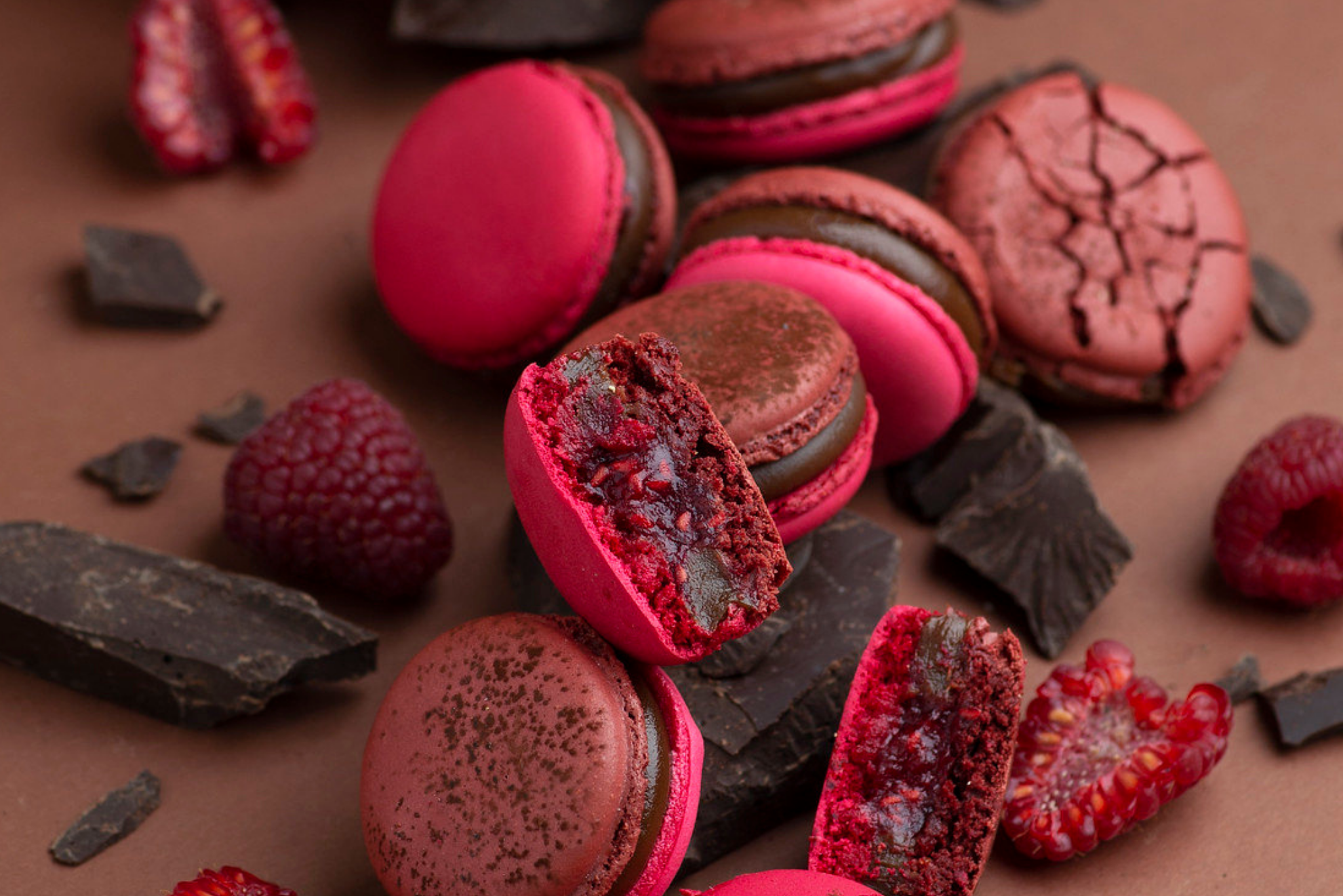 Module 3: Macarons
1. Lime - Estragon with Olive Oil
2. Milk Chocolate - Salted Caramel - Raspberry
3. Pear - Dorblu
4. Hazelnut
5. Passion Fruit - Blood Orange
BONUS: Snickers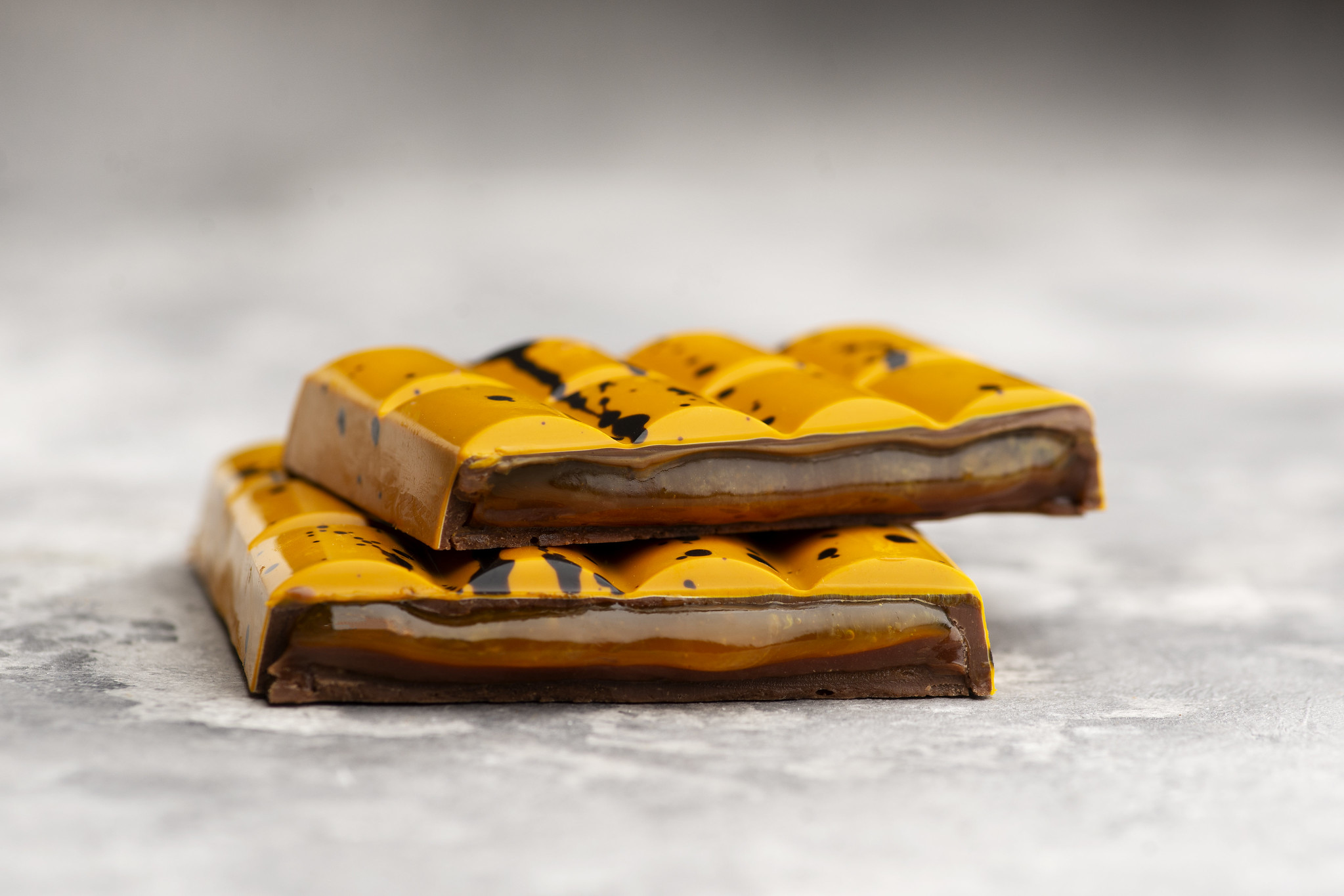 Module 4: Chocolate
1. Yuzu – Raspberry Molded Chocolates
2. Caramel - Praline Molded Chocolates
3. Chocolate Bar Mango - Passion fruit
4. Framed ganache Lemon - Basil
5. Truffles with 3 types of coatings
BONUS: Framed ganache Coffee - Hazelnut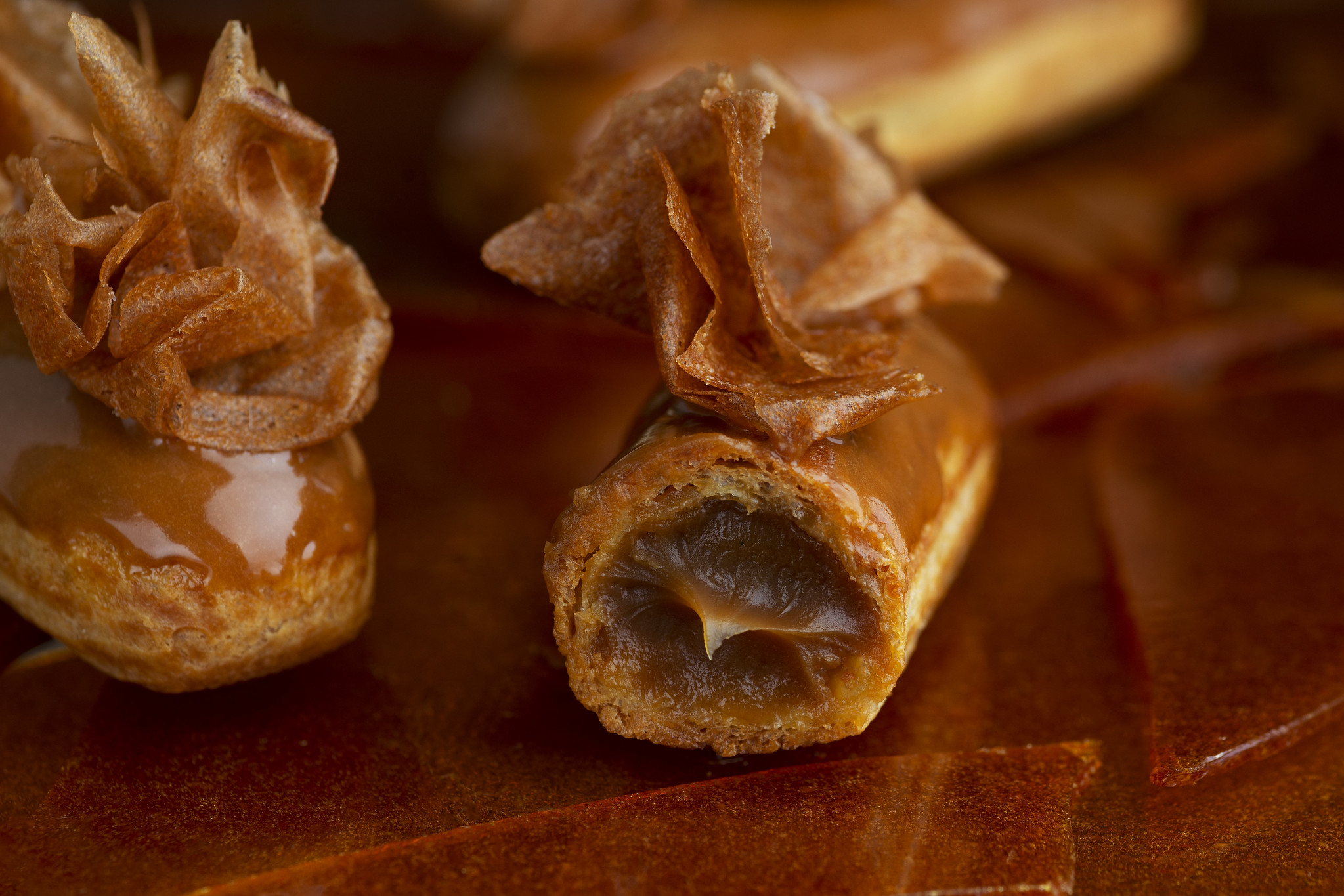 Module 5: Eclairs
1. Vanilla Eclairs
2. Coffee Eclairs
3. Raspberry coconut Eclairs
4. Chocolate Eclairs
5. Mango passion fruit GLUTEN FREE
BONUS: Caramel eclairs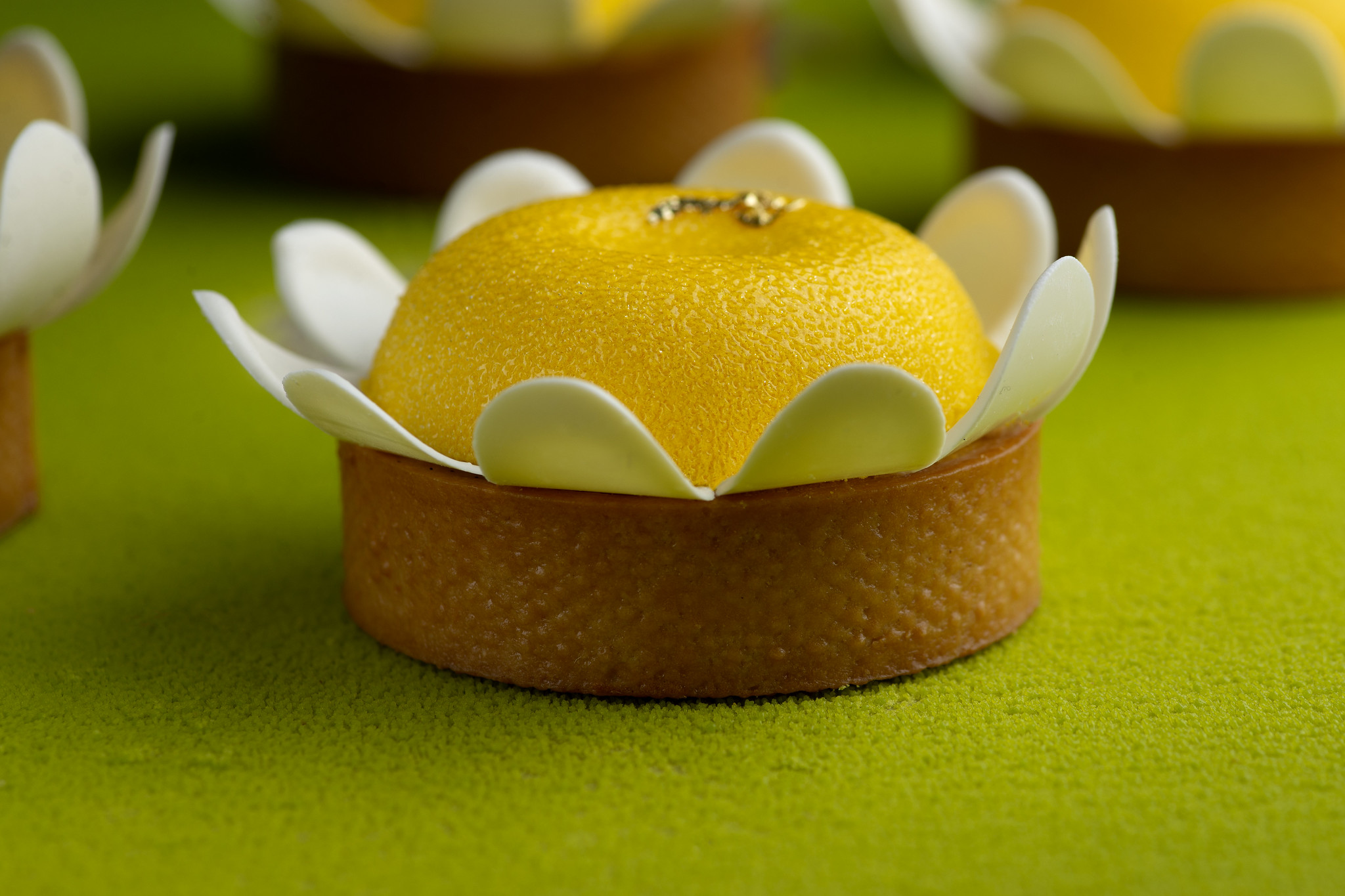 Module 6: Tarts and tartlets
1. Camomile tartlet
2. Matcha - Cherry tartlet
3. Coffee - Praline tartlet
4. Lemon tartlet
5. Apple - Walnut tartlet
BONUS: Сhocolate Island tartlets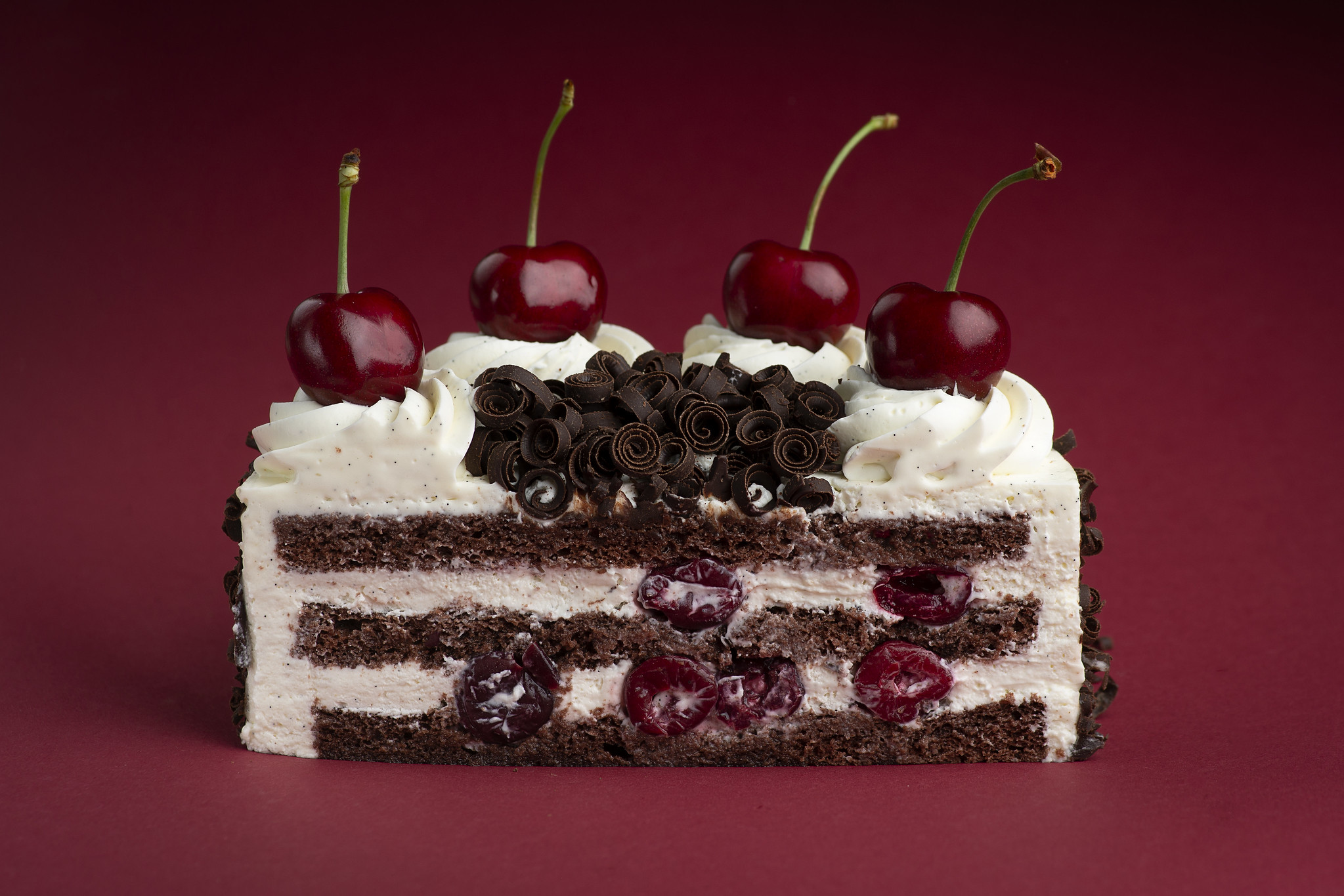 Module 7: Modern gateaux and entremets
1. Black Forest Cake
2. Chocolate entremet
3. Strawberry Truffle Gâteau
4. Hazelnut entremet
5. Pavlova Dessert
BONUS: Gâteau Exotic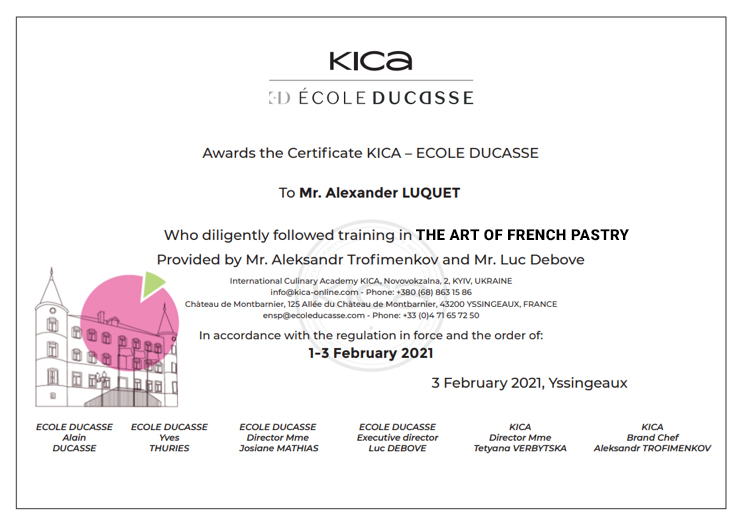 WHAT KIND OF CERTIFICATE DO I GET?
After successful course completion the students receive an E-Certificate by e-mail and printed and signed Certificate with a worldwide delivery included. 
The cost of the Certificates delivery is included into the Certification price. 
PROGRAM LEADER – ECOLE DUCASSE 
CHEF MOF LUC DEBOVE:
Executive Pastry Chef at École Ducasse
Honors: 2011- Meilleur Ouvrier de France 
2010- World Pastry Championship 2009-* 1st price at the "Open des Desserts Glacés" and European Trophee, Lyon Sirha. 
Work experiences: 2006 /2007 Pastry Chef 
at the GRAND HOTEL DU CAP FERRAT (1 Michelin star) 
Trainer in Pastry at the Ecole Gastronomique Bellouet Conseil Paris 2005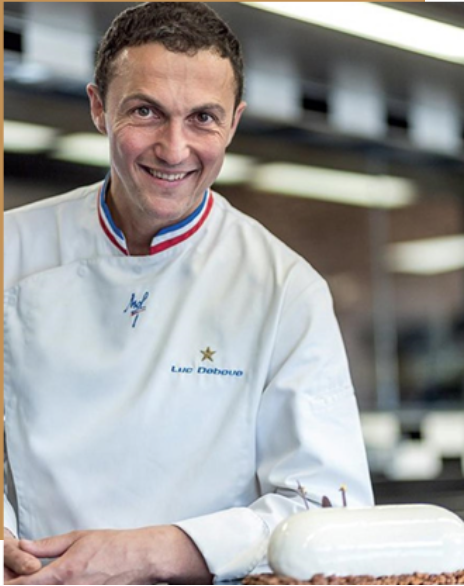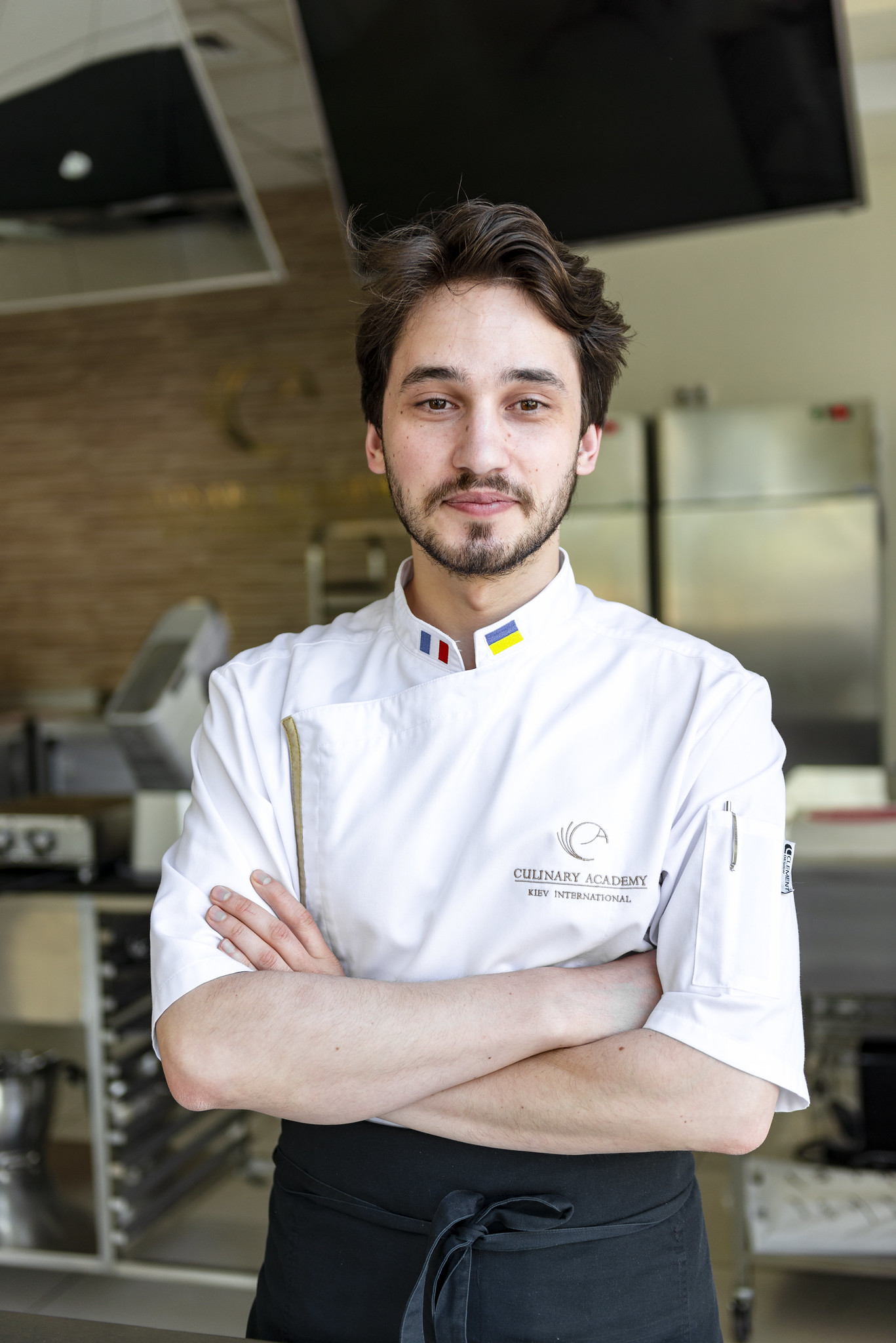 KICA PASTRY SCHOOL TUTOR
ALEXANDER TROFIMENKOV
KICA Academy Brand Chef
From the very beginning, the chef sets the standards of work which help the students to make exquisite pastries that can be used to fill the showcases of the demanding pastry shops. 
Alexander Trofimenkov got the education at ENSP - National Superior School of Pastry in France. 
The Chef worked for a few years in the best pastry shop in Kyiv — "Honey", was a pastry instructor at Hector Bravo School in Kyiv, launched and managed the production of luxury pastries in Dubai. 
Contact us to get more information:
+380688631586, Whats`up, Viber, Telegram